Want to get in contact with Ambika?
Just try it. You'll receive €5,- try out credits.
And the first minute is always free.
Ambika Sharma
artist, writer
I'm the ONE who can help you change your life
Ambika will be available in 3 hours 3 mins
donwload the app to call now
My areas of expertise
Beauty & Health: #Ayurveda
Arts & crafts: #sketching #Painting #poetry #Portrait #Ethnic #fashion #graphics #photoshop #illustrator #design
Kitchen & BBQ: #Vegetarian #healthy #Weightloss
Personal coaching: #Changinglife #counseling #parenting #Weightloss #poetry #Art therapy #Stress management
Wellness: #Ayurveda #mindbalance #Meditation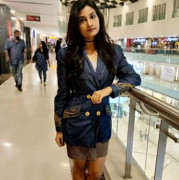 $ 22.73 per hour
Ambika Sharma
artist, writer
Government of Amsterdam, Netherlands
Local time:
Ambika will be available in 3 hours 3 mins
my availability
| | | | | |
| --- | --- | --- | --- | --- |
| Every day | 08:00 | - | 17:00 | (UTC+2) |
About me
I'm an artist and writer from New York. I've gone through a personal weight loss journey of 60kg. I have a strong background in Ayurveda and meditation, having come out of several disasters in life as a stronger person.

I have strong math and English skills with 5 years of tutoring experience.

I've grown up surrounded by natural herbs and remedies, and make my own organic beauty products.

I have done meditation and healing courses from India and know how to relax a stressed mind instantly.

I am also a counselor for children and young adults going through difficult situations in life, and provide psychological guidance for those who need to speak to someone to heal themselves.
I'm the ONE who can help you change your life
My areas of expertise
Beauty & Health: #Ayurveda
Arts & crafts: #sketching #Painting #poetry #Portrait #Ethnic #fashion #graphics #photoshop #illustrator #design
Kitchen & BBQ: #Vegetarian #healthy #Weightloss
Personal coaching: #Changinglife #counseling #parenting #Weightloss #poetry #Art therapy #Stress management
Wellness: #Ayurveda #mindbalance #Meditation