Want to get in contact with Anh?
Just try it. You'll receive €5,- try out credits.
And the first minute is always free.
I'm the ONE who enjoys my adulthood and loves to share my experience with you guys
Anh is available now
donwload the app to call now
My areas of expertise
Beauty & Health: #meal-prep #zero wasted
Music: #Piano #classic music #edm
Kitchen & BBQ: #Vietnamese #italian #Vegan #Asian Food #Korean
Personal coaching: #Sport
Finance/legal services: #self-finance #independent #live alone #life in rotterdam #life in uk #Life in the uk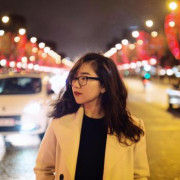 $ 11.24 per hour
Anh Pham
Psychology
Government of Rotterdam, Netherlands
Local time:
Anh is available now
my availability
| | | | | |
| --- | --- | --- | --- | --- |
| Every day | 12:00 | - | 22:00 | (UTC+2) |
About me
My name is Rose. I started my adulthood four years at the age of 14. I moved out of my home to attend to a high school in which is 300km away from my family in Hanoi, Vietnam. Then I decided to study in Rotterdam, The Netherlands. I'm currently doing my bachelor in Psychology in Erasmus University Rotterdam. As I said, I have been living on my own - being 100% responsible and independent for my own life. My passion is to help people with their daily problem, like how can you control your money, how to deal with your parents' issues, school issues or even how to live on your own with few basic steps... All the thing that you need to worry about adulthood. I'm here to help.
I'm the ONE who enjoys my adulthood and loves to share my experience with you guys
My areas of expertise
Beauty & Health: #meal-prep #zero wasted
Music: #Piano #classic music #edm
Kitchen & BBQ: #Vietnamese #italian #Vegan #Asian Food #Korean
Personal coaching: #Sport
Finance/legal services: #self-finance #independent #live alone #life in rotterdam #life in uk #Life in the uk