Want to get in contact with Dave?
Just try it. You'll receive €5,- try out credits.
And the first minute is always free.
Dave Fric
Work on computer
I'm the ONE who studied, travelled, made business and met plenty smart people with knowledge
Dave will be available in 5 hours 21 mins
donwload the app to call now
My areas of expertise
Local guide: #Bali #Surfing #Party #culture #nature #Waterfalls #WaterSports #Food #Rentals #shopping #sunsetstrip #View #Local experience #language #sports #Sport
IT & Electronics: #Ui/ux design #macbook #Apple iPhone #Mac #mac os #google #Youtube Tech
Music: #Techno
Kitchen & BBQ: #Chicken curry #Shrimp #Burger #steak #Italian food #Mexican #Europe #Garlic prawns #Gluten-free #Vegan
Personal coaching: #success #Happiness #Sport #realizing dreams #Relationships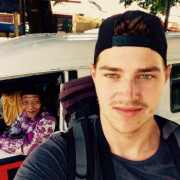 $ 55.81 per hour
Dave Fric
Work on computer
Badung Regency, Indonesia
Local time:
Dave will be available in 5 hours 21 mins
my availability
| | | | | |
| --- | --- | --- | --- | --- |
| Every day | 08:00 | - | 23:59 | (UTC+8) |
About me
I have studied Charles University of Prague with aim on sports management, worked at digital marketing on several interesting projects, made business with digital currencies. During this period of life I have completed several goals in sports that I love, such as freestyle skiing and surfing which made me visit multiple places around the globe. All the time I have been meeting new people from different sectors with different knowledge, what gave me quite wise experience how the world works and I would love to share that.
I'm the ONE who studied, travelled, made business and met plenty smart people with knowledge
My areas of expertise
Local guide: #Bali #Surfing #Party #culture #nature #Waterfalls #WaterSports #Food #Rentals #shopping #sunsetstrip #View #Local experience #language #sports #Sport
IT & Electronics: #Ui/ux design #macbook #Apple iPhone #Mac #mac os #google #Youtube Tech
Music: #Techno
Kitchen & BBQ: #Chicken curry #Shrimp #Burger #steak #Italian food #Mexican #Europe #Garlic prawns #Gluten-free #Vegan
Personal coaching: #success #Happiness #Sport #realizing dreams #Relationships