Ben Tiggelaar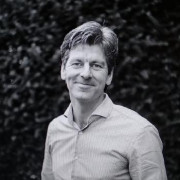 Ben Tiggelaar (1969) is a Dutch management guru. Ben Tiggelaar has been publishing books since 1999. The first two books by Tiggelaar were about the Internet, after which he moved to an increasingly wider field. Ben Tiggelaar now writes more about motivation and achieving goals than about a specific industry.
Books by Ben Tiggelaar
Ben Tiggelaar does not publish very many books, but what he publishes is enormously successful. His Dreams, Dare, Do sold more than 200,000 copies. An unprecedented number for a Dutch management thinker. In 2010, Ben Tiggelaar obtained his PhD at the VU in Amsterdam, which will also be the reason why he did not publish any books between 2006 and 2010. Ben Tiggelaar came back hard in 2011 with the bestseller This will be your year.
In his popular seminar MBA in one day, Ben Tiggelaar addresses the most important management thinkers. The seminars are extremely popular and in 2012 Ben Tiggelaar even wrote a book on this well-known subject of him.
Ideas from Ben Tiggelaar
Ben Tiggelaar himself says that his goal is to "help people turn their dreams into action". According to Tiggelaar, behavior is often the missing link between plans and the final realization of these plans. Behavior is therefore central to his books and seminars. For his promotion, Ben Tiggelaar did research into conscious and unconscious behavior. One of the most important conclusions of this study was that you have to support your staff with self-change development. One of the best methods for doing this is to strengthen the behavior that has proven successful in the past. Ben Tiggelaar's theories are based, among other things, on research by Nobel Prize winner Daniel Kahneman on conscious and unconscious behavior.
Related articles
Show more
Popular articles
Show more
Latest Articles
Show more
Direct advice from business coaches
Online marketeer
I'm the ONE
Who knows about management & online marketing strategy. Call me for free!
Co-founder of TheONE
I'm the ONE
who loves strategy, marketing and communication
NLP Coach
I'm the ONE
I am the ONE who gets the most out of you and release your real potential!
Business Development
I'm the ONE
Can help you to develop a Natural, Simple and Smart way of living.
Master in Management
I'm the ONE
I'm the ONE who will lead your life to success, doesn't matters what!!!