Steven van Belleghem
The Belgian Steven van Belleghem is in my opinion both a trend watcher and a management guru. His goal is to open your eyes what is happening in the world around us, or is about to happen. In his live-performances, he shows many examples of technical developments. When we saw him talking it was mainly about the Internet of Things, for which he made it clear that the majority of the devices that use the internet will soon no longer be computers, but e.g. appliances. Currently, manufacturers are busy connecting TV's to the internet (smart TVs), the next one will probably be your Nespresso machine that becomes "smart", and keeps track of how much coffee you still have and orders new ones right away (where can I get them?). Then your fridge will follow. Don't be surprised if this is already a reality in 5 to 7 years. He also shows the acquisitions Google has made in recent years and what they could do with it. This mainly concerns robotics, artificial intelligence and drones.
According to Steven van Belleghem, Technology is a little more stupid than we are. But not for much longer.
In addition to his eye-openers, Van Belleghem also speaks about the human side of technology. He mentions Eneco as an example, which gives its call-center employees the opportunity to send flowers to people with whom they had a nice conversation. They call it Flower Power there, instead of customer satisfaction. You must delight your customers, Philip Kotler said as early as the 1980s. The costs for this are often relatively low, but the goodwill that you cultivate with them is often many times higher. This is also what his latest book is about.
Steven van Belleghem has written three books: The Conversation Manager and The Conversation Company. His latest book is called When Digital Becomes Human.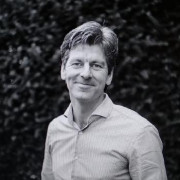 Rick De Vlieger
24-03-2019 2 mins read
Related articles
Show more
29 business coaches and mentors available
Robyn Keet

Business Strategist

US$ 0,33 pm

Zita Dusa

Content | Research

US$ 0,89 pm

Miroszlav Lakatos

Master in Management

US$ 0,30 pm

Amaka Onwodi

research, Studying

US$ 0,25 pm

Natasha Banga

Research Assistant

US$ 0,08 pm
Show more