24.9 billion pixels panoramic photo technology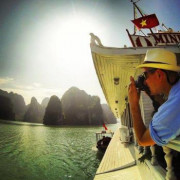 The company Bigpixel Technology Co., Ltd. based in Shanghai, creates one of the most detailed panoramic photographs of locations around the world made up of 24.9 billion pixels. The amount of pixels doesn't just produce great panoramas. It allows you to zoom in to the details and even recognize faces up to hundreds of miles away.
Cities like Hong Kong, Beijing and Macaw are photographed from high skyscrapers, giving you an unprecedented experience of how incredibly big these cities really are.
Hongkong
Macaw
Beijing
A panoramic picture of the less known cities is of Enschede in the Netherlands. If you look closely, you can see a person hanging out of a window somewhere on the second floor without safety equipment. That's how detailed the photos are.
Related articles
Show more
Popular articles
Show more
Latest Articles
Show more
Instant contact with photographers
Retail
I'm the ONE
who goes to every concert I can.
Diseñador Grafico
I'm the ONE
Soy the One, y estoy probando esta plataforma, espero conseguir mucha gente.
Student
I'm the ONE
I'm the one who can help with your school or kitchen troubles/ life advice :)
Fashion & Beauty
I'm the ONE
that'll help you achieve your skin, hair, beauty, style and fashion goals!