Acknowledging Pain, Severing Ties, Collab With Jacoby Shaddix & More With Memphis May Fire's Matty Mullins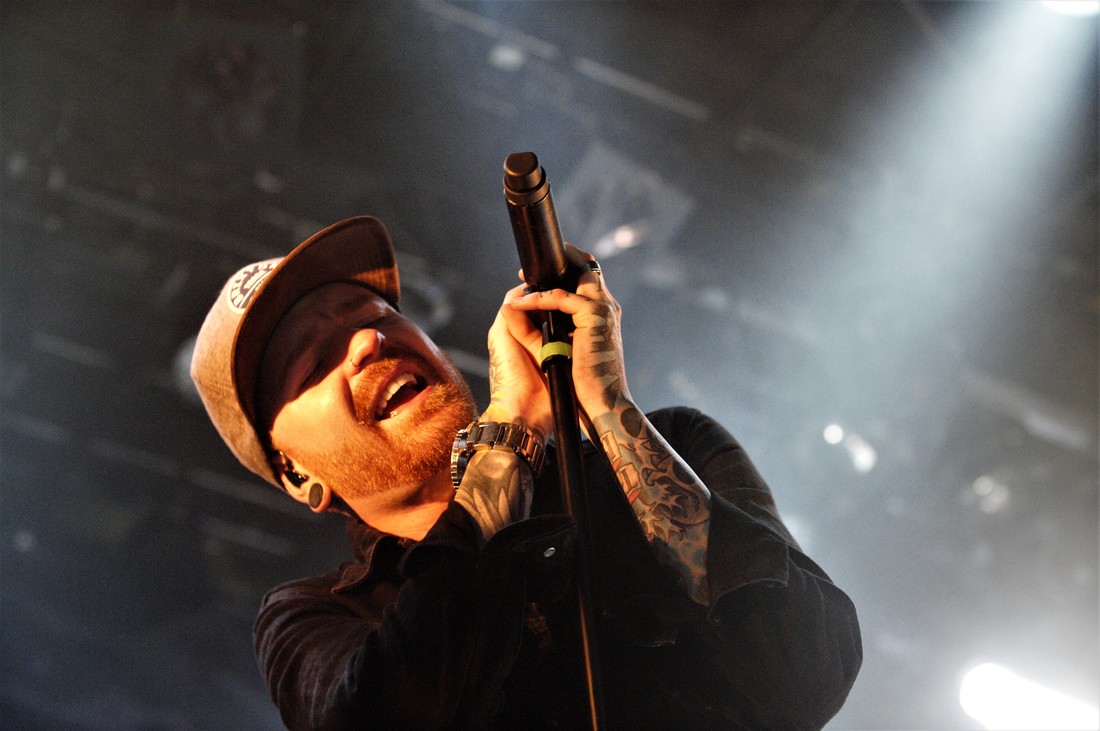 Memphis May Fire are unquestionably one of the bigger active metalcore bands out there. Just last year, Memphis May Fire released what's already their fifth studio-album 'This Light I Hold' featuring the highly anticipated collab with Papa Roach frontman Jacoby Shaddix. We connected with the band and had a chat with frontman Matty Mullins in the comfort of their gorgeous tour bus. We talked about the lyrical content from the previous album 'Unconditional' as well as 'This Light I Hold', the power of music, cutting ties with people & much more.
The entire chat we had with the frontman can be read below & we hope you enjoy reading it as much as we enjoyed chatting with Matty Mullins!

Q: You're currently touring with Silverstein and The Devil Wears Prada and Like Moth To Flames. How did this happen, touring with three headliners?

M: Yeah, it's crazy right. Things over here are a lot different than over there in The States. When we would have the same tour package in The States it was Like Moths To Flames and Silverstein and then The Devil Wears Prada and us were co-headlining, but Silverstein does really well in Europe, so we were like why don't we make it a triple co-headliner when we get over here and we all headline different shows so The Devil Wear Prada headlines some of these and then Silverstein headlines some of the Mainland Europe dates and then we headline all the UK dates. So, it's cool. Just the idea of putting each band in the forefront I thought was a really cool idea.

Q: You collaborated with Jacoby Shaddix on 'This Light I Hold', that was very cool by the way. How did this happen?

M: I met Jacoby at the Revolver Golden God awards before a few years back and he came up to me and he said "Hey man, we don't know each other but I know who you are and I know what you do and I respect what you do a lot because I'm also a believer." And I was like "that's really cool".
So I wrote this song about what it's like to be a believer in a scene that doesn't really want it and doesn't want me to express my beliefs and I was like Jacoby would be perfect for this guest vocal feature because he feels the same way a lot so I had him on the track and in the video and it all came together really quick but it turned out great so I'm so stoked about it.

Q: Especially with your clean vocals on this new record, it's raw & more mature. Have you done this on purpose? And why?

M: Yeah, we had more time to record this record than any record in the past so we really spent time making the record sound the way we wanted it to sound. In the past, sometimes things got rushed and I'm so proud of all of our records, but this one, we wanted it to be a huge step forward and I feel like we accomplished that. I think this is the album we've been meaning to put out for a long time.

Q: This is already your fifth album and some bands (for example, Bring Me The Horizon) look back at their tracks and feel that their old stuff is garbage. Do you have the same thing with any tracks?

M: The further we get in our carrier, the less emotionally attached I am to previous records like 'The Hollow', but I wrote that record in a season of my life where I was really proud of it and a season of my life where I really needed to write that record. So we all grow up and we all mature and when you look back at your previous attempts you're like "that's nowhere near as good as what we're doing now" but I still have a lot of respect for it. There's no other album that I could have put out at that time. I couldn't have put out 'This Light I Hold' in 2008, it had to be 'The Hollow'. So, I wouldn't say that I'm still sonically, lyrically proud of it, but I just respect that time frame in my life and I'm glad we put that record out.

Q: Lyrically speaking, for 'Unconditional' you put out a lengthy video about it, about your first panic attack and how that helped create 'Unconditional'. Is there a certain event that inspired this one as well?

M: In a lot of songs, instead of running away from pain or trying to act like it's not real, I just acknowledged that pain is real and letting it teach me something rather than trying to just eliminate it. Saying it's okay to not be okay. I took that stand on a lot of the songs but then there are also songs that are hopeful. The whole record kind of starts in a way where it feels dark but then it gets lighter as it goes on and that is why the album cover looks like you're in a tunnel and you're heading towards the light at the end of the tunnel. I always wanted our music to be really hopeful and I wanted it to be inspiring so there's dark songs and there's hopeful songs. It looks a lot like day-to-day life.

Q: A song that really stood out to us was 'Sever The Ties'. Could you tell us something about that track?

M: It's a song about the reality of when a relationship comes to a point where you say "I've put everything that I can into this and now I have no choice but to walk away." I think that there are relationships that end on unhealthy terms and then there are relationships that end on healthy terms. Sometimes people just weren't meant to be and you get to a point where you've put so much into it and got nothing back that you just have to cut it off and so obviously 'Sever The Ties' is self-descriptive and I think that for me it is relatable for a few instances in my life. But that song can be relatable to so many types of people and I really wanted that song on the record because I think that people need a relationship song on a record even if it is a relationship gone wrong, because it is something that they can relate to. Often time can help you heal and move on.

Q: What has a bigger effect on you, listening to music or creating it?

M: When I was younger, listening to music was like everything to me. And the older I get, creating music becomes the more important piece to me. I think that unfortunately when you live in music and you are around it so much and it's such a big part of every day life, the actual act of listening to music is a little less magical, but creating music never gets any less magical. Sometimes, listening to music as an artist, you can be very negative and you pick out the things that you don't like about it but when you're creating music, that's when magic really happens.

Q: When you do listen to music, do you pay more attention the lyrics or to the melody?

M: I've always been a lyric guy. Lyric and melody, but hardly ever instrumentally. Lyric and melody have always been at the forefront of who I am and that's what I do, so I'm always very focused on them, but all the other guys in the band, they only hear the music and the riffs. But for me as a vocalist, lyric and melody is always what I hear the most.

Q: Concerts are getting increasingly more important for bands. What do you do to keep your live shows special and are there any artists whose live shows inspired you?

M: We try to pay attention to what fans want to hear live and we try to incorporate those songs into our set and switch it up as often as possible so when you come out to see us you're not seeing the same set twice. In America we do a lot of big production, over here it's a little bit harder. We don't travel with as much but our shows over here have the same energy to it. Bands that inspire me live would be like bands I grew up with, but these days I think Twenty One Pilots have a really amazing live show, they have the ability to put so much into it. I did a collaboration with Jacoby and I performed with Papa Roach at the APMA's, their live performance is great and Jacoby is an amazing live performer. Obviously bands like Coldplay just *exploding sound*, massive performances. And then a lot of hip-hop too, Jon Bellion is an incredible performer.

Q: Speaking of the production in the States, did you have something similar with the big show in London?

M: Yeah, we travelled with a little bit of production for that tour, but in America we have big video walls that we use with video footage. We hope to get to the point in Europe where we can start to use that kind production.

Q: Is there any artist or band you haven't toured with yet, but would like to tour with?

M: We're kind of at the phase in our band where we would like to start touring with more active rock bands. Like doing Papa Roach tours, Five Finger Death Punch tours, Avenged Sevenfold tours, that caliber of touring is the kind we haven't experienced yet and we would like to cross over into that if possible.

Memphis May Fire released their latest album 'This Light I Hold' late last year.
Grab your copy of the album, online or physical, or stream the album below!
Glenn van den Bosch
02-03-2017 10 mins read
Related Musicians & singers
Natalie Ramos

Music-based Writer

US$ 0,08 pm

Paige Bower

I am at college

US$ 0,07 pm

Asya Kardzhaliyska

trainee optical consultant

US$ 0,06 pm

Núria Pedrós Peró

Writer

US$ 0,10 pm

Catalina Soboredo

Future economist.

US$ 0,08 pm
Show all