Album Review: Amaranthe - Maximalism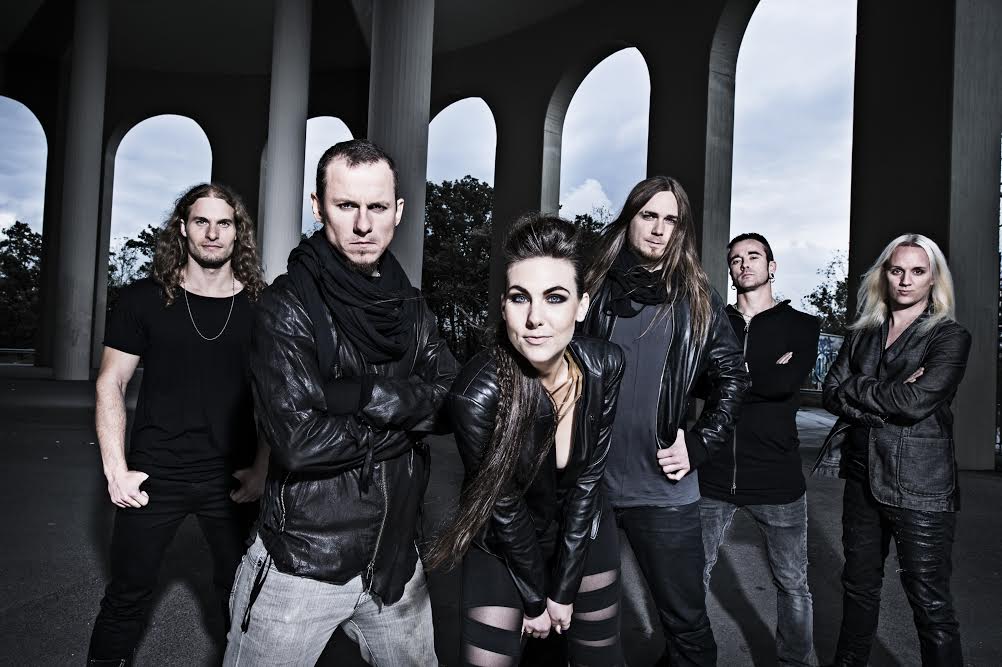 Amaranthe, hailing from Sweden,
have a unique line-up of
three
vocalists
: Elize Ryd, Jake E, and Henrik Englund Wilhemsson.
Both Ryd and Jake E singing clean vocals and Englund
sing
s
harsh vocals
.
Also in the band are Olof Mörck on guitar, keyboards, Johan Andreassen on bass, and Morten Løwe Sørensen on drums.
Maximalism
is the fourth studio album for Amaranthe, and was released on 21
st
October 2016 by Spinefarm records.
The first track on
Maximalism
,
Maximize
, begins with synth before heavy guitars begin. Ryd says
sweetly:
"Hello, is there someone out there who can hear me scream?" before Englund's
growl
joins in,
and then Jake E's cooing
.
Upbeat drumming carries through the song, with the trio of vocalists keeping up with the momentum. A rock guitar solo leads us into the final chorus. It's an optimistic
up-tempo
track that would inspire a crowd to bounce along with it.
The second track,
Boomerang
,
is also a bouncy track and veers into dance pop, aside from Englund's vocals and some heavy drumming.
The song talks
about the stuck cycle
of
relationships, going around in circles ("Never going down like a boomerang 'round").
There's an interesting bridge where Englund solos, crossing over a little into rap, before Ryd and keyboards bring us back to the chorus.
Track three,
That Song
, starts with a stomp-clap combo reminiscent of Queen's "We Will Rock You".
Ryd's voice is perfection, dancing along with delicate piano and an easy beat. The chorus is catchy and is a call back to the roots of music
("
I left my soul sold, play me rock and roll"). There are excellent vocalisations and an impressive guitar solo as the song comes to a close.
We start off heavy for the fourth track,
21
, with guitars and drums introducing the song before Ryd
sings flirtatiously
to a sassy drum beat
. This song is all about going out and having fun
and the beat and structure of the song makes it easy to join in with Amaranthe on that.
Ryd's vocals are killer leading into
On The Rocks
and it feels like we are still in party mode. I've got a feeling that the muting of the instruments
and the stepping down of chords
through the verses
(a la Panic! At the Disco's track "Victorious")
and the "Huh!" vocalisations
are
going to get this song stuck in my head.
This would be
a(nother!)
great track to bounce along to
at a
live
show
. Englund has a moment to rock out with bass and drums before leading into a guitar solo.
I'd like to say that
Løwe'
s drumming has been exceptional throughout, whether supporting a dance feel, metal heaviness, or rock riffing.
Limitless
showcases Ryd's beautiful voice throughout, beginning with piano before morphing into an electronic sound and escalating into
something
heavier as the song goes on. Jake E contributes vocally also and
the vocals are
cohesive with the lightness and questioning of the song.
The other end of the spectrum from Limitless is the
next
song,
Fury
. Englund'
s growl
is featured in this track, along with pummeling drums and exceptional
metal
guitar.
Ryd joins in on the chorus.
The bridge kicks ass musically, and though the heavily edited stuttering vocals were unexpected, it's still a really cool moment on the track.
I'm also a fan of Englund's "YAH!" noises, and loved the ending because of this.
Faster
includes rock guitars and drumming throughout, keeping the song feeling congruent, despite some dance/electronic features.
Break Down And Cry
is the same, but has quieter moments where clean vocals take centre stage.
Amaranthe
consistently
do up-tempo really well and
Supersonic
is a
nother
reflection of that. The beat is skipping and light. There's no doubt about the talent of the band members of Amaranthe and in Supersonic we get to see more of what Ryd's voice is capable of with an amazing vocal interlude.
Fireball
mashes up metal with electronica and is a slower paced track than most on Maximalism.
The album closes with the track
Endlessly
, which is a beautiful ballad sung by Ryd and features strings as well as rock guitar and drums.
Amaranthe
may be classified as a metal band, but they seem to be all about fun and lightness, as opposed to having a specific message with their music.
Maximalism
is
a fun listen and it showcases polished performances from all band members. The unique combination of the three vocalists offers a variety of sounds which they have played with on
each of
the tracks of the album.
Maximalism
is the fourth studio album for Amaranthe, and was released on 21
st
October 2016 by Spinefarm records.
Written by Kelly Burch
Glenn van den Bosch
05-11-2016 8 mins read
Related Musicians & singers
Paige Bower

I am at college

US$ 0,07 pm

Natalie Ramos

Music-based Writer

US$ 0,08 pm

Asya Kardzhaliyska

trainee optical consultant

US$ 0,06 pm

Núria Pedrós Peró

Writer

US$ 0,10 pm

Catalina Soboredo

Future economist.

US$ 0,08 pm
Show all