Album Review: Blink 182 Are A Band Reborn On New Album 'California (Deluxe Edition)'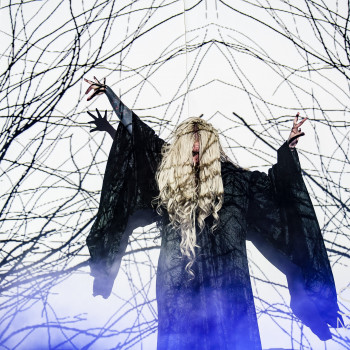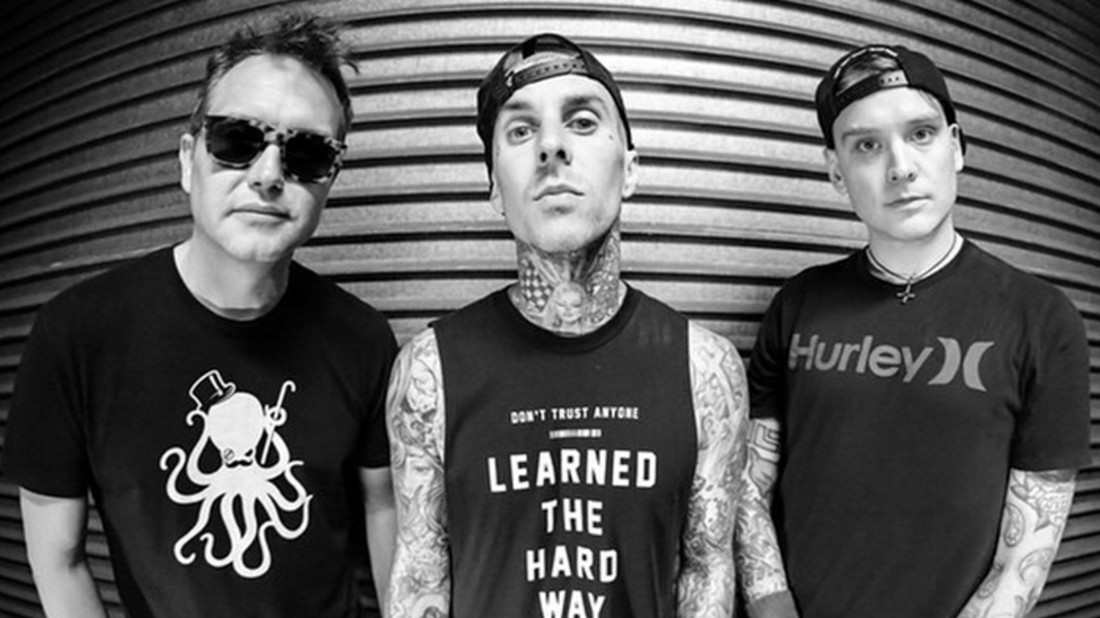 When it came to the release of new music from pop punk legends Blink 182 almost a year ago after an arduous four year wait since 2012's controversial EP 'Dogs Eating Dogs', highly anticipated doesn't even begin to cover it. The rock world was on tenterhooks, poised and ready to see whether the legends who have inspired so many incredible bands over the years would be able to pull it out of the bag, especially after the very public dismissal of founding member Tom DeLonge and the confirmation of his replacement, Alkaline Trio's Matt Skiba. When 'California' was finally released on midnight of July 1st last year, however, any doubt vanished instantly, as the music world was given a taste of a Blink reborn from the ashes. For many, myself included, 'California' became the album of the summer, and the band who dominated the airwaves in the early 2000s found themselves back where they belonged, topping the charts, restored to their former glory. So, how were they going to top this miraculous comeback? And what ever became of the many discarded songs that didn't make the cut for the first edition of 'California'?

Well, Blink decided not to keep us in suspense for too long, and less than a year after the initial release of 'California', the band have now put out a new deluxe version, containing the original 16 track album, plus a bonus 12 songs, which in themselves make up pretty much a whole new album! 'California (Deluxe Edition)' is an all-out masterclass in the musical fingerprints of a revitalised and renewed Blink 182, giving us our first holistic view of the new setup and style of one of the most iconic bands of our generation. The addition of Matt Skiba to the line-up has brought a whole other dimension to Blink's sound and lyrical content, and this album never lets you forget it! We've taken an in depth look at all of the new tracks from the second half of the album, and believe me when I say, this could well be the beginning of something very special for this band in their renaissance era!

Following the original 'California's final track 'Brohemian Rhapsody', the new half of the album opens with 'Parking Lot', which bursts into your eardrums at breakneck speed, driven by the gut punching staccato bassline and woven through with wonderful pop punk angst and bursting with youthful frustration and desire in equal measure! It is a punchy, uplifting reminder that the essence of what made Blink 182 great isn't going anywhere, a fact that is highlighted with the classic Blink-style choruses and a bridge that commands you to sing along! Blink are back- and back with a vengeance.

The first of the album's many surprises unfolds in the form of 'Misery', a song dripping with emo melancholia and far removed from the infectiously riot-inducing Blink songs of old! 'Misery' is a flickering candle of a track that builds through the chorus to a hopeful fire, with lyrics that create a greater sense of depth on a song that is melodic and introspective and yet impeccably universal, which promises to be an angst filled teenage emo anthem waiting to be unleashed. Never ones to wallow for too long, however, 'Good Old Days' pierces through the low swing in mood with its deep, grumbling bass and lyrics which make it the perfect anthem for many an escapade on a warm summer's night, from a vast road-trip down to the smallest of adventures! The song is crowned by Mark and Matt's soaring vocals and their harmonies lift the choruses, encapsulating all the hope and wonder of the fledgling teenage relationships that this song is sure to become representative of for many across the world this summer!

'Don't Mean Anything' is an unexpected but very welcome shift, with its low simmering verses packed with Matt's emotion-filled vocals that give way to the elevated, layered choruses over which Mark's vocals soar, and which simply beg to be sung by a crowd of thousands with hands in the air! 'Hey I'm Sorry' forms a seamless progression into the mature side of Blink that begins to peek through on this half of the record, just as it did with tracks like the eponymous 'California' and 'San Diego' on the initial release of the record. The track uses powerfully emotive lyrics to contemplate the life lived and the life still left to live, and who and what that life is being lived for, while also serving as an apology from the band to the fans and to themselves for the time they spent away from the recording studio and from touring in the break between releases. Softer guitars and a melody that ebbs and flows, combining elements of a powerful ballad with Travis's heartbeat-esque kick drum that serves to draw the listener into the track and adds a sense of pace and power to the track's layers.

The undulating piano that opens 'Last Train Home' soon gives way to Matt's smooth vocals, which shine on this track in particular, working in harmony with melody of the track, which is slower and more melodic than many of its predecessors and all the better for it. The caramel smooth harmonies and rich melody conjure up the image of a shower of glittering golden sparks falling down over a slowly darkening stage, highlighting the subtle majesty of the song that would make it the perfect way to close a set. Yet despite the fact that the track speaks of endings, it somewhat ironically also appears to mark the shift into a new era of Blink 182, a more refined and less youthfully outrageous one perhaps, but an equally impactful and influential one. As always, Blink don't let you bask in the warm afterglow for long, crashing straight back in with the cacophony of guitars and delectably bouncy melody of latest single 'Wildfire', which will bring a fond smile to the faces of new and old fans alike as it boasts a distinctive guitar tone that echoes many of Blink's early hits, and a catchy riff on the first chorus perfect for shredding some air guitar to! Raucous, wild and untamed, this is an anthem which is set to go off on the band's huge UK arena tour this summer!

There has been much talk surrounding the next track, '6/8' ever since the band described it as the 'strangest song they've ever recorded'. It is written in 6/8 time, which is perhaps on paper a risky choice, but its quirky uniqueness is what makes it so resonant and what truly shows the depth of the band's musical and lyrical skill. Richer, darker, grungier guitar tones give it a depth that breaks out into the sun on the choruses, Travis's insistent drums on the second verse adding a pace that contrasts beautifully with the ebb and flow of the vocal line- not unlike the 'rushing river' that the lyrics depict! In terms of musical construction and lyrical content it is a beautifully constructed maelstrom, with the slam poetry style bridge from Matt that adds yet another dimension- Blink have thrown everything at this song and it has all stuck and blended together to create a musically marbled piece of art that, against all odds, really works!

After all of that upheaval, listeners are in need of a pretty, melodic respite kept ticking over by the drums and the soft guitars that recede in favour of showcasing Matt and Mark's vocal talents, and so Blink deliver on 'Long Lost Feeling'. A slightly underwhelming track on the first listen, after a few replays, there's this lingering sensation that 'Long Lost Feeling' is going to be an underappreciated gem in years to come, with its melody in the last few fading notes that somewhat echoes a softer version of title track 'California', tying the whole album together along a continuing melodic undercurrent. Currents become a prominent theme in a much more literal sense on this album's last hurrah, 'Bottom of the Ocean', where the influence of Matt and Alkaline Trio is perhaps the most prominent out of all the songs on the record. One of the most visually stimulating songs on the album, 'Bottom of the Ocean' is bursting at the seams with vivid images, enhanced by the small radar pings worked into the mix and verses' muffled backing vocals that immerse the listener in the sensations and emotions that inspired the song. The blend of the slow pace and the touch of the psychedelic from the slightly muted vocals contrasted against the unrelenting pace of the feisty guitars on the chorus give it a subtlety mixed with a fire and intensity which turns this track into something of an underwater volcano! One thing is for certain: Blink 182 are no longer 'just a pop punk band'!

Then again, it just wouldn't be a proper Blink 182 album without a short, loud, raucous, utterly ridiculous yet utterly brilliant, witty, tongue-in-cheek track thrown into the mix for good measure, and once again, Blink deliver with one of the wittiest and best executed shorts they have produced in a good while- the 35 second long 'Can't Get You More Pregnant', which leaves fans in no doubt that despite this enhanced sense of artistry that this new record gives us, Blink are most definitely still up for having a whole lot of fun with their music too!

The final additional track on this wonderful deluxe edition of 'California' is a live acoustic recording of the record's original lead single 'Bored to Death', which rounds the whole album out in a wonderfully poetic way, bringing us full circle to when this rebirth of Blink 182 began with the release of this single over a year ago. The joy of live recordings is that they capture the same raw, unpolished chords and cheeky adlibs of a live performance, and the crowd singing and clapping along in the background can't help but bring a smile to your face, as the record keeps flowing to the very end with this beautiful acoustic that loses none of the drive and vigour of the original, a feat that is so hard to achieve, but Blink have done it perfectly, proving beyond any doubt that they're just as good as they have ever been!

In short, this deluxe record demonstrates even more powerfully than the original release of 'California' that this is a Blink 182 reborn. While the essence of what made them great all those years ago thankfully remains, this record is the first time we truly get a sense of the sound and direction the band are heading in, and with the addition of Matt Skiba to the line-up it appears to have opened up so many doors for Blink in terms of exploring new sounds, dimensions and playing with traditions of the pop punk genre, or sometimes doing away with them entirely and creating truly meaningful pieces of art, something they deserve huge commendation for being brave enough to take on. And so all I really have left to say is this: if 'California' was the album of last summer, then this deluxe version could well be the album that defines summers for many years to come!​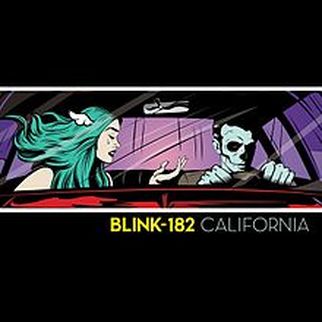 'California (Deluxe Edition)' is out now via BMG Records.

​Blink 182 are going to be heading out on a massive UK arena tour this summer (look out for Strife's review of the Manchester date coming in mid-July!). Tour dates are below. The band will also be playing several festivals across the USA throughout the summer- keep an eye on their social media for updates on their festival appearances!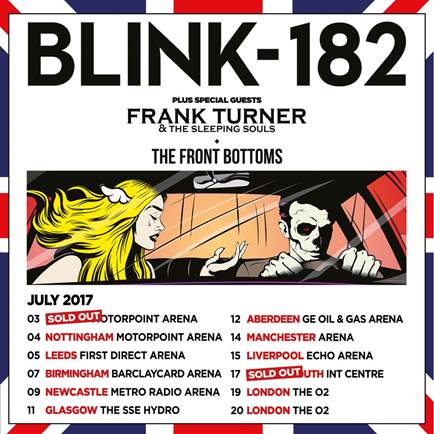 Review by Charlotte Hardman
Related articles
Show more
Popular articles
Show more
Instant contact with Musicians & singers
Student and Writer
I'm the ONE
who's passionate about music, writing, and dance.
Music-based Writer
I'm the ONE
who is always there to share an enthusiasm for music and living in the moment.
Retail
I'm the ONE
who goes to every concert I can.
IT HELP DESK
I'm the ONE
I´m a person willing to help you in every possible way. Call me.
artista
I'm the ONE
vive la vida, y no te arrepientas de ello.