ALBUM REVIEW: Chase Atlantic- 'PHASES'
For more than five years, Chase Atlantic have been pushing musical boundaries and creating music that is true to them within the industry. Since their debut, the Australian band has moulded their own path, subsequently creating their own individual sound, style and identity. In one of their most daring and elaborate projects to date, 'PHASES' continues to exude the established identity of the band, as well as treating old time listeners with some refreshing new elements. Such a project once again proves why this genre-dynamic band remains so relevant within the growing alternative scene, and showcases that they certainly will not be fading away anytime soon.
'PHASES' begins with a track fittingly titled 'INTRO'. Such an inclusion reaches out to audiences, offering a taste of what is to come. A tranquil and calm tone is met with some underlying uncertainty or questioning, as shown through the many layers of instrumentals. Alongside this, it gives listeners an insight into the influence of the album. From 'INTRO', it is established that there will be inclusions from both electronic and natural instrumentals within the album, reflecting true Chase Atlantic style. After two minutes of intriguing music, the anticipation is certainly built upon within the first listen. It is now time to enter the album of 'PHASES'.
Track two is titled ' ANGELS'. Transitioning gracefully from the introductory track, 'ANGELS' presents a somewhat vulnerable side of the band. Sitting among some powerful verses, the chorus remains both meaningful and catchy, skilfully creating a track that holds both of these qualities within its play. Perhaps the element that ties this whole song together is the prominent brass/saxophone sounds within the background. It was certainly included for a reason, and adds an extra dimension to the song upon listening. As this track is essentially the beginning to the album, it was interesting to initialise it by using a song that presented such vulnerability- a credit to Mitchel Cave for showcasing such emotions through his voice. I believe the track establishes the tone of the album perfectly, and accompanied by 'INTRO', is heavily relied upon to build the foundations of the sombre yet meaningful album to come. 'ANGELS' is a powerful and raw opening track, and constructs a tone that becomes prevalent within the entirety of 'PHASES'.
Following is track three, the title track of the album, 'PHASES'. Picking up slightly in intensity and volume, this track presents itself as more certain and assured. Despite this, a tone of sombreness is still prominent, and flows magnificently from the previous tracks. This flow is further heightened by the inclusion of the small pieces of dialogue that were found within 'INTRO'. Although it is evident within most of their tracks, credit is due for the masterpiece that are their lyrics. Among their refreshing beats and instrumentals, Chase Atlantic's lyrics remain strong and meaningful. Within the beautiful lines, a reoccurring message is proclaimed; "I'm going through phases". Whilst tying into the narrative of the track, I take this line as a form of artist to audience communication, allowing insight upon the album. Perhaps this next phase explains the new tones and sounds that are being reflected upon the album. It may also be a forewarning to fans, in order to brace themselves for the drastic yet powerful changes that are to be faced in the rest of the album. 'PHASES' serves as an impressive title track, proving its importance to the narrative, tones and style of the album.
Track four is 'LOVE IS (NOT) EASY'. Serving as one of the singles from the album of 'PHASES', this track has been incredibly well received; it is clear to see why. Within the realm of lyrics, this is not only one of the most important songs form the album, but perhaps one of the most important releases of this year. Through a powerful story depicting the important lessons of a wiser figure regarding the journey of love and what it entails, the ending tears the final heart-string; "I'm so done with love, 'cause like tears in the rain it means nothing". After following the protagonist on their journey of loving and learning, it becomes almost like watching an enticing film- with connections being built and sympathy being offered. Such a line reflects on this sense of vulnerability, and shares personal experiences and feelings about members we did not previously know. As well adding to the themes, this also communicates a trust and understanding between audience and artist, which is more than essential within the music world. Contrastingly, another line of the track proves quite fitting for alternate themes of the album; "I'm horrified of change". After the audience being introduced to a new phase of Chase Atlantic, it becomes quite raw to see a line like this. It reveals that it was not only a big leap, but one that was beyond influential and intimidating to the band. Such an insight truly demonstrates this understanding once again, and creates a track that really seems directed towards the listener. 'LOVE IS (NOT) EASY' is an extremely important track from 'PHASES' and serves as a powerful single.
Following is track five, 'HER'. Proving to be yet another well received track, 'HER' shifts the pace slightly. Introducing sounds that are familiar with older Chase songs- the track holds a sense of familiarity and nostalgia. The introduction of these older sounds is certainly a reminder of the incredible journey of the band, and how their music has been shaped within their different eras. The shift in tone offers a fresh perspective upon the album, shaking up from the consistency that has been found previously. 'HER' is an exciting track, and offers a sense of familiarity within the album of 'PHASES'.
The halfway point of 'PHASES' is met with track six, 'NO RAINBOWS'. To the delight of listeners like myself, the prominent brass and saxophone instrumentals return! Although it is a common occurrence within most of their tracks, it is still a layer that excites me immensely! It adds something unique- something that sets the band apart from others! Alongside this, 'NO RAINBOWS' jumps back to the sombre themes earlier created. The soft and inviting vocals perfectly melt together within the softer, electronic instrumentals, creating a track that is almost soothing to listen to. For this reason, this track is not only one of the best from 'PHASES', but is my personal favourite from the album. 'NO RAINBOWS' offers a beautifully composed track that only enhances the album that surrounds it, perfectly adding to the album that is 'PHASES'.
Track seven is 'HEAVEN AND BACK'. Once again, Chase Atlantic throw a spanner in the works, offering a track that is noticeably different from the rest. Although the use of electronic elements has been apparent, this track seems to be more technological and upbeat than the rest. It truly does stand out. However, this is also due to the incredible story telling that is shown through the lyrics. Most notably, the chorus shares the story of a protagonist, most likely experimenting with drugs, becoming so negatively affected that they slip towards the edge, hence the name 'HEAVEN AND BACK'. Within this time and within this target audience, sharing such an influential story through the means of music has never been so important. The track serves as a warning, or better yet, a call to action. "Now she's terrified"; Chase Atlantic depicts how such behaviours can ultimately end in dire circumstances, and within an uprising of younger generations participating in events mirroring this, the message of the song could not have come quick enough. 'HEAVEN AND BACK' holds some of the most important messages and morals of the album, adding to the strong influence 'PHASES' holds as a collection of songs and stories.
Following is track eight, 'STUCKINMYBRAIN'. Retreating back to the quieter and more sentimental tones, this track offers yet another element to the album. Through the lyrics, 'STUCKINMYBRAIN' serves yet another offering of important morals, and touches on important topics of discussion. It is truly amazing to see the way in which the band intertwines such important themes, and incorporates them into catchy beats, without making a mockery of them. It requires such a tremendous amount of skill and ability, and on countless occasions, Chase Atlantic have proved they know the balance. 'STUCKINMYBRAIN' is yet another important song from 'PHASES'.
Track nine is 'EVEN THOUGH I'M DEPRESSED'. Offering another ounce of diversity, this track opens with yet another different sound; one reminiscent of early style punk instrumentals. Perhaps the most standout component to this song is the incredibly contrasted elements that seem to compliment one another amazingly. Among meaningful and dark lyrics, the beat and instrumentals remain vibrant and upbeat. Skilfully, this creates not only an enjoyable song, but one with a message. Particularity in 'PHASES', Chase Atlantic have showcased their skill by morphing such opposing elements within one another- not only showing their talent but providing underlying messages of hope within the pain. 'EVEN THOUGH I'M DEPRESSED' offers an upbeat and vibrant song, but remains as a contributor for the important messages and morals that make up the album of 'PHASES'.
Following is track ten, 'TOO LATE'. Opening with more eerie and confronting tones, the song carries the feeling of intimidation throughout its entirety. The climactic chorus allows for the primary voice of this track, belonging to Mitchel Cave, to put his diversity on show. Even though he already exhibits a unique tone, the build up of the chorus is heightened by his voice- adding extra elements to the track. This is essential to creating a more than one dimensional track, and also allows the technical ability in the band to be showcased, shaping their songs through the use of vocal talent. 'TOO LATE' makes for a track that is truly a depiction of the diversity of voices within Chase Atlantic and the album of 'PHASES'.
Track eleven is 'I NEVER EXISTED'. Retracing back steps toward the earlier parts of the album, the track holds softer tones. Through this, emotion is evident, and matches the somewhat confessional lyrics and dire tones within the song. Much like many of the other tracks, 'I NEVER EXISTED' includes the vocals of Christian Anthony; vocals that upon every arrival offer something new, refreshing and dynamic. The layers of vocals and layers of messages within the lyrics creates a multi-dimensional track, allowing for some great story telling within. Apart from this, the track flows incredibly well. The vocals and instrumentals travel hand in hand, creating a more than enjoyable song. 'I NEVER EXISTED' is a unique, standout track from the album.
Concluding the album of 'PHASES' is track twelve, 'I DON'T LIKE DARKNESS'. Through the lyrics, this track ultimately becomes one of the most personal and raw tracks upon the album. Summarising the album, 'I DON'T LIKE DARKNESS' touches upon themes already discovered, as well as introducing some that may be responsible for the creation of an album that has shown so much growth within the band- both as individuals and through their sound. Lyrics like "I don't wanna leave this place if you're not with us" encapsulate the large amount of audience to artist connections found within thee album, highlighting the underlying importance of fans. Ultimately, this could be a form of reaching out, seeking approval for the new direction, and reassuring fans that new directions, particularly within 'PHASES', have the best interest of fans at heart. Furthermore, lines like "and I don't wanna go outside, I don't like darkness" reflect upon some of the important morals from the album, and perhaps why they were shared. Our world today is filled with unimaginable occurrences and pain, and through the album of 'PHASES', Chase Atlantic have created a shelter, a distraction, to what is occurring around the audience. However, as the track concludes, it is time to return back to the darkness- this time with a few important messages learnt from the twelve tracks. 'I DON'T LIKE DARKNESS' beautifully concludes the album of 'PHASES' and provides an immense amount of reasoning to the album that was.
The album of 'PHASES' signified a momentous change of direction for Chase Atlantic, but ultimately paid off by creating an album that holds connections with the audience, and shares essential messages with listeners. The growth is evident in both the lyricism and instrumentals, creating tracks that are easy to listen to, are meaningful and enjoyable. It is clear that this band will not be stopped anytime soon, and it is beyond exciting to be an observer of their musical journey. Not only as a music listener, but as a fellow Australian, it is both inspiring and exciting to see a local band climb the ladder of success with their unique and refreshing music . We recommend you have a listen to 'PHASES', and enjoy the ride that accompanies it.
Enjoy the album below and let us know what you think!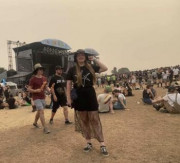 Georgia Haskins
04-09-2019 11 mins read
Related Musicians & singers
Glenn van den Bosch

Photographer writer

€ 0,25 pm

Rosa Todd

Student

€ 0,05 pm

Amy Stevens

Student

€ 0,09 pm

Núria Pedrós Peró

Writer

€ 0,08 pm

Paige Bower

I am at college

€ 0,06 pm
Show all