Album Review: Crown The Empire - Retrograde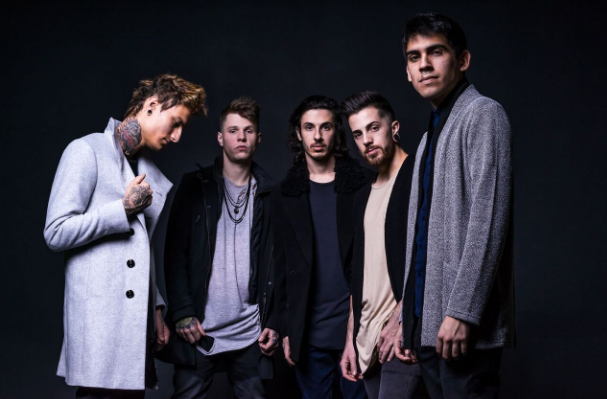 After the successes of their previous releases 'The Fallout' and 'The Resistance: Rise of the
Runaways', Crown the Empire are set to release their third studio album, 'Retrograde'. The Dallas-
born rock quintet have had exactly two years since the release of 'The Resistance' on July 22 nd 2014,
and the time has been expertly spent perfecting their iconic heavy yet accessible sound. Andy Leo,
one of the two vocalists opened up on the journey behind the album, saying "This album has been
an accumulation of ideas, lessons and observations about who we are as a band and how we see the
world. It's taken 5 years for us to grow and really nail down a sound that doesn't fit the status quo of
what people are expecting from us. We've reinvented ourselves and we hope you enjoy the ride."
Opening track 'SK-68' is a simple interlude punched with some slow, calm, haunting vocals from
Andy followed by the first actual track as such from the album, 'Are You Coming With Me', which
pulls well on gang vocals in the opening chorus to create a wonderful choral, arena-filling sound that
suggests the direction the band are looking to take. The rousing vocals begin to create a sense of
excitement, as if something colossal is coming, and it most certainly does. The first single the band
released from 'Retrograde', 'Zero', follows, and my is it mighty. With a wicked riff to open the song
followed by some feral growled vocals from vocalist Dave Escamilla, the opening is punched by the
introduction of Andy's soaring clean vocals. The track provides the punch that the previous track
lacked – but that is one of it's primary qualities; by introducing the album with a call to arms (pun
fully intended from the last album), it allows 'Zero' to really blow the listener away and truly allows
you to appreciate the efforts the band have made to further themselves.
As 'Zero' finally draws to a close (which is unfortunate), Crown the Empire allow a few minutes to
breathe, with 'Aftermath'. As the track begins, it feels as if it will simply be a showcase of Andy's
clean vocals, but as the bridge comes in we hear Dave's brilliant unclean vocals again alongside some
stunning guitar work, with the tortured strings combining perfectly with the vocals. The
reinforcement of 'You can't kill me' heightens the bands determination to become one of the best in
the business, suggesting anything that comes their way won't stop their dreams.
'Hologram' follows, which the band released a new music video for yesterday, which Andy says
'could only be written after touring 200-plus days a year for half a decade'. Bringing the catchiest
chorus on the record to go along with brilliant lyrics and instrumentals, this track is certain to
become a fan favourite from the album, especially with such punchy, poignant lyrics coming during
the chorus. 'The Fear Is Real' is a three-minute- long interlude with darker, more haunting melodies
that ready you for the brilliant 'Lucky Us' that follows. The two flow into each other with an affinity
rarely seen between tracks nowadays, with the ending of the interlude giving way to some
distortion, followed by sombre opening vocals that results in crashing guitars and drums and
incredible unclean vocals yet again. The track is made thanks to the powerful, heavy as hell riffs
coming from both the bass and electric guitars, punctured by crushing unclean vocals.
On a mildly lighter tone, the albums second single, 'Weight of the World' takes a much more poppy
approach, contrasting brilliantly with the weight of the previous track and brings another punchy
sing-along chorus to the table, with the catchy chorus backed by Dave's growls to create a song with
incredible crowd involvement potential that I personally can't weight to hear live. 'Signs of Life' is
the albums weak track, as it's the only track that doesn't quite seem to fit – don't get me wrong its
still a good song, but comparatively to an album full of brilliance it seems a little dull and flat, but
exemplifies the bands experimental nature, something I applaud, as bands taking risks to see what
other avenues of music they can explore is always enjoyable to see.
'Oxygen', the penultimate track, is the slower track from the album, but provides a wonderful
platform for the boys to show off their softer side, and creates a calm, pleasant final atmosphere to
begin the albums close. 'Kaleidoscope' is the final track, and brings about a close to a brilliant
release. Though the second half lacks the intensity of the opening half, 'Kaleidoscope' makes up for
it nicely with brilliant vocals and lyrics, with a soaring chorus to close the album.
Overall, the album is one not to be missed, with powerful tracks, a perfect blend between clean and
unclean vocals, some impressive guitar work and perpetual brilliant drumming coming from Brent
Taddie. For any new fans, I hope you enjoy the sound of 'Retrograde', and I would massively
recommend also checking their back catalogue (where have you been for the last few years?!?), and
for old, returning CTE fans like myself – don't expect to hear the same Crown the Empire you've
heard before. 'Retrograde' is a brilliant example of a band really trying to push themselves and now
that I've got the album to listen to, a lot of the tracks will be being repeatedly aired in my playlist for
the summer.Written by Laurie Cromwell
Glenn van den Bosch
22-07-2016 6 mins read
Related Musicians & singers
Núria Pedrós Peró

Writer

US$ 0,10 pm

Paige Bower

I am at college

US$ 0,07 pm

Melanie Gomez

Music Journalist /

US$ 0,33 pm

Gael A

School

US$ 0,08 pm

Bailey Dupuis

Writer

US$ 0,08 pm
Show all