Album Review: Green Day - Revolution Radio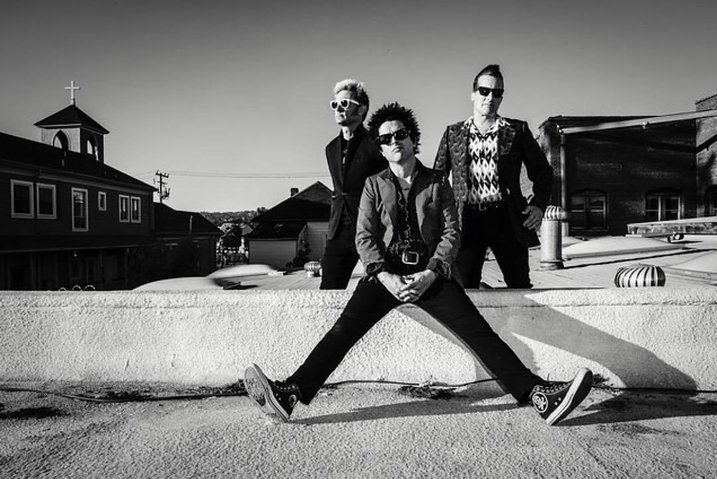 Welcome to Revolution Radio. Tune your dial to your soul and let it sing, loudly.
Green Day (Billie Joe Armstrong on vocals & guitars, Mike Dirnt on bass & backing vocals, and Tré Cool on drums) have something to say with Revolution Radio and we'd better listen up. Released on 7th October, this is Green Day's twelfth studio album, and, after a four year break, still packs a musical punch.
We begin the revolution with
Somewhere Now
, which starts with sweet guitar, contemplative and wistful, reminiscent of lazy days and soft breezes. We are then zeroed into focus and rocking drums and guitars guide us on.
Somewhere Now
is a wake-up call, to get back to who we are. It asks the question "Where is your soul?". (Spoiler: check under the sofa pillows)
Historically Green Day are masters of bouncing beats with sobering lyrics and
Bang Bang
(track two) is a good example of this; its moshable sound
is
a
sobering inverse to the seriousness of the lyrics. Armstrong seems to be giving commentary on the hype surrounding war and terrorism, dispairing the armchair-gripping reality TV show-esque attention that is given to "Daddy's little psycho and Mommy's little soldier". Musically, the bridge is an amazing shift into an eastern style of music that adds a layer to the message they're sharing.
The title track,
Revolution Radio,
seems to continue the same anti-terror hype sentiment as
Bang Bang
, but if you look closer you can see that Armstrong is commenting (also?) on revolutionary self-expression. "My love's bulletproof" reminds us all of the power that we hold, away from what we're fed in news articles and mainstream information. "We are revolution radio" is handing us back the power that we always had, to realise we're not under control as much as 'they' would like us to think. Collectively the songs on this album are seeds planted to inspire each of us to remember who we are and to go out and be that, without falling prey to compliance or having fame warp our purpose, and THIS is the revolution in a nutshell.
The songs
Say Goodbye
and
Outlaws
both describe loss and a sense of kindred spirits. The last 15 seconds of
Say Goodbye
are exceptional,
without diminishing the rest of the track, which could easily be an anthem for the revolution
.
Leading into
Outlaws,
it is softer and reflect
s
upon
darker pasts and choices made in the thick of challenging youth. The reference to "forever" as well as the tender piano piece at the end of the song seems to be implying the loss of a fellow 'hooligan'. It's a sweet remembrance of something chaotic, and an important part of the revolution.
Arriving at track six of twelve, having explored some pretty heavy concepts along the way,
Bouncing Off The Wall
lets us take an emotional break. Join in. Shout "HEY!" and sing along as the "bloody freaks" each of us are, who just want to be free.
Bouncing Off The Wall
is a fun song, asking us to have fun in our revolutionary states of being, despite everything else.
Still Breathing
is a necessary track being broadcast on this metaphorical radio of revolution. It is a reminder of all that has been overcome, how strong we are, that we are indeed still alive, still here, and still capable. The building of the verses through to the chorus is moving and makes the chorus feel even more anthematic.
Still Breathing
is an important song for all of those tuned in to the revolution of truth. Life's not pretty but we're here and we're doing it, with Armstrong, Dirnt and Cool on our side. This matters, so much.
Do our revolutionary selves want a love song? Here comes
Youngblood;
a reaching out of a kindred spirit's hand to hold through the revolution. Armstrong says what every girl wants to hear from her mate:
"She's my weakness, fucking genius. Swear to god and I'm not even superstitious".
Too Dumb to Die
at track nine has a haunting beginning before launching into the first verse. The lyrics strike a sense of inevitable sadness with very little hope, where the character (or Armstrong himself) felt out of place from the start, seeking something more than what was given to him in life. The title refers to a dream he's held, seemingly the whole time, which sounds like a lifeline and having held him from falling into unquestioningly consuming what he was fed.
Wake up, friends, this is a revolution.
Troubled Times
asks the hard questions, again about a filtered perspective on reality. Of love and peace on earth being exclusive, and truth being there but hidden, or not given attention to. The backing vocals of this track are sweet and the guitar throughout keeps us from falling away into fear.
Speaking of fear, we meet the gem that is
Forever Now.
Musically we have three parts to this song, and as the second last track of Revolution Radio, it feels like a last gasp of this revolution and the emotion through this trio is heavy to the attentive heart. From the beginning, this is a confessional, about Armstrong's role and his place in this revolution. Born as himself (a punk rock guy, not an intellectual) and that's all he can be. It's a tentative acceptance.
Part two of
Forever Now
seems to describe wanting desperately to inspire change via music, but there is hesitation too "I'll put it off another day". In part three, we are pulled beautifully back full circle to the start of this journey with the lyrics to
Somewhere Now
coming out of nowhere. I may or may not have gasped.
It feels like a closing as well as a standing firm and an urge to stop waiting, stop hesitating, "I ain't gonna stand in line no more".
The last track on Revolution Radio is
Ordinary World,
and it grabs us by the heart strings and combines clean guitar with soft vocals and pretty imagery.
Ordinary World
seems to be a call to find beauty amongst the mundane, and reminds us that "what we have is more than enough". It's a goosebump-inspiring close to what has been an amped up call to arms, bracketed by Green Day's signature of strong drums and unwavering guitar.
When silence hits and Revolution Radio is no longer 'on the air', we sit back and look around at the world and ourselves and realise that we're not the same. Green Day's twelfth studio album wants us to be ourselves loud enough to drown out what others would prefer us to listen to. It asks that we be free to romanticise and remember our roughest parts with acceptance, as opposed to try to mould or reject who we are. It tells us that we have more than enough to do great things.

Just sit with that for a moment and try not to be inspired. Thank you, Green Day.

Review by Kelly Burch
Glenn van den Bosch
24-10-2016 7 mins read
Related Musicians & singers
Rosa Todd

Student

€ 0,05 pm

Amy Stevens

Student

€ 0,09 pm

Natalie Ramos

Music-based Writer

€ 0,05 pm

Melanie Gomez

Music Journalist /

€ 0,30 pm

Gael A

School

€ 0,08 pm
Show all