Album Review: Of Mice & Men - Cold World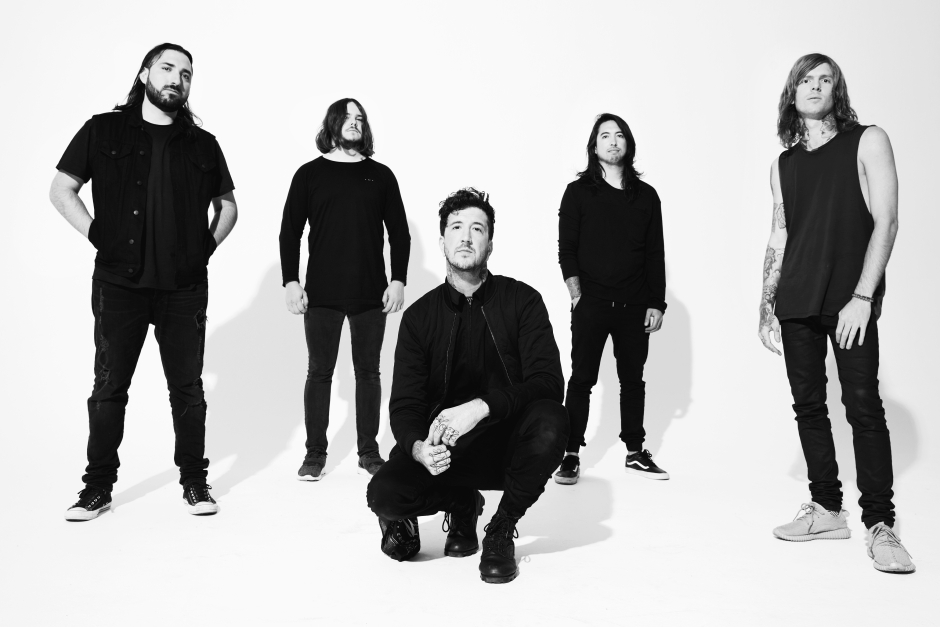 Of Mice & Men unleashed their much anticipated fourth album 'Cold World' this September and with this explored yet again different approaches and sub-genres. Of Mice & Men started out as a pure metalcore band but with Aaron Pauley's arrival and clean vocalist Shayley Bourget's departure, the band switched lanes into a more nu-metal approach. With the raging success of 2014's Restoring Force, 'Cold World' was one of 2016's most anticipated releases. Can Of Mice & Men hold on to their success or will the pressure be too much?
Frontman Austin Carlile's ongoing health issues must've been difficult for both him and the band, as the future is uncertain. However, the emotion caused by this uncertainty pours through in the most positive way possible in several tracks among which leadsingle 'Pain'.
The band has gone through a lot and are ready to shock the world once more with 'Cold World'.
With a show-filled summer as opener for Slipknot and several headliner tours coming up, 'Cold World' couldn't have arrived at a better time.
The long anticipated album opens with calm track 'Game of War'. The slow track led by Austin Carlile's brilliant clean vocals which we get to enjoy a lot this album for the first time on 'Cold World' makes for the perfect introduction to a yet again renewed Of Mice & Men.
Besides being a proper introduction to the album, 'Game of War' is also an introduction to destruction. While 'The Lie' starts with a calm guitar riff, hell breaks loose after about 20 seconds. Hard hitting lyrics about how fucked up the world is (or cold) aswell as Carlile's brutal screams combined with Aaron Pauley's clean vocals in between to soften the blow, this track is a true wake up call. The tracks ends with a breakdown in which the classic riff is slightly altered, showing that besides the music enthusiasts also musicians are growing tired of hearing the same riffs over and over again.
'Real' and 'Like A Ghost' are next up and give Aaron Pauley a chance to shine. With more clean vocal parts, it's up to him to make these tracks extraordinary. While I'm personally not a big fan of Pauley's vocals, he is undeniably a great singer and his voice works so exceptionally well with Austin Carlile's. Where especially 'Like A Ghost' lacks in originality, it makes up for that with the well-written lyrics that will truly haunt you like a ghost.
Next up are previously released bangers 'Contagious' and 'Pain'. Both these tracks are led mostly by Austin Carlile's 'spoken screams', and especially 'Pain' has a very original vibe to it. These are the tracks that massively helped building up the anticipation for this entire record and will be jammed to for a long time.
Unfortunately, the album goes slightly downhill from here on. Tracks like 'The Hunger' and 'Relentless' are slightly less proper written, lyrically and musically. 'Relentless' has a oldschool 'Rage Against The Machine' feel to it, but with lyrics such as 'If you want it, you gotta take it. And I got it, so come and get it' I strongly feel Of Mice & Men could've done better. The riffs on these tracks are slightly generic and it feels like the drumparts could've been more complex. Eventhough the slight backslide, these tracks are still nice. Not every track has to be brilliant, cause if they all were, the exceptional tracks wouldn't be exceptional anymore but just average.
The last track on the album is 'Transfigured', which leaves the album on hopeful note. Lyrics such as '
I want to be free again, to feel again, to dream.
Till one day I hope I say:
I'm finally okay'.
With a cheerful riff and an uplifting vibe throughout the song, the band showcases that they will continue to fight for what they believe in.
With lyrical content revolving around Austin Carlile's health issues, anxiety aswell as political aspects 'Cold World' is all over the place. Not one track is like the previous one. Of Mice & Men demonstrates they're capable of great diversity and are not afraid to experiment with new styles. Austin Carlile on clean vocal duty and altering the longstanding 'breakdown riff' are just a few examples of altering the already existing formule. While some tracks were better than others, overall this album was worth the wait. I for one am very excited to hear many of these tracks in a live setting.
Glenn van den Bosch
09-09-2016 5 mins read
Related Musicians & singers
Núria Pedrós Peró

Writer

US$ 0,10 pm

Paige Bower

I am at college

US$ 0,07 pm

Natalie Ramos

Music-based Writer

US$ 0,08 pm

Catalina Soboredo

Future economist.

US$ 0,08 pm

Asya Kardzhaliyska

trainee optical consultant

US$ 0,06 pm
Show all