Album Review: Polaris - 'The Death Of Me'
Since 2012, Polaris have been shifting the dynamics within metalcore, creating albums that constantly push the envelope and re-imagine the constraints that were otherwise previously associated with their chosen genre. Mid-February was met with the release of the Australian group's second studio album, 'The Death of Me', showcasing yet again the impeccable talent that this five-piece band holds. Upon listening to the album, alongside the multitude of positive reactions and receptions, it is beyond evident to see that Polaris are not only essential to the Australian music scene, but are influential figures within the international metalcore scene.
'The Death of Me' opens with one of the most raw and powerful songs from the album, 'Pray for Rain'. With an introduction isolated from any fancy features, raw vocals and eerie yet sporadic instrumentals welcome the listener into the album in a haunting way. This notion is reflected throughout the entirety of the track, building upon the unease it creates. However, this could not be done in a better way. Utilising this, Polaris creates a track that entices and offers more and more around every corner. The depth and emotive nature of the track never ceases; making this it a true standout. 'Pray for Rain' is a powerful, haunting track, offering listeners an introduction to an album like none other.
Ringing true to its title, 'Hypermania' presents itself as a two and a half minute whirlwind. Contrasting to many tracks off of 'The Death of Me', there is no gradual buildup, no warning, but prompt passion, anger and pleading. Considering what the song is discussing; "Sometimes I wish the ground would open up and swallow me whole", this pathway is extremely fitting. This is one of the things Polaris does incredibly well- moulding their sound to suit their story, the journey throughout the song. This type of craftsmanship should be applauded, and ultimately shows why they are truly game-changers in their field. 'Hypermania' is a fully-loaded track, packed to the brim with emotion, passion and aggression.
Track three, better recognised as the lead single from the album, is 'Masochist'. Since it's release, this track has continued to be one of my favourite songs. This feeling was yet again amplified when listening to it with the context of the album to support it. Sharing a journey of self-reflection and awareness, 'Masochist' reveals a story all too familiar to many; "your worst impressions were right about me". Masochist delves into a new realm of realisation and a struggle to know one's self, making this an anthem for all. Accompanied by Polaris's signature powerful and emotive performance, in my opinion, this track is nothing short of perfection. Delving into a realm of familiar struggles, 'Masochist' powerfully portrays its own story, and serves as my favourite track off the album!
Following is yet another single, 'Landmine'. This track marks another crucial point within 'The Death of Me', not only due to its presence as a single but due to the way it has been presented as a song. Emulating the same style as 'Hypermania', this track enters with no false starts. The juxtaposing brief to extended introductions is something really refreshing within this album, and upon first listen, added a new sense of suspense. The solid chorus is certainly a standout from this track and is a clear showcase of the talents of both the lead and clean vocals of this band.
Marking the halfway point of 'The Death of Me' is 'Vagabond'. Alternating between the introductions, 'Vagabond' holds a gradual increase in volume, directness… intensity. Gearing up to be a powerful track, it certainly does not disappoint in its endeavour. For me, this track had one of the most memorable breakdowns. Something about its often out-of-place and offbeat nature created something so lovable and drew me back each listen. This unsuspecting placement seems to be a recurring feature, ultimately depicting that Polaris are still willing to push the envelope, even as they become more known and secure with their sound. 'Vagabond' is a powerful track, and one that certainly does not disappoint.
Track six is 'Creatures of Habit'. Despite the incredible artistry within this song, and quite frankly, every Polaris song created, I was particularly drawn to the lyrics within 'Creatures of Habit'. Built around questioning; "Has it occurred to you that we're out of time?" and personal revelations; "Maybe our fear and our faith are just two edges of the same blade", this track becomes an intense and thought-provoking series of events. For me, this is something I crave, and each time a band can pull off something that makes you think on a deeper scale, I become even more ecstatic than the last time. Through their clever and (to some) outspoken lyrics, Polaris have created a song that dives beyond the norm, digging through the surface and producing new ways of thinking. 'Creatures of Habit' is undoubtedly a powerful standout from 'The Death of Me'.
Following is 'Above My Head'. Since the album's release, this track has perhaps been one of the ones I have listened to the most. For me, the feature that lured me in was the beautifully jarring juxtaposition between the pre-chorus and chorus. Although it happens in other tracks, the marriage between something so raw and aggressive and something fragile, almost broken, is incredibly powerful. This notion is amplified in this track due to the evident emotion, pouring out of every word, right back to the listener. The connection it creates is undeniable, constructing an even larger scale of depth to the track. 'Above My Head' is raw, emotionally charged, and enticing upon every listen, marking it as a standout track from the album.
Track eight is 'Martyr (Waves)'. Paving the way for the song is its dramatic yet minimalistic introduction. From this, we are offered one of the most solemn and sombre tracks on the album. This is not to discredit the other tracks and the emotion they pour out, but this stripped back and 'raw' track offers something completely new from within this album. Showcasing their versatility and talent, Polaris prove they do not have to utilise power and aggression to create a brilliant song. Once again, the sheer talent of the band prevails. There is nothing more to say than this track is truly exceptional, and if it were to be performed live, would perhaps be one of the most emotive and raw songs to witness.
Up next is yet another personal favourite, 'All Of This Is Fleeting'. This song is a call; a call for "anybody out there", and there certainly is. These few opening statements immediately grab the listener and do not let go until the end of the track. Upon first listen, I was listening in awe to the incredible way this song was created. The pleading and out-pour of emotion is already heart-wrenching, but when partnered with Jamie's vocals, offers a new depth of pain and rawness. Throughout the song, a battle between sadness and searching is had, ultimately reflected upon all those who hear it. Experiencing this journey alongside the band not only shows their endless capabilities as musicians but creates a strong connection to all those that listen. 'All Of This Is Fleeting' is a jarring yet inviting track, and has quickly become one of my favourites from the album.
Concluding the already impeccable 'The Death Of Me' album is track ten, 'The Descent'. This track leaves its mark, ensuring that listeners will not forget the whirlwind of songs that just passed. In a snap, the aggression and strength balanced out with pure rawness is back. Utilising every opportunity to show off all they have, the track is littered with guttural screams and the most creative compositions they hold. 'The Descent' is a statement piece, a showstopper for the album, concluding 'The Death of Me' with confidence, class and chaos.
Through its ten tracks, 'The Death of Me' showcases everything Polaris have to offer; passion, emotion and security in their own sound. Exuding from each of their tracks is confidence, and rightfully so. Flawlessly, Polaris have told their own stories accompanied with their own sound and in turn, have created something that is nothing short of a masterpiece. Not only as a music fan, but as a fellow Sydney-sider, I am incredibly proud to call Polaris representatives of the Australian music scene- or perhaps more deserving, influential figures in the international metalcore scene. This album is a must-listen, and I am beyond excited to witness this live late February.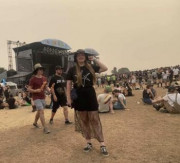 Georgia Haskins
28-02-2020 8 mins read
Related Musicians & singers
Paige Bower

I am at college

US$ 0,07 pm

Natalie Ramos

Music-based Writer

US$ 0,08 pm

Asya Kardzhaliyska

trainee optical consultant

US$ 0,06 pm

Núria Pedrós Peró

Writer

US$ 0,10 pm

Catalina Soboredo

Future economist.

US$ 0,08 pm
Show all