ALBUM REVIEW: TWENTY ONE PILOTS - "Trench"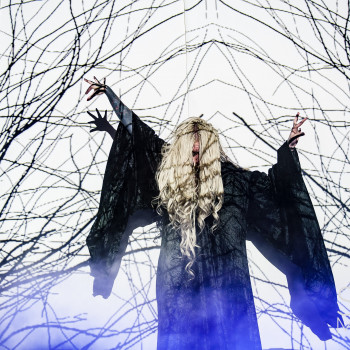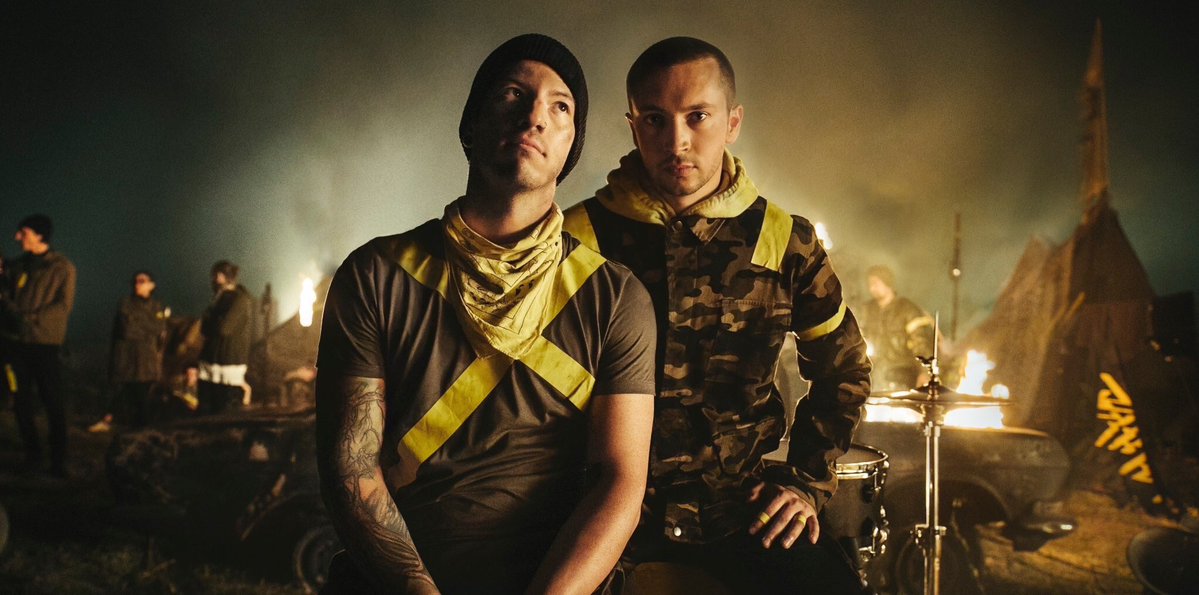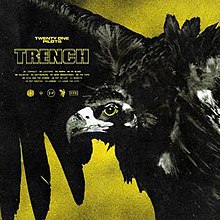 Tyler Joseph and Josh Dun are two of the hardest working people that you will ever meet in the
music industry. After years of non-stop touring, promoting their music, playing sold out shows across the globe and being awarded a Grammy, Twenty One Pilots took a step back from the public eye and went dark on social media after posting a series of pictures featuring a closing eye, culminating with the phrase "and now I just sit in silence" (a reference to their well-known song "Car Radio").

After a year of silence, fans started discovering cryptic messages. A mysterious website. Hidden links to handwritten messages and journal entries. Maps, pictures, puzzles and GIF's. Strange characters called Clancy, and references to failed perimeter escapes, bishops and banditos. When a GIF of a yellow eye opening appeared on the band's twitter page in July, it was official – Twenty One Pilots were planning a comeback, and it was going to be something huge.

On the 11th of July 2018, Twenty One Pilots announced that their highly anticipated, fifth studio
album 'Trench' would be available on the 5th of October 2018 and dropped the first two singles
("Jumpsuit" and "Nico and the Niners") out of nowhere, sending the clique (Twenty One Pilots'
fanbase) into a collective meltdown.

With the release of the singles there was also a music video for "Jumpsuit", a lyric video for "Nico and the Niners" and an announcement for the Bandito world tour! It seemed that while the world assumed the duo were taking a break, relaxing and spending quality time with loved ones, the reality was that they had been hard at work behind closed doors, creating not only new music, but a whole new world and album era.

First single and our introduction into the world of Trench, "Jumpsuit" features a heavy and catchy bass intro before launching into Tyler's vocals, which sound softer somehow "I can't believe how much I hate / pressures of a new place roll my way/jumpsuit, jumpsuit cover me".
There's a tempo change mid-song, and the mood shifts when Tyler sings "I'll be right there / but you'll have to grab my throat and lift me in the air / if you need anyone / I'll stop my plans / but you'll have to tie me down and then break both my hands", with subtle piano chords in the background. It's a breath of fresh air, a moment of calm and clarity in an otherwise intense and edgy sounding song.
The drums kick back in and the heavy bass line returns however Tyler's voice is different this time; urgent and filled with so much emotion that by the end of the song, he is screaming the lyrics "jumpsuit, jumpsuit cover me".

Tyler's ukulele makes its return in second single "Nico and the Niners" which has a very chilled, reggae vibe to it. Everything about this song is catchy, from the drum beat to the vocals and even the short rap that is featured towards the end of the track. I always find myself bopping along when I'm listening and it makes me think of a warm breeze blowing in my hair on a sunny spring day, despite the lyrics taking on a whole other vibe "they want to make you forget / save your razorblades now, not yet" a reference to DEMA and the struggle to escape. I found this song to be slightly reminiscent of "Lane Boy" from 2015 album 'Blurryface'.

Third single "Levitate" (which transitions seamlessly from previous track "Jumpsuit") is a short rap song, which features Tyler effortlessly spitting out words and rhymes faster than your brain can comprehend. A 'complete diversion' from their usual style, it honestly took quite a few listens for me to wrap my head around this song and really get into it, but it eventually started to grow on me.
​
Fourth single "My Blood" is the first of the released singles from 'Trench' that I loved instantly.
although slow and moody at first, the glorious bass line picks up the pace in the second verse and the chorus (which features vocal effects and hints of EDM) will have you on your feet and dancing around the room. I found the "I'll go with you" bridge stuck in my head on multiple occasions as well as standout lyrics "if you find yourself in a lion's den ill jump right in and pull my pin". Although the first verse starts off slow, by the time the chorus hits, the tempo has changed enough to make you wonder if you're listening to the same song or something completely different.

After the release of the first three singles, it seemed at first that 'Trench' would be a concept album, which followed the story of DEMA, the controlling bishops, and the rebel banditios in a world that Tyler himself had created.
When discussing 'Trench' in his interview with Zane Lowe for Beats 1, Tyler explains "I love stories, I love being able to dive into a story and write from that perspective." He continues "I wanted to create a world that I could go into and write from and in that world I could control the exterior and what was kind of pushing down on me and that control was very helpful in the creative process...in reality I can't really control that"

The problem with a concept album is that unless you know the backstory and the meaning behind it, it doesn't make a lot of sense. This runs the risk of alienating fans who haven't stayed up to date with the cryptic DEMA storyline or new fans who may just be discovering the band.
​
While "Blurryface" had a concept to a degree, the lyrics were still relatable and the music catchy enough to sing along to and enjoy without fully understanding the whole story. Trench's story is a little deeper, more cryptic and can be difficult to understand. As Lowe mentioned in his interview "Blurryface was a character. Trench is a world" and it's a lot to take in and wrap your head around. However the entire album does not revolve around this storyline, and in my opinion, "Jumpsuit", "Levitate" and "Nico and the Niners" could almost have been released as an EP to keep the story separate from the rest of the album.

Putting aside the story of DEMA and Trench, this album is a masterpiece with an important message. It's a huge milestone for the band and the growth that they have shown on this album is beyond incredible. Tyler had previously mentioned that for this album he wanted to focus a little more on the lyrical content and that's exactly what he's done. These songs touch on some very delicate themes and are so personal that at times I wondered if I should even be listening as it felt like an invasion of privacy.

I cannot stress enough how important the lyrical content on stand out track "Neon Gravestones" is. A melancholy song with a beautiful piano intro, and a very heavy theme: suicide. This song is not for the faint of heart. As Tyler draws attention to the issue with deep lyrics "the rise in awareness is beating a stigma that no longer scares us" his voice is heavy with emotion as he pleads "promise me this: if I lose to myself, you won't mourn a day and you'll move on to someone else". This really tugged at my emotions and made me stop what I was doing to reflect on the song and it's overall message.

The most important part of this track in my opinion is a final word in the form of a Macklemore-style rap to conclude the song: "find your grandparents or someone of age, pay some respects for the path that they paved / To life, they were dedicated – now that should be celebrated". These strong, profound lyrics really resonated with me and will do the same for thousands of people across the globe. I would say that these are possibly some of the most powerful and important lyrics to have ever been featured in a song.
​
Other songs on the album have a bit more of a pop / radio friendly feel to them, including "Morph" with it's laid-back R'n'B vibe, "Cut My Lip" with its cool electronic sounds in the outro and "Pet Cheetah" with its disjointed electronics and lyrics; proof that Tyler really has experimented with a number of different styles and sounds on this record. There is also a noticeable rap influence which is reflected in a number of verses in multiple songs on the album, including "Chlorine" and in slow ballad "Bandito" as a spoken-word piece.

"The Hype" is an uplifting song with a chorus that has a slight "Wonderwall" feel to it. The song calls out haters or critics of the band "they might be talking behind your head / but you don't get thick skin without getting burnt" and the importance of having family, friends and fans who will stand by your side throughout the difficult times: "nice to know my kind will be on my side". I feel that this would be an amazing track to hear in a live setting, so hopefully it makes the setlist for the upcoming world tour.

"Legend" is a memorable and catchy track and the tune will have you bopping along from the get go, despite the song's content. A sweet tribute to his late grandfather, Tyler sings "you were one of those classic ones / you're a legend in my own mind" and "I look forward to having a lunch with you again". The lyrics talk about how Tyler had started writing the song while his grandfather was still alive but, sadly he passed away before he was able to finish recording it and show it to him. "Smithereens", the "Tear in my Heart" of 'Trench' is an unapologetic love song where Tyler once again puts his heart on his sleeve for wife, Jenna "you know I had to do one on the record for her like this". His raw vocals convey an unmistakable passion in his own quirky way: "for you, I'd go step to a dude much bigger than me / for you I would get beat to smithereens" layered over an upbeat tune with a reggae/pop vibe.

Album closer, "Leave the City" ends with final words "though I'm far from home / in Trench I'm not alone / These faces facing me / they know what I mean" which seem to be an ode to fans at the shows that they play and the people that relate to the lyrics and the meaning behind their songs.

All of Twenty One Pilots' previous albums have been unique and special in their own way, but 'Trench' is like nothing that they have released before.
Regardless if you're a fan of the band or not, Tyler and Josh should be commended for not only exploring the deep and dark places of the human mind, but also having the courage to write about it and share it with the world.
It's obvious that the duo have poured their heart and soul into each and every single track on this album, and they've done it all for us.

||-//

Reviewed by: Amber Eccles
Latest Articles
Show more
Instant contact with Musicians & singers
Music
I'm the ONE
who loves music!
Retail
I'm the ONE
who goes to every concert I can.
Writer, Music Lover
I'm the ONE
who loves My Chemical Romance, fiction, grammar, and being a friend.
Student
I'm the ONE
you can find crying at a gig
Student
I'm the ONE
who loves to chat about music!