ALBUM REVIEW - WAGE WAR: "Pressure"
Admittedly, while open to all kinds of music genres, so far I've always been more of a rock kind of girl. Listening to the new Wage War album has been my latest attempt into metalcore music and boy, it was so worth it.
With "Pressure", this group from Florida (formed by Briton Bond, Seth Blake, Cody Quistad, Chris Gaylord, and Stephen Kluesener), deliver an emotional third album, filled with quite interesting themes, and which overall left me wondering why aren't they more known.
Throughout its twelve tracks, several important matters are discussed, such as self-doubt, lack of confidence and mental struggle, weights that come not only from external sources, but especially from the damage our own minds can do to ourselves. There is little worse than feeling at war with ourselves in order to be better or happier so, as a listener, not only was I easily able to empathize with the grief conveyed but also, I found myself deeply moved.
Moreover, I believe this issues are so important and common amongst society that personally, I find that the more it is spoken, the better. For me it's always been easy to sort my thoughts and feelings out through music so I believe musicians speaking up about these conflicts is essential in order to raise awareness.
"Prison", the second track, is one in which you can clearly see how important were this subjects in the creation of the album. With lyrics such as "I'm too deep to believe I can face myself" or "I'm my own natural disaster beneath my skin", this song is a clear example of just how raw and emotionally authentic is this album.
One difference I noticed between this album and its predecessors "Deadweight" and "Blueprints", is how much the interaction between both lead singers has evolved. While both previous are albums have their charm, I must admit I preferred this one, mostly because of the perfect balance between Bond's and Quistad's voices.
The one song in which I perfectly noticed this equilibrium was in the fourth track, "Ghost". It really stunned me, considering how different this two voices are, but no difference of volume or tone mask the same emotion both present in the entire album, but especially in this track.
If you ask me, one thing an album must succeed in order to be actually memorable must be in delivering the emotion they convey in their songs into our very core. "Pressure", through its lyrics, its voices, even its rhythm, does exactly that. This album is a solid recommendation for those music lovers who, just like me, are interested in broadening their musical knowledge and adore meaningful lyrics.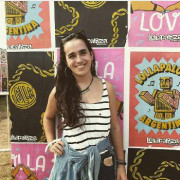 Catalina Soboredo
03-09-2019 3 mins read
Related Musicians & singers
Asya Kardzhaliyska

trainee optical consultant

US$ 0,06 pm

Paige Bower

I am at college

US$ 0,07 pm

Natalie Ramos

Music-based Writer

US$ 0,08 pm

Núria Pedrós Peró

Writer

US$ 0,10 pm

Catalina Soboredo

Future economist.

US$ 0,08 pm
Show all