Album Review: Waterparks - Double Dare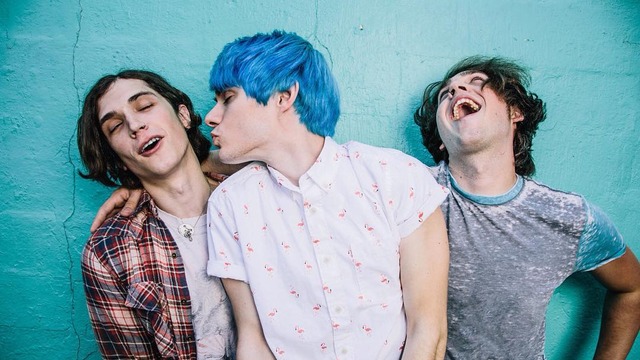 If
Waterparks' new album,
Double Dare
,
was a movie, it would most certainly feature a scene where the Waterparks
band members
(Awsten Knight, lead vocals & guitar, Geoff Wigington, backing vocals & guitar, and Otto Wood, drums) would be outside a crush's house, with boombox suspended up on high, declaring their affections.
Double Dare
is the epitome of honesty and vulnerability, with
(thankfully)
little regard for having a particular sound prescription.
Let's go track-by-track into this collective of cohesive pop punk music, where Waterparks have opened their minds and hearts, with
relationships and
respect
the topics of discussion.
Double Dare
kicks off with
Hawaii (Stay Awake)
and it's immediately
into
electronics and vocal effects. This song smells like Summer and sunscreen and tickles my insides with excitement. This song is like a smile that you feel on your face that can't be dampened
.
It's t
hat sense of being inspired and alive
so much that you're
not needing to sleep. The lyrics refer to dark times ("a hurricane in my bedroom"), but also refer to them being "old news" and how they are "over all the stale days". There are a lot of question marks, but hope lives! There are moments of silence/quiet during the track that give that sense of flying high on potential. The drums are killer and there is a kickin' outro.
Gloom Boys
doesn't
sound
gloomy at all. (Wait. They sing, "I like happy songs with titles that don't match at all.." Touché, Waterparks) This song is a little more sedate than Hawaii (Stay Awake) and I could see it being set in a bar, dimly lit, and with someone drinking and introspecting. The bassline is so very smooth on this track, the guitar rocks and the lyrics kick ass. It's not a lyric per se, but the "oo-o-oh" at the end of lines is sick. The moment in the song which says "on the ceiling" gets me every time. There's a lounge bar-esque interlude that's very cruisy and the line "The boys are back / The boys are sad" is so very honest
that it gets under your skin
.
I got a little goo-goo-gaa-gaa (aka 'stupid') over
Stupid For You
.
T
hat tripping over yourself feeling.
S
o in love
that
you're clumsy.
I
t's sweet and cute,
like
a
puppy dog fixation. "Tell me what you want me to say"
say the lyrics, perhaps because
he's lost control over his brain cells because of
the love of his life
. (Awww)
I was so swept away in the
immersion
, as well as th
is
drenching of compliments, that I barely noticed specifics of the music, but as the other tracks, it's slick and real.
It's excellent
, but not polished within an inch of its life. Just how I like it.
Next is
that earworm
that
you're going to need some kind of pesticide for;
Royal
.
To me this song is about angsty complications and frustrations. Wondering why
they
can't get what
they
want, but also wondering what
exactly
do
they
want and how do
they
want to be. There's questions of adequacy and if they're
even
equipped for what they want. This is a self-doubt blanket over a song that's
(
to put it bluntly
)
catchy AF.
[
How ironic is that, Waterparks?! A song
about
wanting more than what you are that
i
s going to set you on fire as a band. Just saying.
]
Take Her To The Moon
was
really cool
to dive into
because it started off feeling like nothing, and then I realised that this nothing sensation was being suspended in space and time, while
being
(...wait for it) IN LOVE. The lyrics are beautiful: "Can you really get lost in heaven?" "I want to live inside your mind beside your favourite songs". It really
communicates
that beautiful love-fog laden sense of being lost adrift inside someone; that deep love and oneness of immersion into another. A focus on electronic effects, impressive drops, voice effects and sound layering enhances that experience of having an all-encompassing feeling that takes you over.
The next track,
Made In America
, is more grounded
in reality
and is heavier, featuring kickass guitar and drums. To me this song has a focus on the element of performance as a band and makes a statement of "Look how well we ROCK!".
And y
es, they do.
It has a sense of wanting to prove themselves ("maybe someone's"), yet also communicates just how much they do
actually
recognise their own talent, or that they're at least okay ("we're fucked and we don't care at all").
There's a deliciously frantic ending.
If there's a song that could communicate the experience of an anxiety attack, it's the next track,
Dizzy
. It has a cool start with claps and isolated vocals but when high-speed vocals kick in with the verse, the claps just feel like colliding thoughts (sounds) and hecticness. It could all be seen like a thumping head, with a lot going in, such as insecurity and emotional overwhelm. The noisy and active instrumental tracks communicate that sense of mental busy-ness, as does the ear-swapping audio and octave switching outro.
It's exceptionally well done.
The next track,
Powerless
, kicked up the romanticism a further notch. The vocals hadn't even started before I got an ouch hit
in the heart
, like "Tell me that you love me". There's no sense of personal power or any clear direction, just waiting to be filled by another, like "I'm nothing without her". Ironically there is a really powerful notion of the nobility in assuming this role, and of doing the right thing and being a gentleman. This song is the epitome of Jake Ryan from Sixteen Candles.
Musically this is perfection of a pop punk ballad.
Little Violence
is electronics mashed up with punk as the band rant
about
disrespect. It comments on those that have doubted the band and
doubted what they're doing creatively. Just because Waterparks are writing emotively doesn't make them weak or unlikeable. But even this rant seems to be softened by a justification for it? ("Maybe I'm tired") I can completely relate to the lyrics about losing oneself in writing, and coming back down to earth with connection to the people that matter.
I love
21 Questions
so much. It's so vulnerable lyrically that it
could be seen as a risk to have it appear on an album.
Good on Awsten for going for it and writing in a way that is a metaphorical heart on a platter. It's an acoustic gift to our ears and the beauty comes through vocally too. This sounds like a song of a fling
(in this case he is the 'other man')
that wants to be so much more, with someone who is not forthcoming. It might
even
make you cry. Can't we all relate to being with someone and wanting and waiting for more and
not
knowing if it'll
ever
come? The potential for (eventual) rejection kills. The repeated question "But then what?" is simple and powerful. Everyone in those shoes wants to ask 50 gazillion questions until the object of our desire says "OKAY YES, I AM ALL YOURS" and we can finally relax. I loved how the song amps up with the question of "Am I in his position now?", meeting reality face to face, accompanied by pummeling punk rock beats and guitars. Just amazing.
It Follows
felt like a sense of conflict; of being oneself and liking oneself, but also noticing that this is at odds with the world around them. The vocals are light, flowy, and husky, while rocking drums and guitar dance over and around them. I loved the screams/shouts on this track and related it to a sense of no longer playing nice, just being honestly oneself, irrespective of anything or anyone else. That fire roaring through and blowing away niggling doubts and question marks. ("I'm not scared of anything")
I briefly read a quote by Waterparks relating to stress affecting the creation of music and I feel like this has a lot to do with what's expressed in
Plum Island
. To me this talks about wanting to just have fun, relax and be playful again, or at least raging against the cage of stress. The rest to be discarded and forgotten about. And if it's true that Awsten truly "
couldn't tell her I adored her", then any decent chick would surely accept a song dedication...
The last song on the album is
I'll Always Be Around
and the backing lyrics really set it up as the perfect track to close
Double Dare
. The vocals are light and I have to wonder if it's deliberate, touching on commentary of wanting to be heard but also feeling hesitant. The song seems to talk about being a better boyfriend for someone than who they were/are with. Knowing that he could be so much better for
them
and would be devoted and loyal. There's a
really
kick ass drum and vocal section before the last chorus is repeated.
Throughout
Double Dare
,
Waterparks morph heaviness of punk with electronic effects to communicate their message and it works
exceptionally
well. The band need no containment to a particular genre. As well as being musically slick, t
his whole album seems quite
romantic, which
could be missed if all you
hear
is
a
bouncing
beat
.
To me,
Double Dare
communicates a
n overall
mantra of "Do no harm.
B
ut take no sh*t."
whether
that's
in relationships or as
members of
a band
, and
us
listeners need to back the good guy
(aka Waterparks!)
in the
metaphorical
80s flick instead of the jerk of a jock
who'd treat us mean to keep us keen
.

Double Dare is out now, from Equal Vision.
Written by
Kel Burch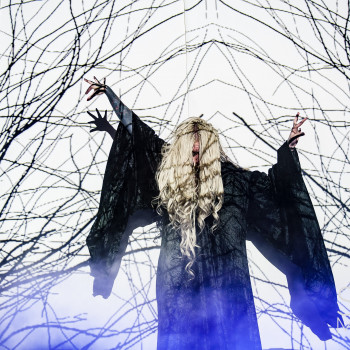 Glenn van den Bosch
06-11-2016 16 mins read
Related Musicians & singers
Natalie Ramos

Music-based Writer

€ 0,05 pm

Paige Bower

I am at college

€ 0,06 pm

Núria Pedrós Peró

Writer

€ 0,08 pm

Catalina Soboredo

Future economist.

€ 0,05 pm

Asya Kardzhaliyska

trainee optical consultant

€ 0,05 pm
Show all