Album Review: While She Sleeps - You Are We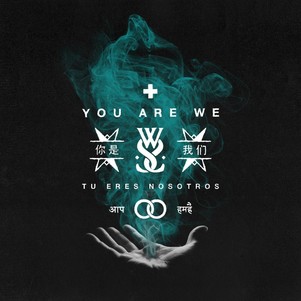 Having released two brilliant sounding singles by September last year, an announcement for a new While She Sleeps album was only to be expected. When this announcement eventually came on the 12
th
September 2016, the accompanying detail that the band had in fact left their record label Sony Records did come as a surprise. The band announced that they would be opening a crowdfunding campaign and would be recording and producing the album in its entirety themselves. The release date was set for the 21
st
April 2017 and thus the pledging began, with the band rapidly raising the money they needed from their fans rather than a record label, which has in turn provided us with a masterpiece of an album.
Opening track, and in fact title track 'You Are We' was the third single released from the album, providing the first glimpse into the brutal riffs you come to expect from the band. The album as a whole takes on a much greater political stance in terms of lyrics, with Loz maintaining the bands clear anti-establishment sentiment just before the songs brilliant breakdown "It's only hate you preach and when we call for peace you call it anarchy". Following the title track is 'Steal the Sun', one of my personal favourites from the album. With a chorus built to be yelled at the top of your lungs and more riffs than you could shake a guitar at, the song continues the violent theme of the album with the guitar work of Sean Long, Mat Welsh and Aaran McKenzie really stealing the spotlight on these four and half minutes of stunning metalcore.
'Feel' was the most recently released single, dropped just before the full albums release, and its inclusion on the album is proof they are not afraid of providing a soundtrack for their fans to riot to; the riff-heavy track features brilliant uniting gang vocals and a great sing along ending ideal for the pace of a While She Sleeps show. 'Empire of Silence' brings more powerful lyrics in an attempt to incite a greater unity in society in a post-Brexit era of uncertainty, belting lines such as "We're building walls where there should've been bridges" in a thinly veiled attack at everyone's favourite small-handed war-mongering fake-tan-bathing moron (I might be a little bit opinionated on this but hey, lets stick to WSS's review), as well as one of my favourite lines from the entire album, "We pray for war like it's a fucking religion".
'Wide Awake' is a song I can't help but think of inciting huge circle pits, with thrashing guitars and drums complimenting a soaring chorus that blends together perfectly. 'Silence Speaks' follows, a familiar sound to any fans who have been following the band since the start of the year, and a song that thankfully my favourite nightclub (shoutout to Uprawr Birmingham) have started playing every single week I go in there to rapturous response. Firing shots directly at the dishonesty expressed by politicians in the run in to the Brexit vote, Loz states that key politicians who we have to trust to lead our country "can pollute our heads with the news" and "manipulate the masses again". As if this track wasn't good enough, there is even a cameo from the frontman of Sheffield's second best heavy export Bring Me The Horizon (I prefer Sleeps to BMTH, sorry not sorry), Oli Sykes. In an interview with Metalhammer, Oli explained that there had been some tension between the bands, and that they figured the best way to get through this rocky patch was a collaboration – and what a success it has proved. The combination of Loz's brutal vocals and Mat's raspy backing vocals, as well as Oli's piercing unclean vocals provides an amazing edge to an already stellar song.
With 'Silence Speaks' finishing and the new listener thinking they might be able to take a breath after the crazy track they've just been subjected to, comes along two pounding anthems that will send crowds crazy worldwide, in the forms of 'Settle Down Society' and 'Hurricane'. The soaring choruses in these, as well as face-melting riffs, are examples of the direction the band are beginning to take towards producing arena-fitting anthems. With three different vocalists featuring on both songs (Loz, Mat and Sean), Loz's huge screams reverberate even more poignantly around the tracks.
'Revolt' and 'Civil Isolation' follow, two huge politically charged bangers. 'I'll let the state of the world speak for itself' is the key message reverberating from 'Revolt', with heavy riffing being the key factor in these two songs. Listening to them back to back provides eight and a half minutes of headbanging and truly embraces the indignance felt by the masses towards politicians; this is a prime example of the band refusing to take anyone's crap and reminding listeners to do the same, that we can't stand for this lack of change and lack of people power in the world.
Final track 'In Another Now' shows the beautiful intelligence the band have developed; played in a similar musical sense to opener 'You Are We', bringing the album around full circle, an idea developed even further by the songs closing line, the album's title. Opener 'You Are We' begins with Loz roaring 'You Are We' before a cracking instrumental, and the final lyrics of 'In Another Now' are 'I can survive if I know you are we'. I love little touches like that that really demonstrate the band aren't just a bunch of rowdy noisemakers as many people (
morons
) would call them, but are in fact a band growing in size and noticing their ability to project to the masses.
This album is huge. For old While She Sleeps fans, OK it doesn't have the raw brutality of TNSFN or This Is The Six, but they have in no way pulled a BMTH – this is still undoubtedly a metalcore album that is a true collection of talent. Sleeps are improving year on year and watching them tear apart new crowds at every show of theirs I attend is becoming one of my favourite pastimes. For new fans – where the fuck have you been for the last seven years? You might have slept on this band up until now but don't any longer – this band is the future of British metalcore and their Download headline slots are on the way. Something special is brewing in the Steel City, and for a metal band to get an album ranking 8
th
in the mainstream charts in its release week shows how special this band is.
​Written by Laurie Cromwell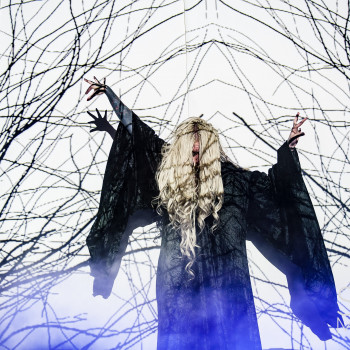 Glenn van den Bosch
03-05-2017 7 mins read
Related Musicians & singers
Natalie Ramos

Music-based Writer

€ 0,05 pm

Paige Bower

I am at college

€ 0,06 pm

Núria Pedrós Peró

Writer

€ 0,08 pm

Catalina Soboredo

Future economist.

€ 0,05 pm

Asya Kardzhaliyska

trainee optical consultant

€ 0,05 pm
Show all