Betraying The Martyrs Talk Life On Tour, Third Studio Album And The Struggle Of Finding Inspiration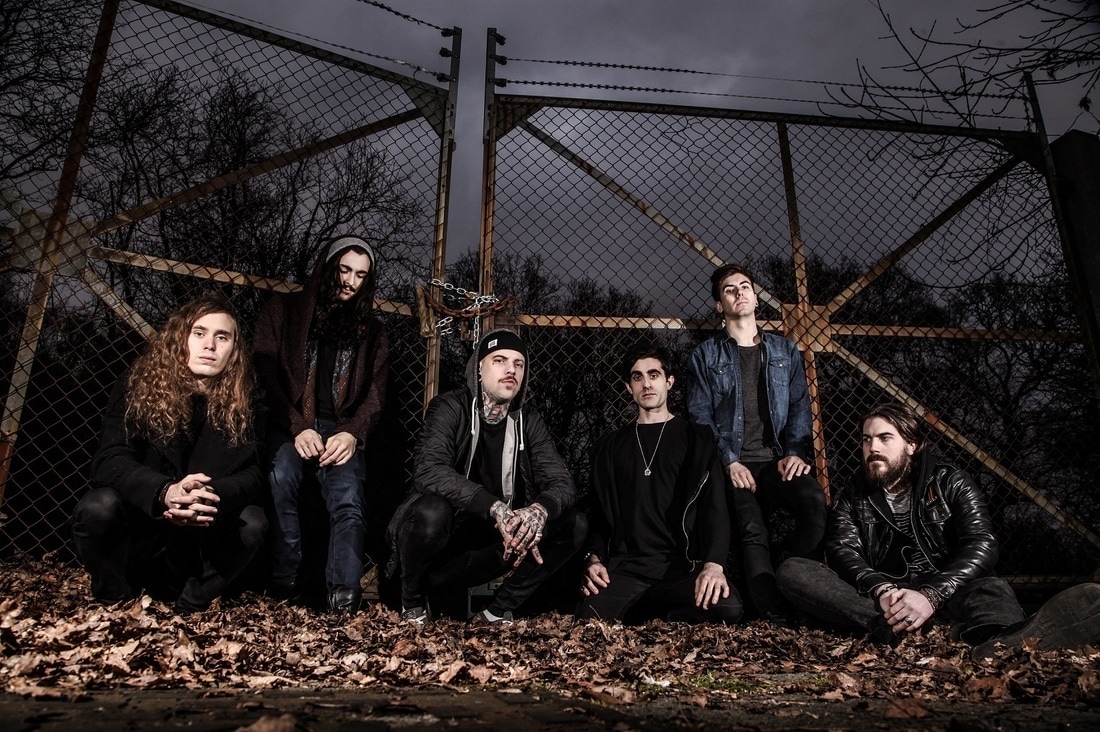 Betraying The Martyrs
are undoubtedly a force to be reckoned with
.
Armed with the usual amount of energy as well as their new album "The Resilient"
, which has been greeted with
huge approval
among
st
their fan base,
t
he French metalcore band
have recently
been on the road supporting Chelsea Grin on their tour through Europe and the UK.
During
this
tour, we were fortunate enough to have a little chat with vocalist Aaron Matts and guitarist Lucas D'Angelo about a variety of topics including the perfect kind of show, their favorite bands, the process around the release of "The Resilient"
and
their secret identities as Kanye West and Jay Z.
The conversation in its entirety can be found below, we hope you enjoy it as much as we did!
Back in 2015, we saw you guys perform as a support act for Asking Alexandria in this huge venue in Oberhausen, Germany. Meanwhile this one is pretty small. Which type of venue do you prefer?
Lucas
:
I think I'd rather play big venues, honestly (laughs).
Aaron
:
Well, if you play bigger venues, it means that you're in a higher point in your career, so that's always nice.
Lucas
:
Or that you're touring with a bigger band.
Aaron
:
But t
here's a lot of times where you can have more fun playing on a smaller, more intimate stage
.
Lucas
:
When you play on really big stages, you have no proximity with the audience, because
there's usually barriers. So sometimes in big venues or at festivals, the crowd is so far away from you and it can be a bit annoying.
What about big venues compared to festivals? Which one do you prefer out of those?
Lucas
:
I like festivals, but the problem with festivals is when you play during day time, there's no lights. But big festival stages at night are the best option, I think.
Aaron
:
I prefer big venues, because at festivals the sound just kind of goes off, it's a different atmosphere and even the reaction from the crowd is different. In venues you can really feel that music is so powerful that the room is vibrating.
On your previous record
"Phantom"
, you released a cover of "Let It Go". What gav
e you the idea to cover this song
and did you anticipate it to be the huge success it was?
Aaron
:
I didn't really want to do it
,
to be honest (laughs).
Lucas
:
I'm not sure I remember how it started, but I think it was an idea from our
label. We like doing covers, w
e've done some in the past and they were like "Hey, you like doing covers, you should do this one". And we did it, for fun, and they loved it, so it ended up being on the record and having a music video, which wasn't really what we had in mind at first, but I guess it has two sides to it. On the one hand
it's really good promotion because it's a very well-known song and on the other hand
we got people complaining because Disney isn't metal. All things considered, it's a good thing for us because it brought us a much wider audience and now that we've got our new record, these people that might not have known us before "Let It Go" can listen to it as well.
Aaron
:
It's a good balance between gaining fans and losing credibility, it's somewhere in the middle (laughs).
You guys are originally from France. Have you experienced any difficulties on the way that could have been avoided if you were a band from an English-speaking country?
Lucas
:
Not in that sense. We had problems with our previous drummer being Russian.
[There had been
visa
difficulties during tours
due to
the band's previous drummer Mark
Mironov
being a Russian citizen.]
T
hat's the reason why we had to part ways, but no, the fact that we're from France is not really a problem.
Aaron
:
There's a lot of bands who have said that it's very hard to break into the industry from France or from whatever country, but we were really lucky in finding a label.
Could you tell us a little bit about
the lyrical theme throughout your latest
album?
Aaron
:
Yes, absolutely. This one came together like we always do it. We write the songs over quite a long period of time and at one point, we realize there is a certain correlation within the subject matter of each s
ong and that we kind of wrote o
f that kind of correlation of resilience, strength and unity and went more in that direction. It was never really thought out from the beginning.
Lucas
:
We never plan a concept album, we just write songs and realize they're all sort of points of the same thing. When you look at it now, it all makes sense.
Aaron
:
Yeah, but we didn't mean to do it like that (laughs).
Back in 2015, you guys already said on stage that you were working on a new record.
Aaron
:
We expected the whole process to be finished up faster. I mean, the album was finished almost a year ago.
Lucas
:
The recording was finished in March, yeah, but that's also one of the things we did with this record. We took more time to do it, because we felt like it was necessary. I think that maybe back in 2015, at the beginning of the process, we thought it was going to be quick, but then we realized we needed to take the time. That's why we're so happy about this new record as well, because we took the time to look back on things, do everything the way we wanted. If it has to take a long time, then it has to take a long time. Once the album is out, it's always going to be there, so it doesn't matter if it took six more months or why, it just needs to be good enough.
Aaron
:
You can't just scramble it together and hope it sounds good, it really makes a difference.
Lucas
:
Sometimes you hear bands release records
super fast
, but not everyone goes at the same pace. You can't force inspiration.
Your bio on Facebook says that the tracks on "The Resilient" are tailored more towards live performances. Have you done that before and if not, what made you switch to that approach?
Aaron
:
We're just learning from mistakes we made on our previous record.
Lucas:
We played things we enjoy playing. When you play a lot of shows you realize what you really enjoy playing. We want to like the songs from recording to the 200th time playing it live. Now we know what we like playing and where we can give the most energy
both on the record and live. You learn from being in a band, doing records and playing live shows. We're at a point where finally we feel like we found what we want to do and it's all on the new record.
Aaron
:
I think we're still going to be excited to play these songs again.
The first time we played the first sing
l
e "The Great Disillusion", we played it twice. We had an encore, but we didn't have another song prepared. It's like Kanye West
and Jay
Z
who just played that one song "Niggas in Paris" twelve times at one show.
So what I'm trying to say is we're basically Kanye West and Jay Z.
Lucas
:
Yeah, basically (pauses). I'm Kanye.
To people who haven't heard your music yet, how would you describe it in five words?
Lucas
:
Fucking dope (laughs)! Metal, crushing…
Aaron
:
Energetic, ambient…
Lucas:
Yeah, and catchy.
Considering there could be a few attendees in the crowd on this tour who aren't fans, are you going to win them over?
Aaron
:
We definitely
tailored our setlist for this tour.
We wanted to play a set that would win over Chelsea Grin fans.
Lucas
:
We're playing some of the heavier songs off the new record and some of BTM's classics too.
Also we're more prepared for this tour than we've ever been for any tour. We pra
cticed a lot more than usual as well.
Which songs from the new record are you guys going to play?
Lucas
:
We're playing
"
Lost for Words
"
,
"
The Great Disillusion
"
,
"
Wide Awake
"
and
"
Unregistered
"
.
Aaron
:
"
Unregistered
"
is probably my favorite.
Lucas
:
Yeah, it's good to play live.
Do you have any pre-show rituals?
Lucas
:
We just try to warm up as much as possible, not only our instruments and voices, but our bodies too, because we like to jump around and head bang and on a tour like this where we play 28 shows in 30 days, you have to maintain yourself.
Aaron
:
Yeah, we will just try and get into it, you know, even mentally, try and get into the mood, maybe check out the band before us to get a feeling of what's going on.
You have toured relentlessly with a lot of bands over the years. Are there still any bands left you'd like to tour with, but haven't had the chance yet?
Lucas
:
Well, we've already had the chance to tour with Slipknot, so that's amazing. I'd like to tour with Korn, one of my favorite metal bands ever.
Aaron
:
We've never crossed paths with Bring Me The Horizon, which is probably a cliché thing to say, but we've crossed paths with a lot of the biggest names and even when their sound was a little closer to what we're doing, we've never crossed paths with them at all, which is weird.
Lucas:
So yeah, Korn and Bring Me
The
Horizon. And Limp Bizkit for sure. Any bands we used to listen to when we were younger, it'd be an honor to play with them anyway.

Glenn van den Bosch
14-04-2017 16 mins read
Related Musicians & singers
Natalie Ramos

Music-based Writer

€ 0,05 pm

Asya Kardzhaliyska

trainee optical consultant

€ 0,05 pm

Rosa Todd

Student

€ 0,05 pm

Amy Stevens

Student

€ 0,09 pm

Melanie Gomez

Music Journalist /

€ 0,30 pm
Show all