Concert Review: Fairly Local: Twenty One Pilots Take The Adelaide Entertainment Centre By Storm!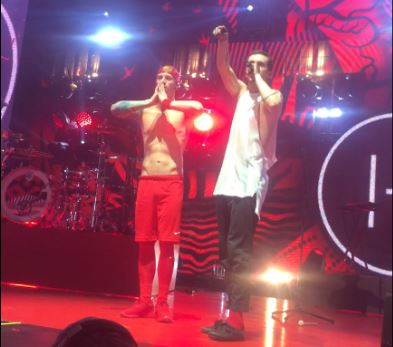 Nothing.

Nothing in the world can compare to the emotions that you will feel while attending a Twenty One Pilots concert.

I've struggled to put this experience into words, but I had to write it down because I want you to know that if you ever have the opportunity to see Twenty One Pilots perform live, you need to take it EVERY SINGLE TIME.

The experience starts way before doors open, in the line outside of the venue. It's a Wednesday, a cold day in Adelaide and fans have been camping outside since Monday night.

​There are tents, cushions, sleeping bags, folding chairs and remnants of snacks and takeaway containers everywhere. People are playing music on portable speakers and singing along, while applying makeup and body paint, and getting ready for a show that is still hours away. People have created artwork and banners and pass the time by walking around the venue, making new friends and getting others in line to sign them.
Fast forward to just before doors open, and the lines for general admission stretch around the venue, on both sides. There is an excitement in the air, that can't even be dampened by the rain that pours down and drenches everyone just before they are allowed into the venue.

From the second the lights go down, you just KNOW that you're about to experience something special and something that you will remember for the rest of your life.

On the black curtain covering the stage, three dots appear. Then six. Then nine and the cover of the Blurryface album is shown, before morphing into a single red dot, and fading away. A red and white face then appears, which raps a verse from "Fairly Local", the crowd singing along in unison.

The curtain drops and the crowd erupts into screams because Tyler Joseph and Josh Dun are right there, in front of their very own eyes. All of the time spent waiting in line and counting down to the concert, has all been for this moment, right here.

Josh's "Fairly Local" drum beat transitions seamlessly into the intro to "Heavydirtysoul" as Tyler's lit microphone is slowly lowered from the ceiling. He raps the first verse with ease before launching into the chorus. His dramatic 'death drop', a stunt that he has now perfected is something to behold. After slowly picking himself back up off the floor, he lets the crowd sing a chorus before ending the song energetically jumping around the stage and screaming into the microphone.
​
The lights go down again and slowly return, showing Tyler seated behind his piano, bathed in a beautiful blue light. He plays a lovely soft intro to "Migraine" before jumping up and walking to the front of the stage, and asking "is there anybody out there"? He stands on a platform, the mic in his outstretched hand and the crowd sings the first part of the song for him. I can't even imagine what that must feel like as an artist, to have an arena full of people singing your own lyrics back to you, so loudly that it's almost deafening.

During "Hometown" Tyler magically jumps from the stage to a spot in the stands within seconds. It's an incredible trick to watch.
​
We return to darkness again, before a video of Josh travelling in a car is played on the big screen, with the voice of his insecurities haunting him, saying "don't go, don't go back on stage". Luckily he defeats his fears and appears back on the stage behind his drum kit. Tyler, bass guitar in hand, dances around the stage and they launch into "Message Man", the crowd chanting "hey, hey, hey, hey!"

Next up is "Heathens" and it starts off with the beautiful lullaby version of the song as featured in the TOPXMM sessions (it was so beautiful, it gave me goose bumps), before launching into the original version that we all know and love as featured on the "Suicide Squad" soundtrack. Josh's hair seemed to glow in the dark throughout this song, due to the lighting.

As a side note, I have to say that the visual and lighting effects throughout the entire show were spectacular and really added to the atmosphere and made the songs come to life.

After a brief verse of "House of Gold" and during the intro to "We Don't Believe What's on TV", Tyler addresses the crowd for the first time. He asks "How you doing so far, you doing ok?"

After a resounding cheer from the crowd, he continues, "Who here, it's your first time seeing us play live? Welcome to the emotional roadshow, I want you to know that we're going to give you everything that we have tonight, I very much promise that. We're going to work very hard for you because we feel like you deserve it." He then went on to add, "now, I don't feel like we deserve very much, not even the fact everybody around the bowl, in the seated section, you don't have to stand, that's ok, I understand. But what I like to do, is I like to view this as a challenge. If I can get you to stand at some point during this set, we will have succeeded. I know you're singing, I know you're moving and you're just as involved as everybody down here, but my people in the pit are going to put on a show for you. So let's get things warmed up, when I say 'one, two, three', I need you to say 'yeah, yeah, yeah'".

Tyler then performs a hauntingly beautiful cover of "Can't Help Falling in Love". The crowd sings along loudly and I'm convinced that there is not a dry eye in the entire venue. To follow this (because we weren't emotional enough already) they perform a mash up of "Screen" and "The Judge", which comes together nicely. To finish, Tyler sings "We're broken people", a lyric that, when you really think about it, is pretty dark and heavy and yet very relatable to so many of us. The way that this band can turn something like that into an arena full of people coming together and singing along is something really special.

"Lane Boy" is played next to pump the crowd back up and, and boy, does it do the trick. Tyler gets the crowd to get down as low as they can, before jumping back up and going crazy when the beat drops. Pyrotechnic Jets shoot streams of CO2 into the air and two guys in hazmat suits (fame & success) run around the stage spraying the crowd and each other. There is a lot happening at once, but it feels like a party, and one that I never want to end.

A video of the boys changing a tire on their tour van from 2011 plays while Tyler and Josh make their way to the B stage for their next few songs. It really shows how far they have come, from playing to tiny crowds at outdoor functions and small venues, to playing sold out arenas, night after night.
​
On the B stage, they play "Ode to Sleep", "Addict with a Pen" and their cover of "Cancer", originally by My Chemical Romance. "Addict" and "Cancer" really show off Tyler's amazing vocal range and ability, and once again, the entire venue is an emotional wreck.
Back on the main stage, Josh has an epic drum battle with….himself. His drumming is energetic, intense and quite impressive. 'Real' Josh wins the battle of course, beating virtual Josh so badly that his head literally explodes.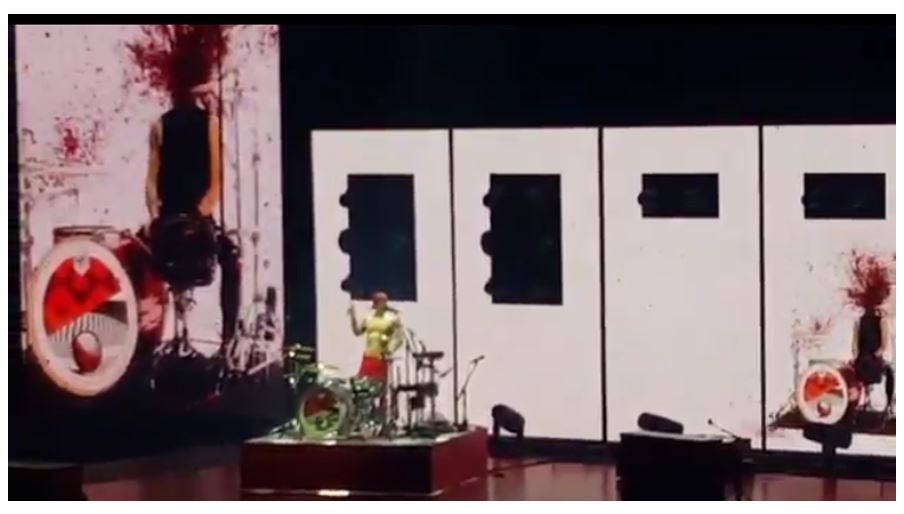 The lights go out and when they come back up, we are surprised to see two blow up Kangaroos sitting in Tyler and Josh's place behind the drum kit and piano. Josh's Kangaroo is complete with a yellow Mohawk, while Tyler's has it's neck painted black.

​The real Tyler and Josh return to the stage, and Tyler, microphone in hand, bows to his kangaroo and heads straight to the front of the stage and jumps down off the platform for "Holding onto You". He surveys the crowd for a moment before jumping up on the barrier and climbing into the crowd, where the fans in the pit hold him up while he sings the first verse of the song. It's really an incredible experience to be a part of. This has always been one of my favourite Twenty One Pilots songs, not just because of the thoughtful and inspiring lyrics, or the catchy sound, but also because of the way it is performed live.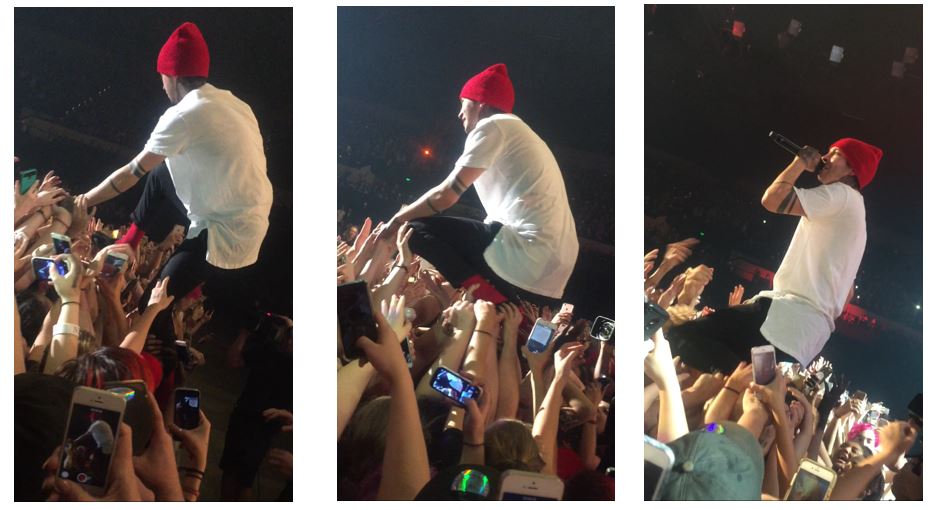 After returning to the stage, he sits back behind his beloved piano, and asks the crowd to "please give it up for Josh Dun on the drums". He runs around the stage with an astounding amount of energy while singing the rest of the song. Towards the end, he stands on top of his beloved piano, where he is joined by Josh, who performs a spectacular backflip off of it, and then goes back to his position behind his drum kit, as if it's no big deal.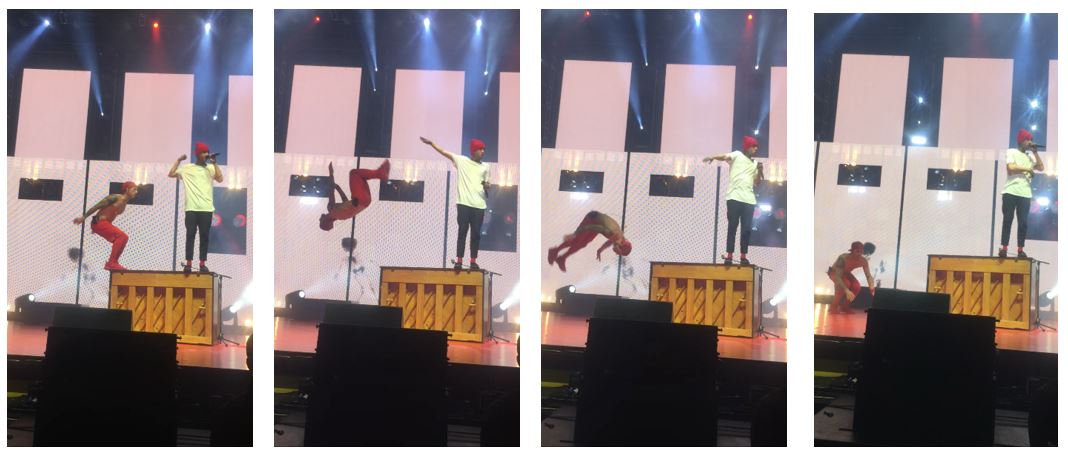 Next is a cover of "Jump Around", which really gets the crowd going, followed by "Ride". If you though Josh was going to let Tyler have all the fun interacting with the crowd, then you're sorely mistaken. He wasn't going to let the fact that he has a huge drum kit get in the way of having fun! Instead, he brings his drums, attached to a large platform into the crowd, who holds him in the air. I'm lucky enough to have had one hand on the platform. He surveys the cheering crowd, before taking a seat and banging out the rest of the song. It's such a surreal experience literally holding up someone that you idolise (and also quite hard as it was super heavy!). As he finishes the song, he throws a drumstick into the crowd and returns to the stage.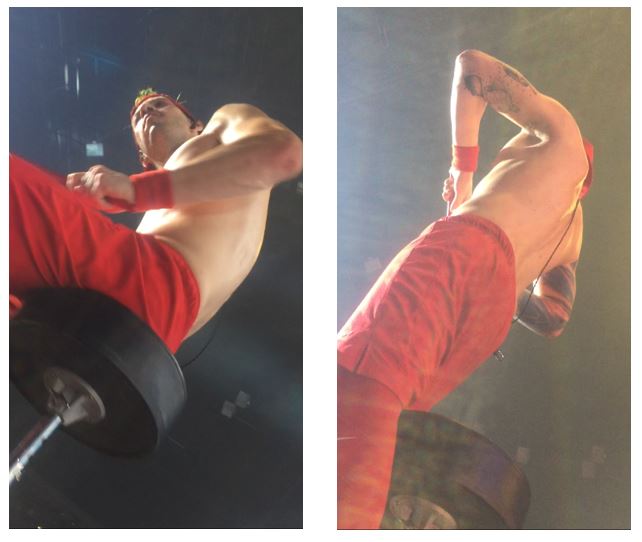 We then hear radio favourite "Stressed Out", followed by "Guns for Hands", where we see Tyler placed into a large red inflatable hamster ball which he then proceeds to run over the crowd with. For two boys who have said in the past that they worry about not being able to put on a good enough show with only the two of them, they really have nothing to worry about. It's hard work being in the pit for a Twenty One Pilots show. They put a lot of trust in their fans to help them put on an amazing performance that leaves everyone in attendance completely blown away.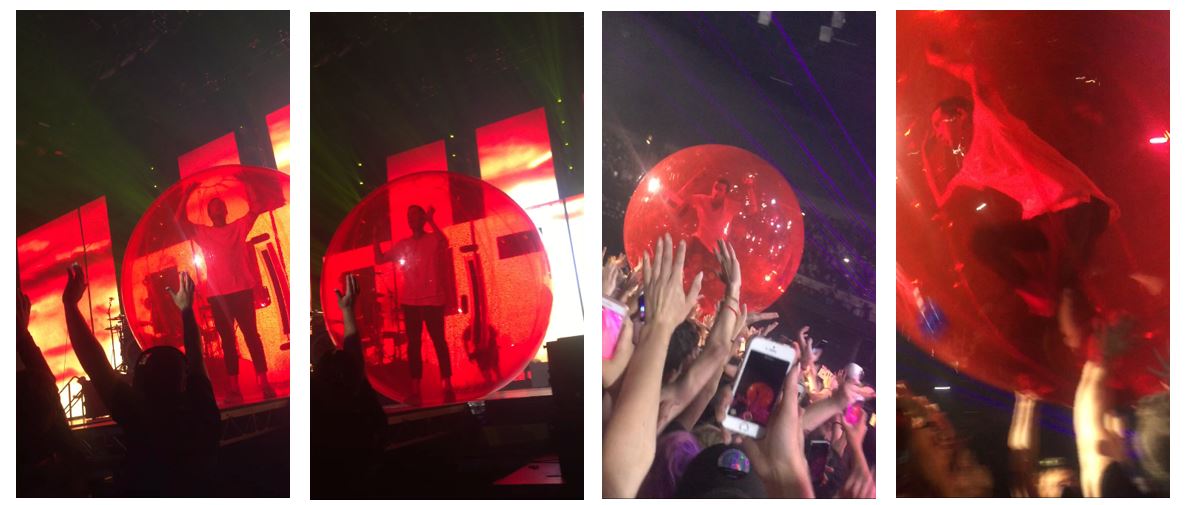 Tyler dedicates the next song "Tear in my Heart" to his wife Jenna, explaining that they are celebrating their second wedding anniversary, and it's adorable. He divides the venue into two sides, right and left and gets them to have a sing off against each other. "Car Radio" is next, and ends with Tyler appearing on a platform in the middle of the crowd screaming closing lyrics "and now I just sit in silence" and his voice projects around the arena beautifully.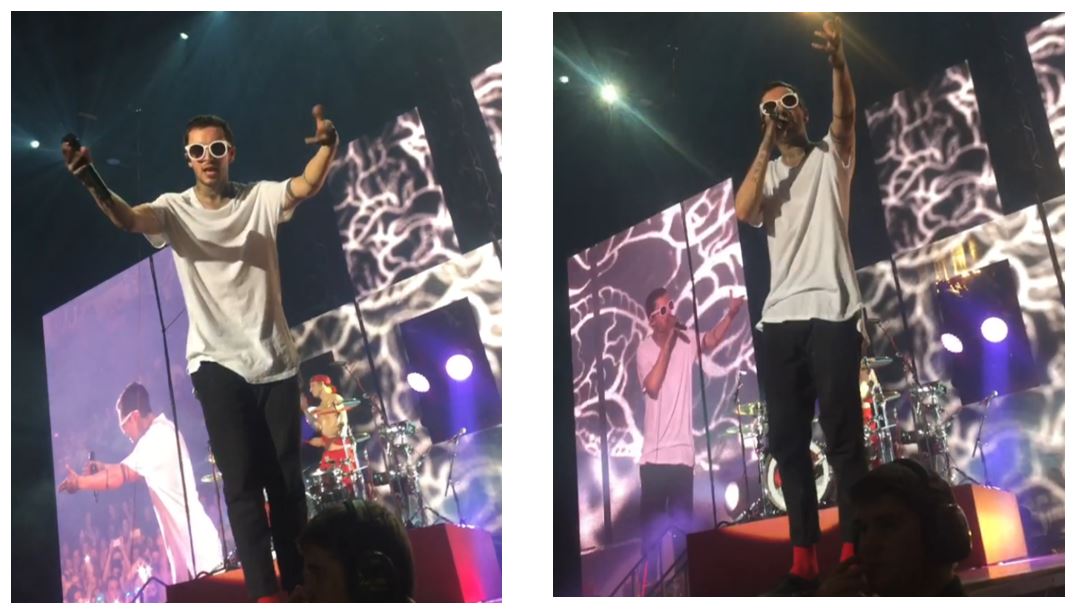 Back on the main stage and back behind his beloved piano, Tyler plays a beautiful version of "Goner", a song that I couldn't wait to hear performed live, and it did not disappoint. By this stage, the boys had been performing for close to two hours and unfortunately, it was time for the show to come to an end.
Tyler addresses the crowd, while playing the intro to closing song "Trees".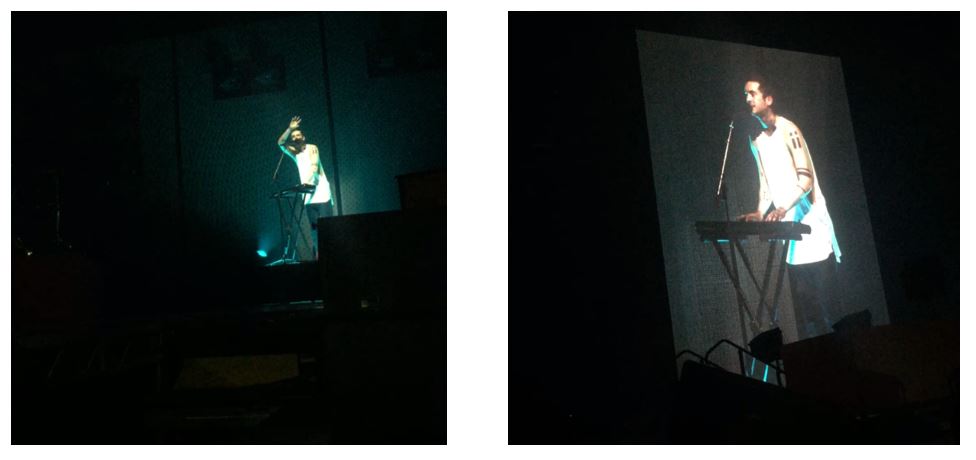 He says "
Man I want you to know, we absolutely love coming to this country to play music. Thank you so much for having us
," before apologising for the 'stereotypical' kangaroo joke that they played earlier, explaining that some fans brought them into the venue and they were taken away by security and when he and Josh found out, they decided to 'let them play a song'. He continues, "
hey would you please give it up for my very good friend, Josh Dun on the drums over there
" and a 'Josh Dun' chant erupts. "
I want you to know that I know we kinda come across like this is very normal for us or we're I don't know, used to it or something, I just want you to know that that's not the case. To play in a room this big, have this many people show up, we wonder, hey are we reaching the people up in the balcony all the way around, did we reach you guys tonight? Well thanks so much for coming to this man and if you would have us back, we would absolutely love to every single time come back. But until then…
"
Tyler sings the opening lyrics. It's the beginning of the end of the show.
Trees is such a special and important song on its own. But seeing it performed live at the end of the set is a completely different experience entirely. They've managed to take a song about being lost and searching for something, and feeling so alone in the world into a celebration of life and music, played in sold out arenas, in front of thousands of people.
For the conclusion of the song, both Tyler and Josh make their way into the crowd for one last performance. Supported by their crew, they are lifted onto small platforms that are held up by fans in the pit. They survey the crowd, before looking at each other, grinning, and banging their drums as hard as they can, while red confetti rains down from the ceiling. It's magical. The word 'Euphoria' comes to mind.
I've never been brought to tears at a concert before, but this song reduced me to a blubbering mess. I couldn't stop the tears of joy from rolling down my face.
Back on stage, there are deafening cheers and applause from the crowd. Tyler and Josh are humble and can't wipe the smiles off their faces. They take a bow, and after raising their hands in the Twenty One Pilots logo, Tyler says "we're Twenty One Pilots and so are you. We'll see you next time, peace". And then, just like that they're gone.


The pit starts to empty. People are hugging each other, crying and scooping up handfuls of confetti off the floor to keep as a reminder of the best night of their lives.
It's over.
Someone just sweep me up off the floor with the leftover confetti please, because I'm a mess.
Until next time.
​
|-/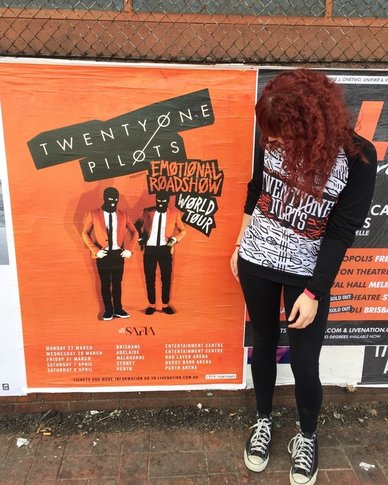 Set List:
Fairly Local / Heavydirtysoul
Migraine
Hometown
Josh Bumper Video (don't go back on stage)
Message Man
Heathens
House of Gold / We Don't Believe What's on TV
Can't Help Falling in Love (cover)
Screen / The Judge mashup
Lane Boy
(B Stage)
History Bumper Video (2011)
Ode to Sleep
Addict With a Pen
Cancer (cover)
Drum Battle Bumper Video
Holding onto You
Jump Around (cover)
Ride
Stressed Out
Guns For Hands
Tear in my Heart
Car Radio
Goner
Trees
Venue:
Adelaide Entertainment Centre
Capacity:
12,000
Support:
SAFIA
​
Review and photos by: Amber Eccles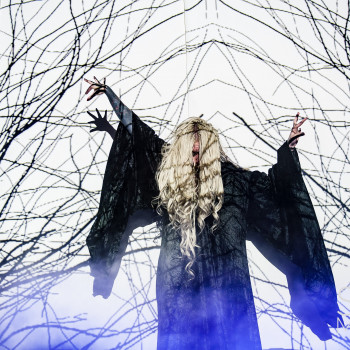 Glenn van den Bosch
13-04-2017 18 mins read
Related Musicians & singers
Paige Bower

I am at college

€ 0,06 pm

Natalie Ramos

Music-based Writer

€ 0,05 pm

Núria Pedrós Peró

Writer

€ 0,09 pm

Catalina Soboredo

Future economist.

€ 0,05 pm

Asya Kardzhaliyska

trainee optical consultant

€ 0,05 pm
Show all