Concert Review: Milk Teeth at the Star and Garter, Manchester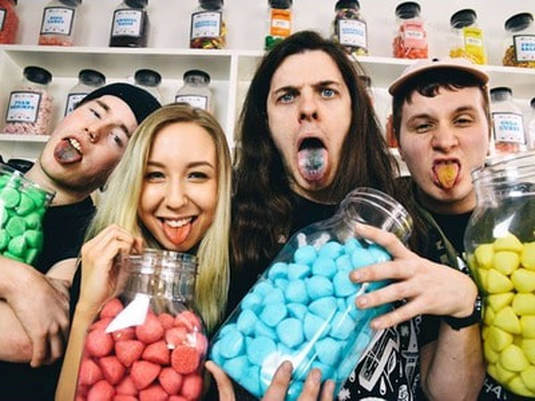 Far too many 'Rain in July' references have already been made by those of us living under the grey cloud that seems permanently lodged above all of Manchester's music venues over the past few weeks, but if there was ever a day that warranted such comments, it was the evening of plucky punk quartet Milk Teeth's sold out show at one of only two independent music venues left in the city, the beautiful, historic Star and Garter. The rain was lashing down on the small huddle of black-clad punks who were huddled by the venue's doors when we arrived, and as soon as the doors creaked open, there was a rush to get in out of the cold and wet! Despite being utterly drenched, the crowd's thirst for vicious, spin-kicking punk music had yet to be quenched, though that was soon to be remedied by the onslaught of adrenaline-inducing, gut-punching music that the coming evening had in store!

After squelching our way up the warped old steps, the room soon filled with a mass of black leather and denim, with a spattering of purple Callous Heart patches adorning the backs of many in the crowd, who had been first introduced to Milk Teeth when they supported south coast punks and this year's Warped Tour stars, Creeper, back in March. The reception for the band when they were just a support act had been rapturous, and after taking a little while to warm up, the two supports for tonight's show were treated to a similarly warm welcome!

South London's Wallflower kicked the night into gear with a set that comprised of driven yet melodic rock, which combined heavier tones from the grinding basslines and thundering vocals of the choruses with softer nuances that reflected the delicate images conjured up by their deceptively sweet band name. The band played several tracks from their debut EP 'Where it Fell Apart', ahead of its release next month, all of which were met with a quiet but warm appreciation by the crowd, the stand out track of which was their latest single 'Splintered', with its darkly bubbling verses that veiled a sense of dagger sharp intent lurking in the shadows which then broke into a pummelling chorus laced with a thin web of venom-filled screams! The screams really kicked in however with the introduction of the night's second support Employed to Serve, who defied convention in every way with their furious blend of screaming guitars and kick-you-in-the-teeth drum lines, overarched by their female screamer and lead vocalist, Justine Jones, whose sheer badassery was enough to have you hooked before the first chorus even hit! The set itself was a blistering meteoric blast of sound that grabbed you by the throat and refused to let you go, pumping you full of adrenaline, and almost seemed too big to be contained within the narrow room, with choruses so huge they seemed to be making the walls bulge with their sheer volume and power. At times the cacophony of noise was a little overwhelming and chaotic, however the sheer grit behind the songs kept them grounded and brought you right back into the melody with the next punishing breakdown that dissolved into a headbang-worthy chorus! While to some, having a female screamer may make Employed to Serve out to be a band trying to climb out of the underground on novelty and shock factor, anyone who witnesses them live will attest that this London quartet are a genuine talent, with a passion and drive that fuels their crushing breakdowns and refuses to let anyone stand still at their shows, for fear of being spin-kicked out of the door!

With a lightning fast change of equipment, it was time for the night's headliners, Milk Teeth, to take to the stage! Following an introductory track that imitated an old fashioned radio scrolling between stations as it rattled through a plethora of fan favourites, including Smash Mouth's 'All Star', which Milk Teeth have regularly covered at past shows, the band then crashed into the first track on their newly released EP 'Be Nice', the pop rock powerhouse that is 'Owning Your Okayness'. With Milk Teeth's biggest chorus yet, 'Owning Your Okayness' instantly roused the crowd into a singing, moshing frenzy, with its bouncy, effervescent guitars from dual guitarists Chris Webb and Billy Hutton and groovy, grunting bassline from frontwoman and bassist Becky Blomfield, whose voice was almost matched in volume by the combined voices of the adrenaline-filled crowd! Despite only being released that very morning, all four of the songs from 'Be Nice' went off like fireworks- from latest single 'Prism', which boasts Milk Teeth's idiosyncratic head-bopping verses, undercut by a deep, grungy bassline, and with Becky's powerful vocals taking centre stage on the choruses – not forgetting the sultry tone and dagger sharp sass of the bridge, which boasts the phrase 'Everyone in your life's a stepping stone you'll dispose of when you've reached where you want to go- I feel nothing but pity for you'; to the rebellious, angst-filled 'Fight Skirt', with its chorus that demands you scream along to its raucous refrains - as punk rock a track as you can get! Closing the night with the comparatively subdued 'Hibernate' looked a strange choice on paper, but in practice it was the perfect showcase of what Milk Teeth are all about, combining dark, introspective lyrics with intricately crafted melodies that build from soft acoustics, adding guitars and bass and finally drums, courtesy of drummer Oli Holbrook, which come crashing in as the song builds towards its grand, melodic finale.

In fact, it was the more subdued moments throughout the set that were the most enchanting. Being spat out of the pit at the close of 'Fight Skirt', I found myself right at the front of the crowd directly in front of Becky and completely transfixed with awe as she slid seamlessly into 'Swear Jar', a calm millpond of a track when compared to the swirling tornado that had gone before it that speaks of the quiet frustration and bleak hopelessness of being a pair of dreamers trapped inside the confines of a small town and the restrictions of the contents of your wallet. The real heartwrencher was 'Kabuki', where Becky's vocals sparkled like a cluster of stars among the isolated loneliness of the single acoustic guitar that accompanied her, pushing me to the brink of tears as she sang, with pain evident behind her eyes, of her struggles with depression and the seemingly fruitless search for a way simply to feel normal again. It is such a powerful song with such a heart-breaking yet important story to tell, and as Becky said herself 'If by singing this song it can help bring about a change and end the stigma' surrounding mental health, then it will remain a song which has to be sung.

However, in amongst the poignant moments were long stretches of crashing choruses, crunching basslines and grinding guitars, complete with the feistiest mosh pits I've experienced in a long while and even a few plucky stage divers- this was a punk rock show after all! All the big hitters were thrown into the mix- my favourite Milk Teeth track 'Burger Drop' was one of the crowning moments, drawing likenesses, as it always does in my mind, to the legendary Hole in both its punk rock sucker punch of a chorus and in the grungy edge to Becky's voice that makes comparisons to a young Courtney Love impossible to deny! Short and sweet, 'Brickwork' spun the room into a fiercely spinning circle pit, the air a forest of fists punching the air, and 'Crows Feet' turned the crowd into a rippling sea of bouncing heads, with all its crashing drums, funky guitar riffs in the verses and a pounding downbeats in the chorus that makes it the perfect song to jump around to! The oldies were woven in there too of course- the slice of classic Milk Teeth that is 'Vitamins', whose infectiously bouncy style of melody has been a staple of their biggest and best songs ever since, as well as 'No Fun', a song whose title could not be more incongruous to its effect on the room, which turned into a blur of colour and sound as I dived headlong into the mosh pit, all inhibitions forgotten as I was swept up in the atmosphere of what was the epitome of everything a punk rock show should be- packed, sweaty, wild, rebellious and the most fun it is possible to find anywhere in the world!

And that is one of my favourite things about Milk Teeth shows, especially being a young woman who also happens to be a fan of a good mosh pit- they always feel like incredibly wild yet safe spaces, where anyone, regardless of age, ethnicity, sexuality, but especially regardless of gender, can all have a good time and get right in there to party with the best of them! This movement of kindness and respect within the punk scene is one that is so incredibly important, especially in today's social climate, and that is why Milk Teeth's motto is one that I wholeheartedly approve of, and it is simple this: Be Nice or Go Away. That kind of attitude is an incredibly powerful one, and that mindset, along with this incredibly talented young band, is ready to take the world by storm, and return punk to serving its former purpose- speaking out against the injustices forced on the masses by those in power and being a flagship for change within the music community as well as the world as a whole. So get down to see this band in these intimate venues while you still can, because trust me, they're not going to be there for much longer!

Wallflower's new EP 'Where it Fell Apart is out on August 18th.

Employed to Serve's latest record 'The Warmth of a Dying Sun' is out now, and following this tour the band are set to play Arctangent Festival in Bristol on August 19th.

Milk Teeth's 'Be Nice' is out now via Roadrunner Records, and a second new EP is due out in the autumn. The band still have several dates of their current UK run, and the poster is below: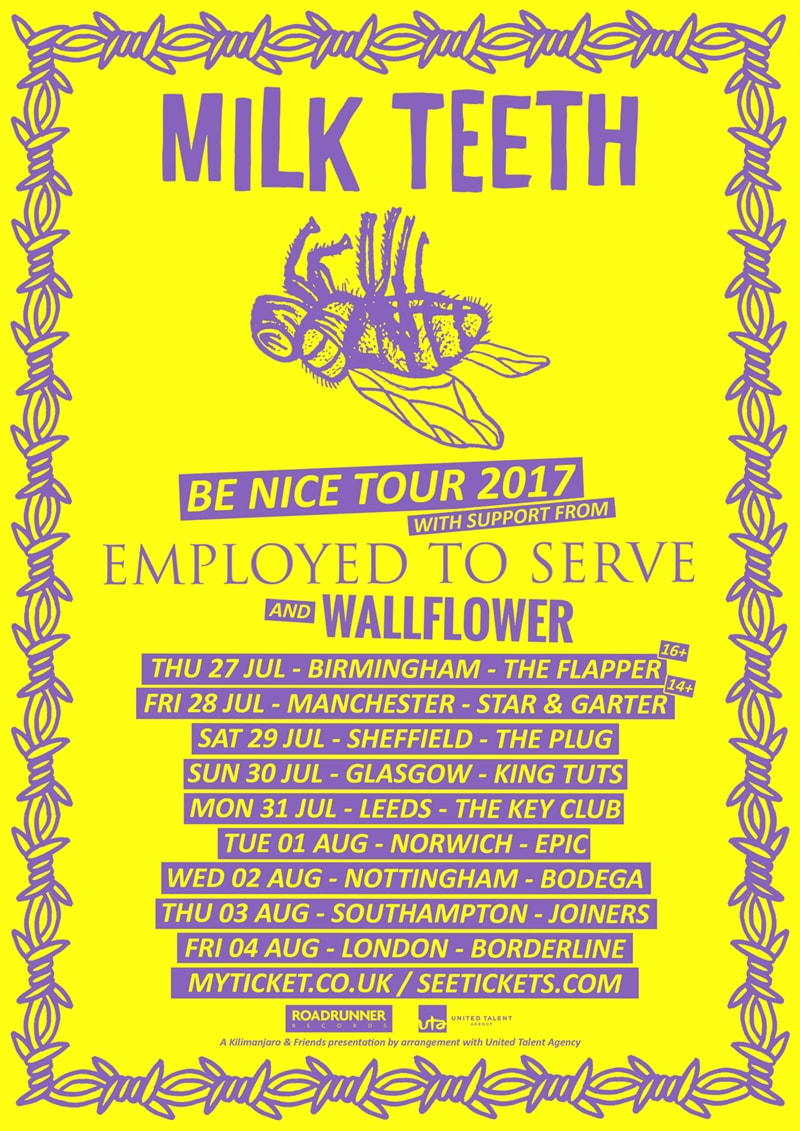 Review by Charlotte Hardman

Latest Articles
Show more
Instant contact with Musicians & singers
Music
I'm the ONE
who loves music!
Retail
I'm the ONE
who goes to every concert I can.
Writer, Music Lover
I'm the ONE
who loves My Chemical Romance, fiction, grammar, and being a friend.
Music-based Writer
I'm the ONE
who is always there to share an enthusiasm for music and living in the moment.
Student
I'm the ONE
you can find crying at a gig