Dayshell On Music, Passion & The Future
Dayshell was born from a series of events, mostly challenging, that led Shayley Bourget to be available, musically-speaking, to do whatever it was that he wanted to. Coming from varied influences like Deftones, Led Zeppelin and Enya, Dayshell's sound is emotional metal, or "fresh metal" as they like to be known.

We had some questions for Dayshell, curious as to what goes on behind the scenes for the creators of the masterpiece that is Nexus. Shayley was kind enough to give us some insights in the following interview.

For Shayley Bourget, music is life.

Music makes sense to Shayley and is where he returns to, with music also returning to him.

This intimacy with music doesn't make Shayley immune to being human though, and he is open when it comes to talking about his experiences of creative insecurity or doubts about the future. In an interview with us, Shayley shared how he is "terrified everyday that this journey is going to end."

The band signed with Spinefarm Records in July this year, while they were also working on their sophomore album, which we now know as Nexus (released October 7th). Shayley says that before signing with Spinefarm, "there were many doubts running through our minds". Dayshell went into the process of creating Nexus without necessarily knowing what would happen, or whether there was even a future for the band and their music. Shayley says that he never feels sure if the world will accept the Dayshell outlook on music.

Doubts and fears aside, Shayley's trust remains in the fact that the band spilled their heart and soul into Nexus, affirming that they held nothing back in the making of it. Listeners can experience this for themselves, where musically fluid cohesion combined with Shayley's angelic vocals have created something of an ethereal experience of metal.

This all-in experience with music comes down to the songwriting also, where Shayley describes how he sometimes will "fight for an idea of a song" and try his best to meet that, or allow the music to find him, and allow creativity to happen when it's least expected. Shayley and music seem to have an inextricable bond, where they just 'get' each other.


By way of genre, I asked Shayley if there was ever any pressure to restrict or conform Dayshell's sound. Again there was this deferment to this almost zen-like trust in music, and trust in how he feels the music within him. He says, "I think my heart and mind know what to do and feel completely content with the direction. Our sound will always continue to evolve."
Shayley refers to his challenges in life being the inspiration for most of the songs on Nexus, where experiences of hurt were needed to create.. "as sad as it sounds". Starting to sing at 17, Shayley says that it wasn't until he was 22 when he found his voice. "I learned how to control it finally. I've never had a lesson in my life, so I just had to listen to my idols and try to figure it out myself!" Shayley laughs. And figure it out, he has, with his vocals being referred to by some as the best clean vocals in metal.
When it comes to album number three, Shayley says he "Can't wait!". Followers on
Instagram
and Twitter have been privileged enough to see Shayley's dance of music play out in the exploration of sounds in demo tracks, which may or may not become a song on the next album. Regardless of what happens to these demos, it is extremely cool to watch someone express their creative passion while it is in the process evolving.
I asked Shayley about Zack Baker, Dayshell's drummer, who had connected with the band through his own love for music. Zack had been creating drum cover videos on Twitter, and one of those covers was Dayshell's "I Owe You Nothing". Shayley says that he saw Zack's passion and drive, and his determination to "better his craft" and reached out to Zack to see he was interested in playing with them. "I couldn't ask for a better drummer or friend to be honest. I am 100% content with him!". It's clear that passion for music is a fuel that drives Dayshell, and will continue to power them forward into a rewarding future.
This passion speaks to listeners through Dayshell's music. And it translates in a number of ways. Dayshell fans were quick to jump in recently when Shayley had guitar pedals stolen, crowdfunding the replacement of the stolen items. As well as making donations, fans shared appreciation for what Dayshell have done for them with their music, as well as encouragement for what Dayshell and Shayley will do next. Shayley shares that "it warms me up knowing that there are people out there that understand and get what we love to create."

The future is bright for Dayshell and the dedicated 'Dayshell fam' wait with baited breath for what comes next for the trio.

Interviewed by Kelly Burch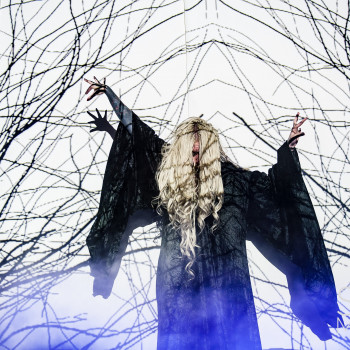 Glenn van den Bosch
14-11-2016 5 mins read
Related Musicians & singers
Paige Bower

I am at college

US$ 0,07 pm

Natalie Ramos

Music-based Writer

US$ 0,08 pm

Núria Pedrós Peró

Writer

US$ 0,10 pm

Catalina Soboredo

Future economist.

US$ 0,08 pm

Asya Kardzhaliyska

trainee optical consultant

US$ 0,06 pm
Show all