Demi the Daredevil Release Music Video for "Paranoia on Main Street"
Demi the Daredevil (Jeff Azar) is an artist who isn't afraid to be himself. With his emo/grunge style, Jeff is a voice who represents the voiceless outcasts who might feel afraid to be themselves, With Demi the Daredevil's music, Jeff infuses creepy theatrics into a relatable alternative pop format, which is what captivated us when we discovered him.
We also got major Twenty One Pilots and iDKHOW vibes when listening to his music, due to how incredibly unique he is with his music! So if you're into either of those bands, we have a really good feeling that you're going to love Demi the Daredevil's music too.
Jeff's fans describe him as "unique, relatable, edgy yet playful." And we couldn't agree more. When you listen to his music, you're transported into another dimension and taken on an adventure, and that's exactly how we felt when listening to his newest track, "Paranoia on Main Street."
Just in time for Halloween. the title of the song gives us major A Nightmare on Elm Street vibes. For Jeff, a "Paranoia on Main Street" feels complex, because the track seemed to come from a past trauma of being around specific places growing up. "I lived around neighborhoods had a lot of fights and getting jumped, and around being ashamed to show my real emotional state, and also genetics of being bipolar where the amount of aversion towards others was so extreme," Jeff told us. The track tells tale of his social anxiety and anthropophobia, aka, the fear of people.
With lyrics like, "Still that loner / Scared kid peaking glances," "I'm paranoid I'll get murdered and die forever and ever," and "After so many letdowns / I just keep to myself now / They're always watching me they're always watching me / They watch," you feel what he's feeling, getting a tiny drop of what it must feel like to deal with social anxiety and anthropophobia every single day.
"The song was me working through icky feelings I had being around most people," says Jeff. It was important that he wrote about this topic so he could start working through his resentments and phobias towards people. With the power of music, his goal was accomplished, because he told us that this song DID help him.
He realized that a lot of his thoughts were based around a rough past, and that he was carrying it over to the present. "This song shed more light on how I'm really feeling and helped me take a more compassionate stance on others," says Jeff.
The music video for "Paranoia on Main Street" was filmed safely during the pandemic at 4 AM, and is meant to depict the feelings of fear, hope, and insanity that the song does.
Watch the music video below: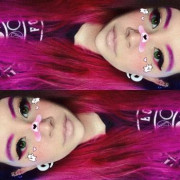 Melanie Gomez
09-10-2020 3 mins read
Related Musicians & singers
Núria Pedrós Peró

Writer

US$ 0,10 pm

Paige Bower

I am at college

US$ 0,07 pm

Natalie Ramos

Music-based Writer

US$ 0,08 pm

Catalina Soboredo

Future economist.

US$ 0,08 pm

Asya Kardzhaliyska

trainee optical consultant

US$ 0,06 pm
Show all