Download Festival Diaries: As It Is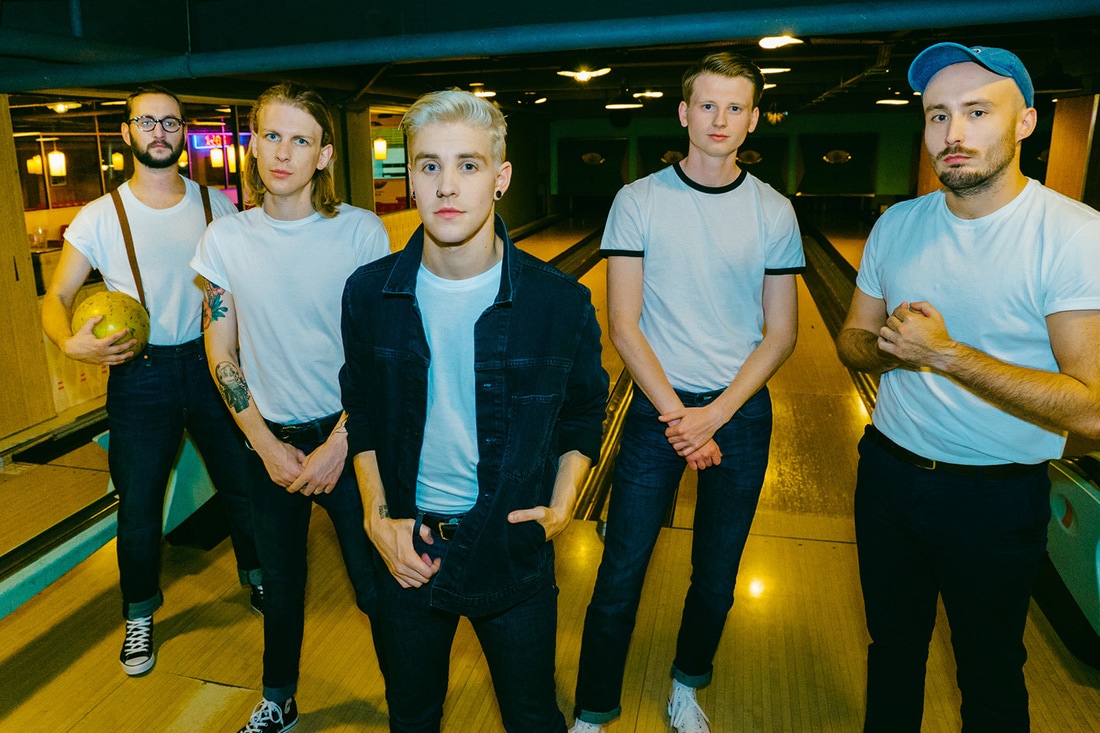 A pop punk band at a metal and hard rock festival? It is a choice some may have questioned upon seeing that Brighton's pizza-and-pogoing quintet As It Is had been added to the line-up for this year's Download Festival- surely they would be like ducks out of water, performing to a crowd of battle-ready metal fans? Well the short answer to that is simply- nope!


We here at Strife have a huge amount of love for this rapidly growing five-piece, and as usual they didn't disappoint! Taking to the stage, regaled by cheers from the crowd of dedicated fans clinging for dear life to the barrier, and the large cluster of people who simply happened to have stumbled into the tent, As It Is launched straight into the eponymous first single from their sophomore album, 'Okay', and from the first line it became clear that this was a band who were completely at home here in Donington Park! Packed full of infectiously bouncy basslines and choruses that speak as directly to the individual as they do the masses, 'Okay' set the precedent for the entire set, which was a raucous pop punk party from start to finish! Frontman Patty Walters was possibly the most animated and energised I have ever seen him, and his enigmatic stage presence and permanently fixed grin drew the entire crowd along with him through every soaring note and every emotionally charged bridge! And of course, not forgetting his now iconic sky-high punk jumps, including one which involved him leaping over the crouched figure of guitarist Ben Langford-Biss, much to the joy of the packed tent! The opening of 'Patchwork Love' was welcomed with cheers and screams, and there was not one stagnant body in the crowd, as every person leapt around in unison, pulled along in the riptide of the driving bassline from bassist Alistair Testo!


Heart-breaking and life-affirming in equal measure, 'No Way Out' was, in my view, the crowning glory of the band's latest release, and believe me when I say, the gut-punching impact is heightened even further when you see it performed live. Tears filled my eyes instantly, and many members of the crowd around me sang along in hoarse, cracked voices, rising to a screaming crescendo through the slam-poetry inspired bridge in which Patty bears his soul for the world to see, a beautifully intimate moment for everyone packed into the small tent. The old classic 'Cheap Shots and Setbacks' from As It Is' 2015 debut album 'Never Happy, Ever After' with its anthemic choruses and galloping drums from drummer Patrick Foley was as explosive as ever, although the soaring vocals and bubbly, undulating melodies of 'Hey Rachel' did give it a run for its money! But of course, nothing could eclipse the roaring closer 'Dial Tones': from the instantly recognisable opening notes, a scream rose up from across the tent louder than any other I'd yet heard that day, sending a shot of adrenaline to the pit of my stomach as the chorus came crashing in like a breaking tidal wave, bursting with layered guitars, pounding drums, incessant basslines and topped off with the beautifully complementary dual vocal talents of Patty and Ben, smooth and gritty intertwined on the bridge, all blending together to create a supersonic closer that left me shaking, a fiery cocktail of adrenaline and emotion coursing through my veins. One thing's for certain- this 'mere pop punk band' have more than earned their place on the bill at Donington for many years to come!


The most poignant, lasting memory for everyone who witnessed this sizzling firecracker of a set, myself included, is indisputable. And it belongs to guitarist Andy Westhead. In a powerful speech midway through the set, Andy informed the crowd that his cousin, who usually attends Download every year, was currently undergoing chemotherapy, and so could not attend this year's festival. After everything the music world has been through of late, the absence of one of our own hit the crowd like a bowling ball to the stomach, and the resulting cheer that rose up was deafening, as the entire crowd pledged to have the best day possible, and sing, dance, mosh and crowd surf for those who could not. It was an incredibly brave and incredibly honest speech that endeared Andy, and the whole band, to the crowd even more, and illustrated beyond any doubt a long held belief of mine- that music is about more than just guitars, drums and bass. More than just words on a piece of paper, on a CD, on a vinyl. Music is about belonging, it is about community, and above all, it is about family. Whether that's blood family or family connected only by a love of the same songs, the same albums, the same bands, music gives us a place to belong, a family to accept us no matter what, and that connection is far stronger than perhaps any of us realise.


Glenn van den Bosch
13-06-2017 5 mins read
Related Musicians & singers
Paige Bower

I am at college

US$ 0,07 pm

Natalie Ramos

Music-based Writer

US$ 0,08 pm

Asya Kardzhaliyska

trainee optical consultant

US$ 0,06 pm

Núria Pedrós Peró

Writer

US$ 0,10 pm

Catalina Soboredo

Future economist.

US$ 0,08 pm
Show all