Fearless Records, Finally Touring Europe & More With Ice Nine Kills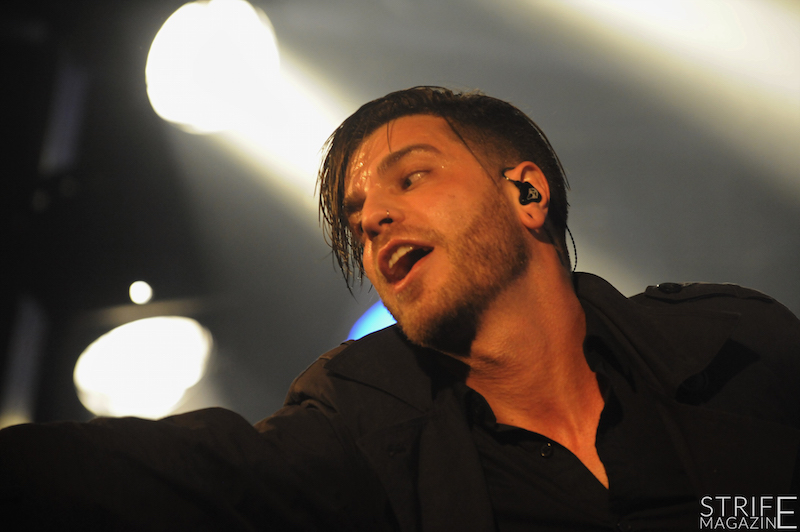 Ice Nine Kills recently brought their horror-themed selves to the UK for the very first time. We saw them play at Rainbow Cellar in Birmingham and were also able to sit down and have a chat with drummer Conor Sullivan.

Strife: This is your first euro run, how come it took you so long to get over here? Is it part of your decision?

INK: We've wanted to come for a long time. We've obviously received messages and comments from people wanting us to come over here and we sell merch over here all the time. So we've wanted to come. It's always been kind of finding the right time to go, and the right opportunity. We've had a couple offers in the past. Financially it was too much to do for what we were going to get back and it wasn't the right time yet. As much as we wanted to come in the past, I think with waiting, so far the reaction has been better because it took us so long to get over here. The first three shows have been incredible and we way underestimated a lot toward what it's turning out to be. So I'd rather be pleasantly surprised than be let down.

Strife: Signing to Fearless was huge for you guys last year. Has that helped you get the shows over here?

INK: No. It really hasn't done anything.

Strife: So they just kind of represent you.

INK: Yeah we had a booking agency over here actually that booked the tour. Fearless kind of coordinated some of the transportation part of it, but actually playing the shows over here? Not really.

Strife: So I'll stick on the Fearless because I've mentioned it; This time last year in November you were playing with the fresh faces tour for Fearless with Wage War and My Enemies & I and White Noise I think it was? Have you stayed in contact with any of those bands? Because I know Wage War are coming here with Amity in a couple months.

INK: Yeah Wage War was out all summer on Warped Tour with us. We talked to the My Enemies guys a lot. Seen them at shows and festivals and things like that. Haven't really seen White Noise too much but we stay in contact here and there.

Strife: With you playing Warped Tour, have you been offered the opportunity to play UK festivals? Is that still something you'd like to do?

INK: Oh definitely still want to do that. We haven't yet so maybe this Summer when we're not going to be doing Warped Tour, we'll probably be working on our next record and there's other festivals this Summer so hopefully we can get on some of those ones.

Strife: With the new record as well. It's a concept album with literature. Whose idea was it to take it that way?

INK: Our singer did.

Strife: Was it something the band got invested in? Or was it just Spencer's idea?

INK: We did a bridge track for Me Myself & I and because of the duality of the vocals, with the singing and the screaming, he came up with the concept of themeing it around Dr Jekyl & Mr Hyde. Because of the screaming and just the way it was, back and forth. The reaction for that went over insanely well so he just came up with the idea that we should do every song about a book. We just made a list of classic pieces of literature that withstood the test of time, and how people could still relate to these books. And not necessarily like a horror movie or something like that but other stories that people can relate to.

Strife: Is it the sort of thing you'd do again?

INK: Yeah. Not with books necessarily, but definitely want to stick to some kind of concept, that is yet to be determined.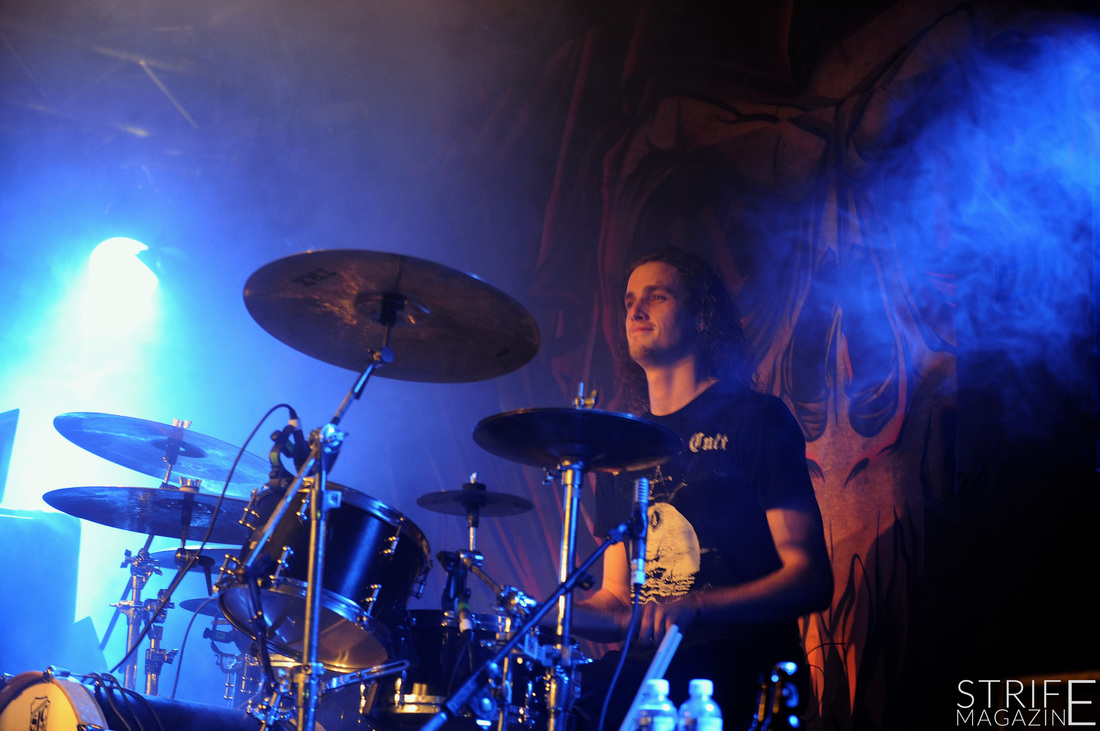 Strife:
Fair enough. Obviously with you guys coming to Europe, are there places that you want to specifically go to, either visit for sightseeing or to actually play?
INK:
Yeah. I don't really know too much about playing. Aside from major arenas and stuff I've seen, like Brixton. Obviously we're not going to drop five thousand people the first time. Sightseeing? I mean yeah I wish that we had a day off in every single city.
Strife:
I did sort of notice that you were sort of struggling for days off when I looked at the tour schedule.
INK:
Yeah we've got one day off in Germany. We just kind of figured because we're here, just cram as much in as we can. Just to do as much as we possibly can, because it's just the cost of getting over here was the thing that held us back. Now we're here, let's just do it. Next time around we might hook a couple things up. And I wish I could go see more. We were in Nottingham yesterday and we literally got to sight-see for 20 minutes. "Alright, we gotta go". Kind of got to accept that. You know even walking around local pubs for me is just as cool as actually like going to see real touristy things. You kind of get immersed in the culture a little better that way. Like surrounding yourself with people who actually live here, not American tourists. [laughs]
Strife:
Just one last one as I know you guys have stuff to do. Who would be your dream band be, whether to support or to have them as support?
INK:
All the bands that I would want that would be my dream tours to be on would either hate us or wouldn't want us to tour with them. I mean I would tour with Blink-182. Would be the sickest band even to tour with because they're one of my favourites, but there's a lot of bands that we have toured with that the bands have become really good friends of us and being on their tour has really helped us out a lot. Attila, Motionless in White, Chelsea Grin and bands like that that we really became friends with and our fans merge really well with their fans. Bands like that. Really there haven't been too many bands in the whole world that we've ever had issues with or anything so. Any band where the guys are cool and we match well and our fans get along, that's the best band to tour with.
Strife:
I suppose it's quite hard aside from like Motionless finding bands that are similar obviously because you guys have kind of got the gothicky kind of horror theme..
INK:
We've kind of developed our own sound and definitely theme and I think that's important now with how many bands that are out there kind of just playing the same thing over and over again. And I think developing a theme for you know, your look and your attitude and your music and merch. Everything. Kids really kind of buy into that and they really dig that and it's so cool to see. Our last tour in the states, we called it the
Hell In The Hallways
tour, and it was all "Carrie" prom night theme. And every night we had kids coming dressing up in full tuxes, prom suits and everything. You know, dresses and just to see kids like really respond to that idea is really cool. To see that, you know, they're taking it seriously like we are. They're really getting involved and they feel like they're a part of something. And those are the bands, like Motionless in White, that have these like diehard fans and keep their fanbases forever and those are the best fans and the best and most long lasting bands.
Thanks so much for your time, Conor and Ice Nine Kills!
Interviewed by Laurie Cromwell.
* You can see our photos and review of the Ice Nine Kills show
here
. *

Glenn van den Bosch
29-11-2016 8 mins read
Related Musicians & singers
Asya Kardzhaliyska

trainee optical consultant

€ 0,05 pm

Catalina Soboredo

Future economist.

€ 0,05 pm

Glenn van den Bosch

Photographer writer

€ 0,25 pm

Rosa Todd

Student

€ 0,05 pm

Amy Stevens

Student

€ 0,09 pm
Show all