Get To Know: Tarah Who?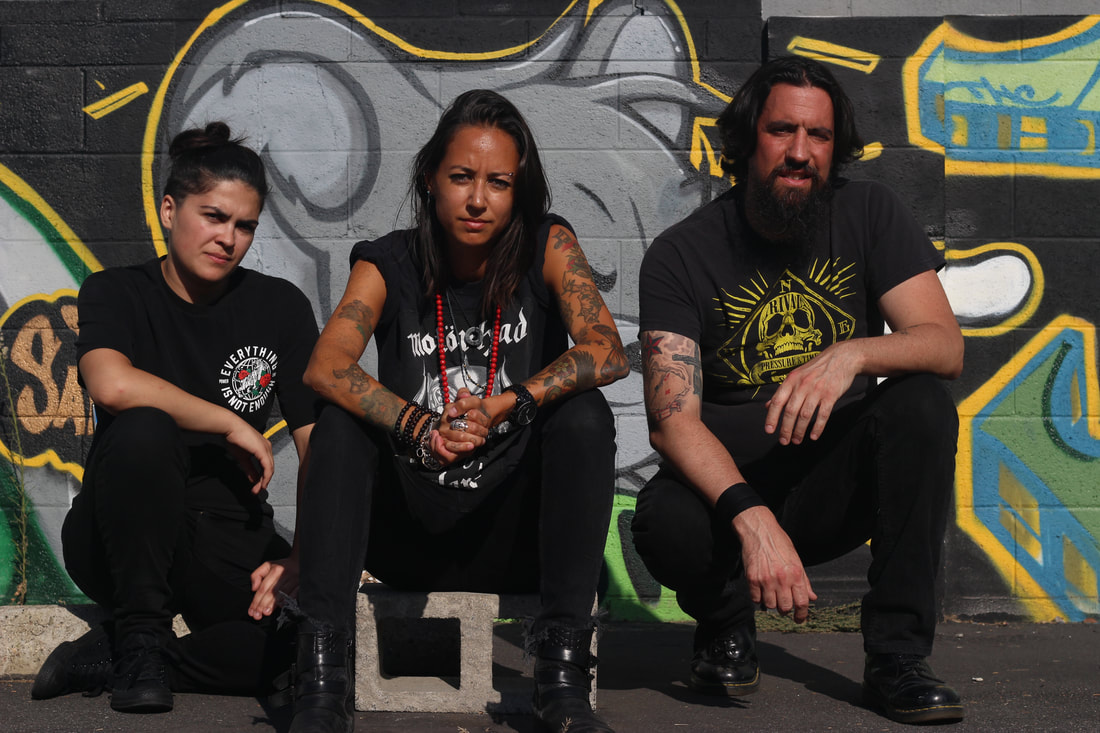 Ending the year with another introduction! This time around, we'd like to introduce you to the band Tarah Who?! We had a lovely chat with all three members of the band and gave them the usual line of questioning for you to get to know them. Read what Tarah Who? are all about below and stay tuned for their upcoming EP!

Who are you guys?
TGC: I am Tarah, lead singer and guitarist of Tarah Who?
Tarah Who? is a cow-punk Rock, Alternative band from Los Angeles.
CH : Hi my name is Coralie Herve and I'm the drummer of Tarah Who?
MP: Hey there! My name is Matt Peltcher and I am the bass player and backing vocalist for Tarah Who?
How would you describe your music in five words?
TGC: Raw, Energy, Fun, Angry, Grungy
MP: Punk, Loud, Hard, Angry and Intense.
CH: Oh God It's Too Hard !! LOL
Which artists have you taken inspiration form?
TGC: I listened to a lot of Alanis Morissette as I was growing up. I am sure I have been influenced in my way of singing or writing somehow...then I really got into The Distillers, the early years of the Foo Fighters, Smashing Pumpkins, Tool, Pantera, Hole and Motorhead etc...
CH: I'm a big fan of Nightwish so I'll say them and this genre of music, symphonic metal. But the first genre of music that I listened too was rock, hard rock with bands like ACDC or Guns'N'Roses.
MP: I wanted to play music because of bands like The Cure and Joy Division. Throughout the years, I've really loved bands like Rancid, L7, Nirvana, Smashing Pumpkins, The Pixies and The Deftones to name a few. I am inspired not to be copies of them but to be brave enough to find my own sound. I also have been inspired to want to play music that is exciting and emotionally engaging. To shoot for a certain intensity but in my own way.
What has been your biggest challenge?
TGC: My biggest challenge was to be confident enough to take on this project alone, and find my band mates.
I didn't find it easy to be a girl, doing my own thing, I ran into a lot of musicians or "producers" who wanted to change me, or turn me into their product. I was very shy and I didn't know what the "right" thing to do was. After a few years of running into a lot of situations with men, I learned to speak up, know and say what I want. My biggest challenge after this was to find honest, supportive, ego-less bandmates! I feel honored and lucky to have finally run into Matt and Coralie. I haven't felt so comfortable and happy with my band partners. They are great musicians, and amazing human beings, which makes us stronger. I think...
MP: I think it's as simple as getting me out of my own way. I'm a bit perfectionistic and overly concerned about what I do. You have to let go and trust yourself which can be challenging, but if you can do this you will be at your best.
What's been your biggest accomplishment so far?
TGC: I am very proud of every little step that Tarah Who? has been making until now. We keep moving forward, and fantastic things keep happening to us. I was really happy with the result of our Ep Release show at the Viper Room, as well as working with Jason Orme (which has been a dream of mine). My personal biggest accomplishment is again, to have found Matt and Coralie, because now we can step up and do bigger and better things.
We have had the chance to be part of a lot of blogs, and magazines lately, as well as radio stations in France. All of these little things keep adding up and we are stoked to be building a stronger, bigger following.
CH: I'm studying at the Musicians Institute right now and I'm really happy about it. I'll say come in America to pursue my dream and be able to play music as my job you know.
MP: I think everything I've done in Tarah Who? up to this point! It just keeps getting better the further we go!!
What's the best piece of advice that you've been given?
TGC: I met Alanis a long time ago, don't judge me but I followed her to her hotel room after a show! I don't know what the hell I was thinking but I did. I had read in an interview that she was looking or that she would like to help independent artists or something like that. Of course, as a kid, I thought that this was my call! I had brought my guitar with me and I asked her if I could play her a song or two. She said " No, I don't want to listen to your songs" I was Broken heart-ed, right? But then she said " What do you want from me?" I said " Well, I want to be like you?"
Alanis- " And what is that?"
Me- " Well... A female , artist, singer songwriter... like you!!"
Alanis" Well, as I see, you are a female..., you obviously are an artist, and you write songs.. so you already are, what you are asking me to help you with"
Of course, at the time I didn't understand, I was a little bit shocked and hurt. But it totally makes sense. She was and is right! Since then, I have focused and being myself, and just doing my own thing. I never wanted to be another Alanis, I actually didn't know what to expect from her, comes to think of it... I was just drowned to her. Hoping for an easy way, I suppose.
Whatever she meant... I took it as a great motivator, to do my own thing and not expect anything from anyone, and not wait for someone to come and do it for me.
CH: Go for it !! When I wanted to go to MI in LA, my parents and my teachers told me that everything is happening there and if I can I should go so ... here I am !!
MP: Best advice I've gotten is to always be yourself. I think when you are yourself you shine the most. Like I said earlier, I can be a bit obsessive/passionate in what I do. When I stop caring (so much) about what I do and just do it is when I get the best results. I think this advice is line with having no doubts, and believing in or trusting yourself.
Three artists to be compared to?
TGC: Musically? I don't think we sound like anyone really... I would like to say The Distillers, but I don't sound like Brody! We are often compared to Nirvana, even if I have never listened to Nirvana, and apparently I sound like Eddie Vedder!!
MP: Yea, I've heard Nirvana and Eddie Vedder too. It's tough to say because I don't think we sound like either of them…. or, like Tarah said, anyone else for that matter.
What's the next step?
TGC: We are really excited to have a few gigs lined up around Halloween. Those shows are going to be really fun. We have a promo video coming up and a music video (directed by Adrianne Lundy and Produced by Zoé Pelloux) .
We are planning a West Coast tour in April with our friends from France called DRY CAN, and we will be travelling to Europe, playing in a few festivals next summer:)
CH: We are working on a new EP right now so we will be on the road next year to promote it in America and in Europe.
MP: Videos, shows, tours, new music…. BIG BIG things happening in 2018!! Follow all the action at
tarahwho.com
!! Thank you everybody.
Glenn van den Bosch
23-12-2017 8 mins read
Related Musicians & singers
Natalie Ramos

Music-based Writer

US$ 0,08 pm

Paige Bower

I am at college

US$ 0,07 pm

Asya Kardzhaliyska

trainee optical consultant

US$ 0,06 pm

Núria Pedrós Peró

Writer

US$ 0,10 pm

Catalina Soboredo

Future economist.

US$ 0,08 pm
Show all