Guitar Teachers
The guitar is one of the 5 most played instruments worldwide. Cheap to buy and easy to learn if you practice a lot. But the practice also requires a great deal of discipline and that can be difficult to sustain if you want to learn everything yourself. On CallTheONE you can find guitar teachers who teach you how to play remotely. You learn faster, it is more fun and it is easy to keep up when you are just starting.
Guitar teachers allow you to make video calls so that you can hear and see each other. The advantage is that you can get lessons whenever you want. Also from the park under a tree for example.
There are different types of guitars, such as the electric guitar and the 12-string guitar, but the 6-string acoustic guitar is by far the most popular. It is also the guitar that is the easiest to learn to play the guitar. If you want to learn to play the guitar, consult a guitar teacher which guitar is most suitable for you.
Everything is difficult at the beginning and that is the same if you learn to play the guitar. Your fingertips hurt the strings and you get cramps in your hand because your fingers are not yet flexible enough for all chords. Fortunately, this is temporary and the chords and strings will feel very natural. But why guitar via Live Interactive video?
Online Guitar Lessons via Video Calling | The advantages
Of course, you can spend hours on an online tutorial for beginners on YouTube. But did you know that it is more difficult to unlearn something that you have learned wrong than to learn something new as a beginner? That is why the guidance of a guitar teacher is important, certainly in the beginning.
Guitar Lessons via Video Calling | The Advantages
Lesson where and when you want
Most guitar teachers only count the minutes that you have lessons.
Choice of guitar teachers from all over the world
1 on 1 guidance, but learning alone or with friends is the same price
Affordable without monthly subscription costs
Usually no textbook needed because you both can share your screen
Save yourself a lot of time and effort and choose a remote music teacher.
Online Guitar Lessons for Children from a Private Teacher
Children want to learn, but having their own private teacher makes it even more fun. Let your child make contact with a guitar teacher of your choice and if they like each other, your child has the ideal private tutor.
You can get lessons via the computer or a Smartphone. For tutoring on a Smartphone, you must first install the free TheONE expert App.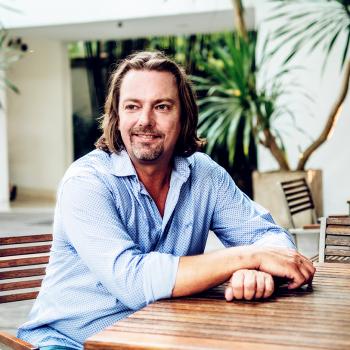 Ben Steenstra
3 mins read
Related articles
Show more
65 Guitar teachers available
Ricardo Manrique

Writer, musician

US$ 0,15 pm

Benjamin Mortlock

Guitar & English

US$ 0,64 pm

Omar Villagran

webmaster, musician

US$ 0,15 pm

Pieter Pretorius

Music, Language etc.

US$ 0,20 pm

Olmedo Cruvellier

profesor

US$ 0,25 pm

Vlad Vartosu

Music, work and love

US$ 0,44 pm
Show more