Here's Why "13 Reasons Why" Actress Katherine Langford Wasn't In "Avengers: Endgame" After All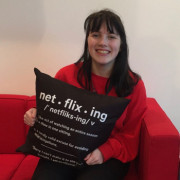 WARNING: SPOILERS!
It was previously announced that 13 Reasons Why actress Katherine Langford was going to play in "Avengers: Endgame".
However, now that it is out, she was not involved after all.
Read more: Man Attacked After Shouting Avengers: Endgame Spoilers
The directors of Endgame, the Russo brothers, have revealed who she was going to play and why it did not end up in the movie after all.
In the end of the movie (SPOILERS), Tony Stark, a.k.a. Iron man, sacrificed himself to defeat Thanos by snapping his fingers with the Infinity Stone Gauntlet.
In the original idea that the directors had, Stark would have a similar experience to the one Thanos had when he used the gauntlet, where he ended up in a metaphysical place and talked to a young Gamora, his daughter.
Stark would be in the same place but he would see a teenage version of his daughter Morgan who would have been played by Katherine Langford.
Morgan then would forgive her dad and give him peace before his death.
In the Happy Sad Confused podcast, the Russo brothers revealed that they did film the scene, but because it didn't feel right to include it in the movie, it was left out.
"We realized that we didn't feel an emotional association with his adult daughter. It wasn't ringing to us or resonating with us on an emotional level."
Would you have rather seen the scene included in the movie or do you think they made the right choice? Let us know!
Related articles
Show more
Popular articles
Show more
Instant contact with Musicians & singers
Music-based Writer
I'm the ONE
who is always there to share an enthusiasm for music and living in the moment.
Retail
I'm the ONE
who goes to every concert I can.
Student and Writer
I'm the ONE
who's passionate about music, writing, and dance.
Dj/Producer
I'm the ONE
who can show you the tips and tricks of anything to do with Nightlife
guru Tk
I'm the ONE
lakukan yang terbaik