"I don't remember Download festival at all", Rou Reynolds' Important Message On Mental Disorder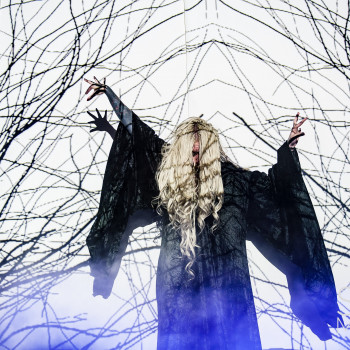 Photo: Tom Martin
Anxiety, depression, burn out, OCD, and so forth - mental disorders are actually more common than we think. But since we're living in this stressful achievement-oriented society our internal struggles are often brushed aside as meaningless times of personal weakness. That's utter bullshit of course! It's not just the "weak" who suffer from them. The mind is complicated and works in weird ways. Sometimes it's an illness which needs treatment just like a nasty ulcer in one's stomach, and sometimes it's a reaction to the way we are living our lives. A sign of warning: slow down, sleep, stop working 50-hours per week, and so forth.
Rou Reynolds, singer and lyricist of Enter Shikari, has recently opened up about his own struggle with a nasty combination of generalized anxiety disorder and insomnia past year.
In a string of tweets
, he shared a very important message: mental illness can hit everyone, no matter if it's the "rock star" or the fan. Here is his full message:
S

trange to think, this time last year, I'd only slept 6 hours this week! I was halfway through 12weeks of insomnia & gen. anxiety disorder. After suffering from exhaustion I had the nastiest panic attack of my life & was hospitalised forcing us to cancel our Download warm up show and the months that followed became some of the most strange & difficult of my life. I don't remember Download festival at all. I was a shell of a man surviving on adrenaline. Even had vitamin shots to the arse (no joke). I've never felt further from the little cockpit of one's mind. Felt detached, inept, scared. Take away sleep & mental health crumbles. At its worst, some mornings after failing to sleep at all once more, I'd get up feeling utterly distraught & just burst into tears.
I hate rockstars moaning or banging on about internal "struggles" etc. So normally refrain from publicly exploring the personal BUT it's vital to battle the divisive nature of 'showbiz' culture (I.e. the STAR! & the fans...) in every way possible. A reminder we're ALL just humans. Vulnerable humans. Tired, frightened, vulnerable humans. I'm not saying any of this for sympathy btw. (I'm absolutely FINE now!) Save it for someone who's struggling in your life.
Anyway, just incase any of that helps someone out there struggling now. Big love all
It's good to hear that he's doing fine now, and in case your own mental health isn't doing so great right now, make sure to get help. It's nothing to be ashamed of! Also, remember to take care of your mind. One great and extremely easy way to do so is mindfulness meditation. Actually, Rou himself can talk you through it:
Popular articles
Show more
Latest Articles
Show more
Instant contact with Musicians & singers
Music
I'm the ONE
who loves music!
Retail
I'm the ONE
who goes to every concert I can.
Writer, Music Lover
I'm the ONE
who loves My Chemical Romance, fiction, grammar, and being a friend.
Writer
I'm the ONE
who can't do anything without music.