INTERVIEW: All Time Low Talk Touring Plans, Inspiration And Everything You Need To Know About 'Last Young Renegade'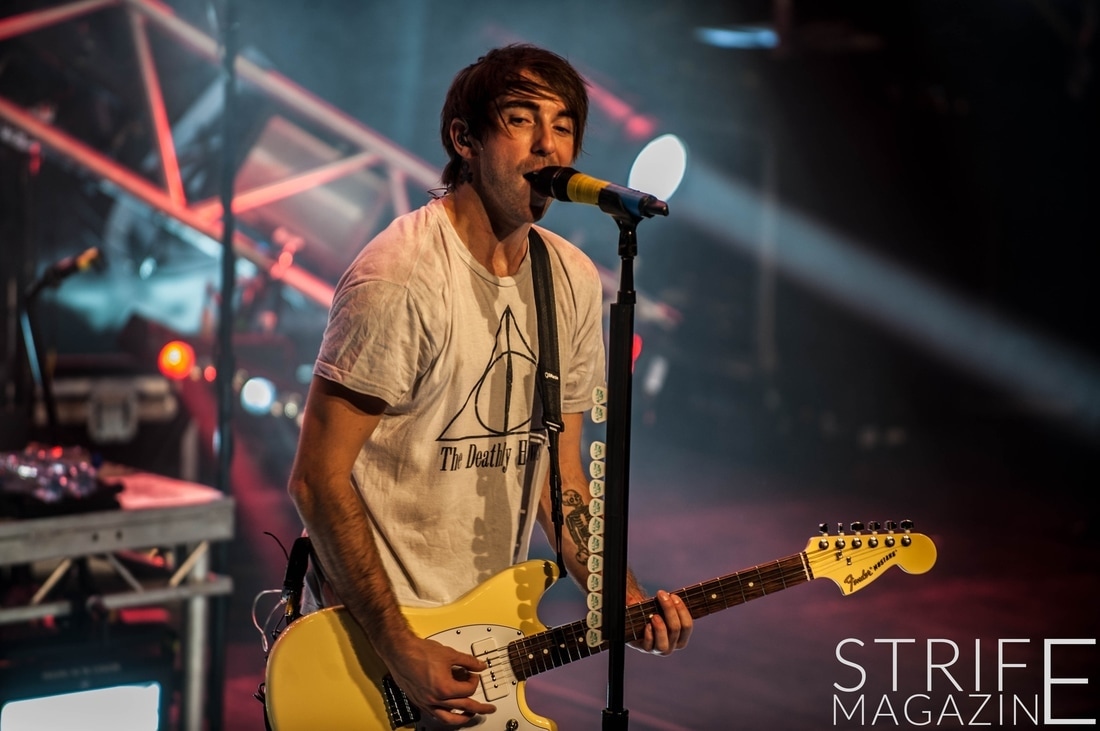 All Time Low have been making music together as a band for about 14 years now and they are still going strong. With their upcoming album "Last Young Renegade" being one of the most highly-anticipated releases this year, it was no surprise that they were welcomed back warmly and with open arms on their small leg of European tour dates last month.

We were lucky enough to not only witness their show in Amsterdam, but also have a nice little chat with Alex Gaskarth (vocalist) and Jack Barakat (guitarist) in which we got to ask them about their mindset at this point of the band, the process of recording their seventh album and their inspirations. In return, they told us everything you need to know about "Last Young Renegade" and more.

So if you're ready for a whole new lot of All Time Low knowledge right from the source, feel free to read our conversation with them below!What is it like touring with young and promising bands like SWMRS and Waterparks?Alex:
It's great. I mean, we're big fans of the SWMRS guys and their music and they're our label mates too, which is cool, so it's been really nice to bring them out.
Jack:
We feel like their older brothers. We give them advice, but they actually don't want to hear any of it and they don't listen to it, but we just say it anyways.
Alex:
Nor should they really.
Jack:
Yeah, they're actually smarter and better looking than us, but we're still going to tell them what to do.
So do you draw inspiration from them?Alex:
Sure, yeah.
Jack:
I think my favorite thing about SWMRS is they have kind of their own identity, their own look and they're very unique. That's my favorite thing about those guys. And that's something we can all learn from. 
Let's talk about your upcoming album "Last Young Renegade". What is the vision behind this record?Alex:
It's sort of an album about the rise and fall of a character and the struggles they go through. Really it's a way of using the character to write about my personal experience and the experiences of those around me. It's got this cool 80's vibe to it a little bit, which I think is fun and a lot of stuff All Time Low has never done before which is exciting because you know, 14 years into a career, you've got to find ways to keep it fresh so it's been a really cool project. Just exploring the new sounds and visuals just finding new ways to approach All Time Low. 
Is there anything in particular that you have experienced for the first time?Alex:
One of the big things on this record was that we used a lot of old analogue synths and tried to pull from some sounds of artists that inspired us when we were growing up, beyond just the pop punk stuff that we grew up on in our teens. My parents listen to a lot of Bowie and Prince and artists like that, so with them passing away last year, I kind of dove back in and listened to their music a lot and it was something that really inspired a lot of the sounds on this record.
Jack:
Lyrically also, I think Alex touches on a lot of stuff we've never really sung about, you know, "Dirty Laundry" being one of them. So I think it's definitely a different mood for All Time Low. I'm excited for people to hear that. 
Can you sum up a specific message you want to spread out to your fans through this album?Alex:
I think that no matter what, there's always a way to pull yourself out of a negative place. That's the theme on the record. Sometimes our lowest lows help us grow. 
Recently, you spoke to Rock Sound about the record and stated that this is the time for you guys to switch it up. Why now?Alex:
You know, like I said, first of all it's not a huge departure I think, to me it's really not that far away from an All Time Low record, it really fits in the context of everything else to me. It just has these new flavors to it.
Jack:
It does follow "Future Hearts" up nicely. It's like the perfect album to come after "Future Hearts".
Alex:
Yeah, I feel like we put out "Future Hearts" and then we put out our DVD with this song on it called "Take Cover" and that song felt like a really good stepping stone into the new stuff. I think it's just the perfect time because we've been doing this for a while. You know, after 14 years of being in a band, you've got to find ways to stay creative and original.
Jack:
Also last year was a year a lot of new things happened for us, you know, Alex got married, one of Alex' and Rian's [Dawson, drummer] best friends passed away… We went through all these things that you go through at 28.
Alex:
Yeah, it was sort of an emotional rollercoaster of a last couple of years and I think there's just a lot to write about. It changed our approach a little bit, for sure. 
A lot of bands who are doing something different this time around have quite the backlash. Was that something you guys were afraid of?Alex:
Yeah, but I don't think you can ever really be too scared of a backlash. At the end of the day, you have to put out the music that you love. We wrote an album that we absolutely love and that's what we wanted to put out. I think we can't completely cater to what we think people want, whether it's a pocket of people that want us to sound like our first record or whatever it may be. We can't base all of our creative devices around that, just because it would be no fun for us. It's kind of a balancing act, like we know what All Time Low does and we want to keep doing that and maintain that integrity, but at the same time we want to grow as a band.
Jack:
We took some steps on "Future Hearts" and I thought that the way people have reacted to that album was unbelievable, so I think this is going to be the same thing.
Alex:
I mean, it's already kind of happened with "Dirty Laundry". We put that song out and at first people were like "Woah, this is really different", but then after people had a couple of days to live with it, their comments that were at first shocked changed to be like "Oh, this is cool, I get this. It makes sense to me now". I think that's the nature of putting out any kind of new music. People aren't sure that they're ready for it or they have some idea of what they think is coming and then if it doesn't exactly fit that, maybe you'll grow into it. 
Your older albums, most recently "Nothing Personal", have been certified gold in the UK. How does it feel to have created something years ago that people still hold on to and identify with?Alex:
It's really wild. I tweeted about this the other day, I mean two of our records just went gold in the States too and they're older records and it's just incredible to know that people are still finding out about our music now. There's new fans coming on board at this point in our career and going back and listening to our old music too.
Jack: It's a crazy feeling because I think at some point I just kind of figured, you know, no one buys albums anymore and went "Oh, we'll probably never go gold". So it was kind of a nice surprise to see people going back and getting the older stuff. That definitely surprised all of us. 
You guys semi-produced this album yourselves with some help coming from Blake Harnage and Colin Brittain. Why did you decide for this approach?Alex:
We just felt like it was the best move for the songs and for the record. We sort of felt like the songs were there and we really just needed to find a way to make them feel concise and like one album. This time around it happened to be that we didn't feel like we needed a big name producer. And I struggle to say that because I don't want to take away from Colin or Blake because they're both producers in their own right and they're both great. It really just felt like this was a really collaborative record. We worked with a lot of our friends and we worked really internally as well, so that really just felt like the right circle of people to finish the job.
Jack:
After your seventh album, you know exactly what you want.
Alex:
Yeah, and there's some times when you go in with a producer and they have a different idea for your band and then you end up coming into conflict and having to ask yourself "How do we make that work?", so this was the best way for us to do our thing the way we wanted to do it.
What was the biggest difference between this approach and the approach on "Future Hearts" of working with John Feldmann?Alex:
I would say the biggest difference was that the record was kind of there and we started tying it all together. When we went in with John, we had a handful of songs and we ended up writing a lot more with John and that's how the record took shape. It felt like it kind of came together on the fly, whereas with this one we had a ton of songs and we sort of picked from that batch of songs the ones that we felt like made the most sense for the story of the record and then we spent a few months in the studio making all those songs sound cohesive. So it was just a slightly different pace. 
Linkin Park is switching it up entirely for their new album. They used to do the music first and then fit in the lyrics and now the just do the complete opposite. How did you guys go about that?Alex:
It's different song by song, I've never really stuck to one particular method. Sometimes the music comes first, sometimes the chorus comes first, a lyric of a riff, I don't really have a formula. It's just whatever feels right in the moment and for the song. 
What song on the album do you connect with the most and why?Alex:
Good question. It's hard to say right now because we've spent so long making the record that I've heard the songs so many times now. I think I really love the atmosphere that "Dirty Laundry" brings through our live show. We started playing it live and it's a really special vibe on stage. I think that's something I've really come to appreciate.
Jack:
I think "Ground Control" is really cool, because it's kind of a hopeful song.
Alex:
The record gets really hopeful and happy at the end, which is cool because it kind of goes dark and then it comes back. I was going to say, I think "Afterglow" is one of my favorite songs we've ever written as a band.
The music videos for "Dirty Laundry" and "Last Young Renegade" are called Volume 1 and 2 and follow the same style. How did you come up with this concept and are there more of those coming?Alex:
The record is very much a story and so we wanted to carry that over in the videos and visuals.
Jack:
We wanted everything to be very cohesive and in the same universe.
Alex:
Exactly. We felt like we could create something really unique by diving into a story-based or at least a loosely connected video world, so we created this world. Our friend Pat [Patrick Tracy] is directing all the videos and I work very closely with him to come up with the content for them. He did our "Missing You" video from our last record and we were like "he's great" and we just sort of decided we wanted to tell another story with these music videos. We've found a way to loosely connect them all which has been really fun.
Jack:
Maybe there'll be more…
Alex:
Yeah, I have a feeling there's more to come. 
A lot of artists on the Fueled By Ramen roster play massive venues all the time and give spectacular live shows. Do you have anything special in store live show or touring wise?Alex:
We have a lot of stuff coming up. I mean I don't want to give too much away, but there's A LOT in the works. Obviously the record is not even out yet, so this tour was really just about getting back and reconnecting with our fans that we haven't seen in a while, especially over here in Europe. But we will be back when the record is out I'm sure we'll have a lot of tricks up our sleeve. 
Is there any particular new track you're excited to play live once the album is out?Alex:
Yeah, there's this song on the record called "Life of the Party" that I'm really excited to play live. It'll be fun.
Jack:
I'm very excited about that one as well. 
Last, but not least, which track on the album was the most difficult to write and why?Alex:
That's a good question.
Jack:
"Drugs and Candy" went through a couple of transformations.
Alex:
Yeah, it did. It was a very different song when we first demoed it out and then it took a pretty big turn.
Jack:
We loved the balance of it, but it didn't really fit on the album. It wouldn't have fit the way it was, so…
Alex:
It was one of the ones that felt too cool to let it go, so we did some surgery on it and made it work.
Jack:
And it ended up being the second track on the album and so it's a big one, you know. It's an important song to us.
The new All Time Low album "Last Young Renegade" will be out this Friday (June 2nd) via Fueled By Ramen.
We also reviewed their show in Amsterdam and took some photos, so if you're interested, feel free to have a look here!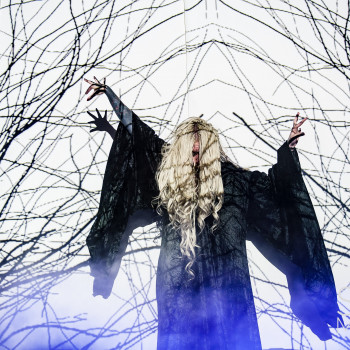 Glenn van den Bosch
30-05-2017 14 mins read
Related Musicians & singers
Rosa Todd

Student

US$ 0,07 pm

Amy Stevens

Student

US$ 0,11 pm

Núria Pedrós Peró

Writer

US$ 0,10 pm

Melanie Gomez

Music Journalist /

US$ 0,33 pm

Gael A

School

US$ 0,08 pm
Show all