INTERVIEW: Creating A New Record, Falling In As Vocalist And Vans Warped Tour With Sylar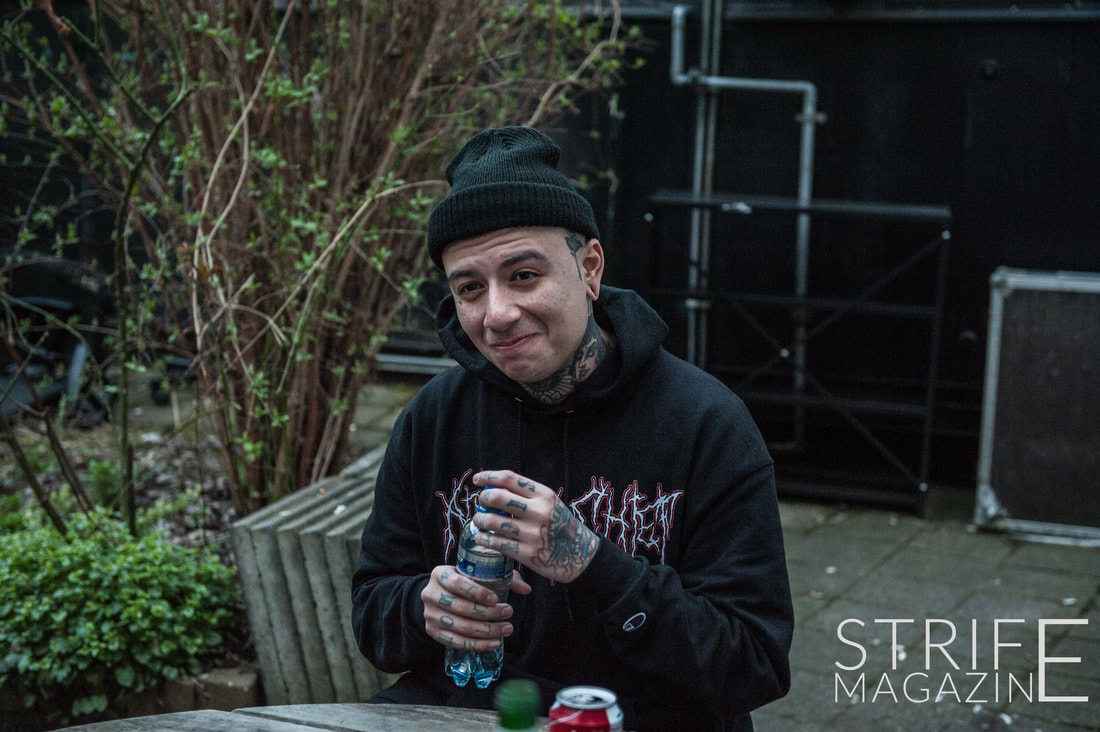 Before they opened for Of Mice & Men
at Melkweg, Amsterdam, we sat down with frontman
Jayden Panesso from Sylar. We talked about their upcoming record, touring with Insane Clown Posse and Vans Warped Tour.

Check out the interview below.
​
Q: How are you doing?
A: Good! It's been almost a year now and I'm super happy to be here. Look at my face, I'm so happy. *smiles from ear to ear*
We're already about coming back to Europe after this.
Q: How has this tour been so far?
A: This is day two and we are still recovering from the tour with ICP (Insane Clown Posse). After the tour ended we had to fly straight to New York, pack our stuff and then fly straight here. So we've already been on tour for 40 days and now this and then 5 days off and then to the studio for 45 days.
Q: Is that for the album, going to the studio?
A: Yes, for the album! This is the first time we're going to the studio with like 17 songs. A bunch of them are definitely not gonna make the record, but to be able to go to the studio for 6 weeks to create a record with 17 songs ready, we feel very prepared and excited.
Q: How many weeks were you in the studio with "Help"?
A: 4,5 weeks. So this time we're going to be there longer and we want to be way more selective with everything we do.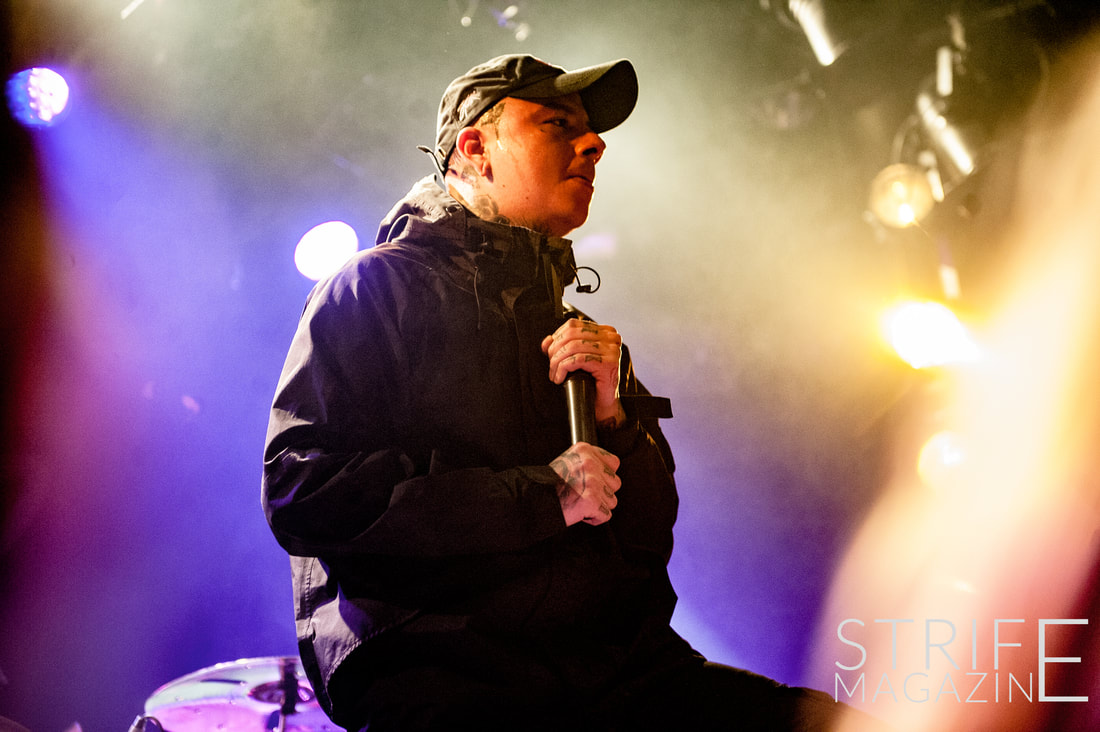 Q: Where are you gonna go to the studio?

A: California, same guy every time. I always wanted to do songs in Japan. I think it's cool to remove yourself to a different scenario or country and just create. Getting away from your comfort zone pushes yourself to create. When I'm in the studio I don't respond to texts from friends or go to party or get out and get distracted.
Q: Do you write much on the road, as you have been on tour pretty much non-stop?

A: We do, but it's more lyrics or ideas. There's nights where it sucks and I don't feel good and that's mostly when I write lyrics. I just sit back and type away and create stuff.

When we're home we take our time to fully do the thing.
Q: How was Warped Tour this year?
A: Insane, a dream come true. We killed it for sure, not being cocky or anything but any day was packed with a sick crowd and we made so many friends.
It was everything we expected and more.
Q: You said earlier that it was the craziest thing ever to tour with ICP. What exactly was it like?
A: It's like going on a carnival for a month. A lot of clowns haha.
They are very nice and supportive. They are a rap band, but we had better shows with ICP than we have had on big metal tours. They're fans of music.
They are very big of course and they each have their own bus so we didn't hang out with them a lot, but when we did it was crazy.
Everyone knows them, even if you don't know their music, you know their name.
It helped that it was a co-headliner with Attila, because they are like our best band friends, to the point where we enter each other's busses without asking.
Q: What was it like falling in for Fronzilla a few years ago when he was expecting a baby boy?
A: Insane. That's my second time I got to do that, because I also fell in for Emmure a couple of years back when Frankie got sick. I filled in for like a week and a half. That was sicker because I knew the Emmure songs a lot better. With Attila I knew the songs, but I knew the big lines, the lines that everyone knows.
The fast rapping, I could not do it, so it was hard, but the guys were so encouraging and were so glad I was helping them out.
It did bring us closer and we toured a bunch together.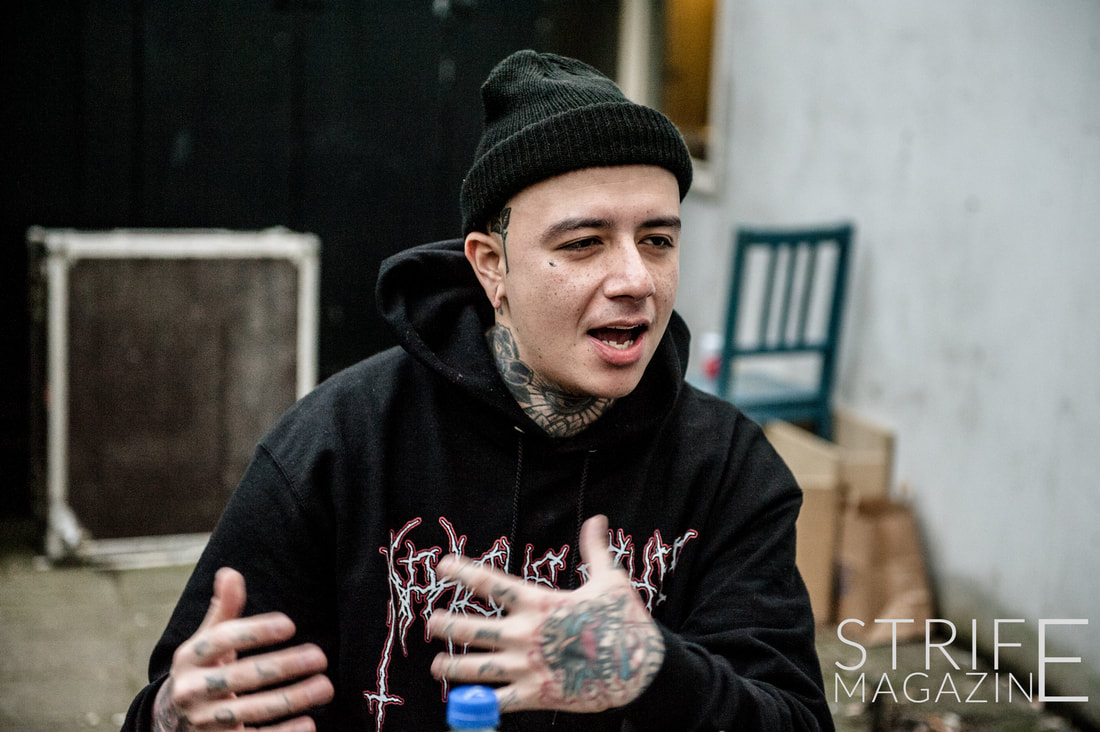 Q: How is the friendship with Emmure then?
A: It's there, we just don't hang out anymore. Because I used to work for them, I was part of their crew and at one point I knew five guys and then they all left and it's just Frankie.
He's still my friend, but we're both busy and we never get to hang out.
Our tour manager used to play in Emmure and now he's helping us out so the relationship is still there.
Q: What do you do when you're not touring or writing music?
A: I play Fortnite. I recently got into Twitch so I've been doing a lot streaming on that. I have a baby on the way with my girlfriend, I'm gonna be a dad.
Obviously that's gonna be taking a massive amount of my time, but it's what I've always wanted. I've always wanted a family and kids, we're expecting a girl in August.
Fortnite is going to have to take a break for a while, once the baby comes.
I've spent so much time on the road that when I am home I don't want to go anywhere and I just chill. I travel and party enough on tour. I have two puppies, so I stay with them and hang out with my girlfriend and obviously I write music.
Q: The next era is coming this year, right?
A: Yes, this tour is the final part of our cycle with "Help". On our next record we're going to focus hard on touring through Europe. We really want to take over this territory.
I would love a headliner tour here, to play a while on stage.
Q: Is there still a video coming from this era?
A: No, we cut down the videos. We only did two and we actually did a third one after Warped but a lot of things went wrong (video for Dark Daze) so it got pushed aside.
For the next cycle our visuals are going to be way stronger. We have our own style and I really want to push that.
We're going to be focusing a lot on the visuals and aesthetics in the next era.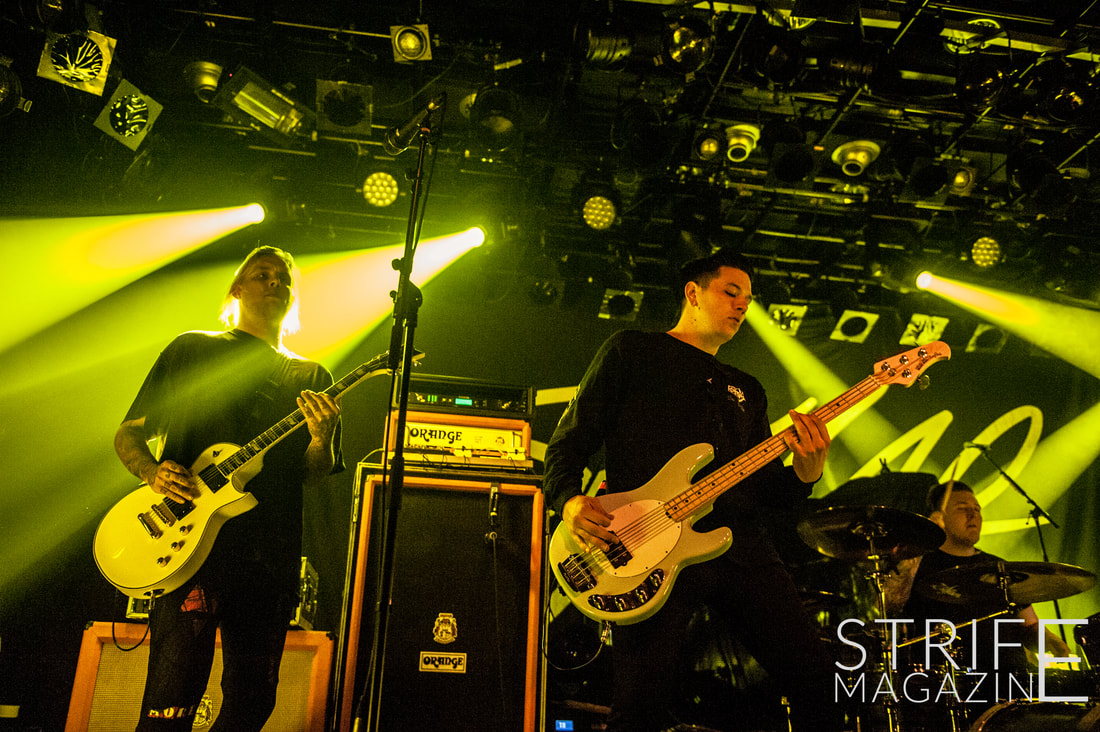 Q: When you write songs, do you take into consideration how it's going to appeal to different kinds of crowds?
A: I do, when you write music it is so hard, because you don't know how people are going to take it. A lot of times you put your heart into it so hard and it comes out a certain way and then it's not what people like and it's like a stab in the chest.
That's what being a musician is like, you put your heart into it and your emotions and you try so hard and you hope that the rest of the world is going to like it.
So we do take it into consideration but I feel like the best music comes from within.
I spent a lot of time trying to take over the world and obviously I still want to but I was trying a lot to make music for everybody. I'm no longer trying to please the entire world, we just write what we want to write and we'll see it from there.
Q: If you compare "To Whom This May Concern" to "Help!", we do feel like there has been a shift. The techno has gone a bit to the back etc.
Are you going to continue on the "Help!" kinda vibe?
A: I want to say it's a little bit of both, mostly "Help!", but I'm focusing more on vocals, we're going to do a lot of cool stuff with that.
I want to rap a lot more, people liked that a lot in "Help!". I enjoy screaming, but I don't want to a full record just screaming, I can do so much more than that.
We're trying not to limit ourselves.
We also want to bring back the techno sound, but we want to blend it right.
Q: What is it like working with Hopeless?
A: It's been cool, those guys have never tried to change our sound and they have been very interested in the band. We're the only band like this on their label, the rest is mostly pop punk. So to be that black sheep is pretty cool.
We can't wait to see how this record is going to go with them too.
Q: What advice would you give to young bands who are just starting out?
A: Take your time writing music, no rush. I get it's exciting but you really need to take your time. A lot of it is who you know but at the end it is about the music, so if you are going to rush it, you might not get that 'real' feeling.
Don't take the easy way out. Save up some money and put it in recording and promos.
You gotta come out strong.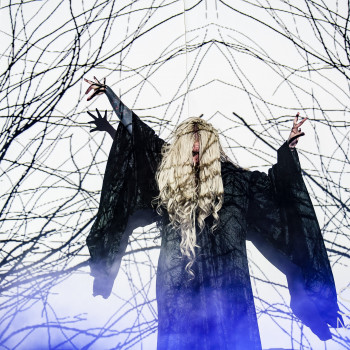 Glenn van den Bosch
24-04-2018 13 mins read
Related Musicians & singers
Núria Pedrós Peró

Writer

US$ 0,10 pm

Paige Bower

I am at college

US$ 0,07 pm

Natalie Ramos

Music-based Writer

US$ 0,08 pm

Catalina Soboredo

Future economist.

US$ 0,08 pm

Asya Kardzhaliyska

trainee optical consultant

US$ 0,06 pm
Show all