FEATURE: Kindness Is Creeping Back Into The Music World. Here Are The Artists Paving The Way!
No matter the genre and no matter the scene, it is beyond inevitable for each individual to have pre-existing opinions upon one of the most prevalent industries in our modern world; the music industry. A day of scrolling through social media and its whirlwind of opinion is enough to convince any uninformed person that the primary reception of the music world surrounding us is a negative one. Of course, these thoughts are valid, fuelled by some of the ignorant, horrendous and often unacceptable actions of artists who abuse their platform and manipulate the individuals who hold them so dearly in their hearts. It is these artists and acts that continue to tarnish the name of the music world, reinforcing prominent and harmful stereotypes that a plethora of artists are attempting to demolish.
After my love of music caused me to become engulfed in the music world, my first-hand experiences have lead me to a new discovery. There is more to the industry than snobby artists and half-hearted messages being pumped to devoted fans; there is something much, much more than this. Connections are being constructed, the hierarchy between artists and audiences are being abolished, safe and respectful communities are forming, and a culture of kindness is creeping back into music. At the centre of these formations are artists; artists who hold the hearts of their fans within their hands, artists who aim to create a generation of individuals with acceptance and kindness in their blood, artists who are like family.
Prior to my realisation, I too became worried as a lover of music, and scared as a fan, as to what the music industry would have in store for me. I had heard all the stories. I did not want to be the next fan who got yelled at by an artist on stage, I did not want to be called out for a minimalistic action, I did not want to be made fun of by men who were three times my age, and as a young girl attending shows, I certainly did not want to get manipulated in the already desirable environment by someone I had always looked up to. These are the stereotypes that encompass the industry, and therefore became the stereotypes I would come to accept as true.
Over the past three years, my opinion has been flipped on its head.
Whilst I know that ignorance, hatred, conceitedness and pure malevolency still lurks in the darkness of the music world, I ask myself and others this; why should we let the actions and subsequent ramifications of ungrateful artists overshadow the good deeds and hard work of a multitude of kind and respectful artists?
The acts that I am soon to discuss have restored my faith in more than just the music world. They have made me believe that no matter the status, we can get along as equals. They have demonstrated that kindness is not something embarrassing, and strive to make connections with everyone they come across. They show that cultures of caring can be created with music at its core and that fans can band together to create a safe, loving and special environments. They have proved that there is hope for the next generations of music lovers… and people.
Of course, these claims may come as a stretch, but once you hear some of the actions of the soon to be mentioned artists, and possibly consider some of the positive interactions you have had in your time, it becomes a little less far-fetched.
I'd like to start with an artist that within my life, has had the most profound impact on myself and others. Brendan Tuckerman is for me, the most exemplary figure in regards to all the positive things previously mentioned. For those of you unaware of the Australian music scene, Tuckerman goes by the performance name of 'Tuka' (not Tooka), and has reached outstanding success in both his solo work and group projects such as Thundamentals. Apart from his meaningful lyricism and powerful messages found within each of his tracks, Tuka has managed to do more with the platform he worked so hard to build. He is not so much allowing a culture of kindness to creep back into the music world but is slaving away to create a well-polished and welcoming entrance for it.
Out of a multitude of amazing actions, there are a few I would like to explicitly mention. First of this would have to be the 'CatSquad'. Earlier this year, Tuka called for some of his fans to send him a message. Whilst this may already sound shocking for some, this is the norm when being a fan of his work. When you follow or interact with any Thundamentals post or Tuka post, he will acknowledge it and make sure his appreciation is known. Within these special messages, he asked us to tell him a bit about how his music has anyway affected us, and what it has done to shape the lives of the many fans he has. From this, the first pillars of CatSquad were under construction. In no less than two weeks, a large portion of those who sent him a message received some of his most prized musical possessions, signed rarities and other cool items! Not pleading for a thank you, Tuka asked for only one thing; to pay it forward. Fast forward to today, hundreds of individuals have come together, continuing to pay it forward to other Tuka fans, members of the community and Catsquad members. These actions range from small community pay it forwards like shouting someone a coffee, all the way to group pay it forwards like purchasing tickets for less fortunate members of the group. Through one individual's initial action, a spark has been ignited in many- with music at the core, acting as a generator that connects all chords together. Tuka has created a safe community for his fans and has cast together an abundance of friendly, caring, like-minded individuals to shape their surrounding communities and leave an impact on others.
I would also like to briefly mention the ways in which Tuka is destroying the norm in regards to artist and audience hierarchy. He truly does not believe that he is above anyone. This was slightly touched on earlier in regards to the messages. From first-hand experience, I can confirm that he will hold a conversation, he will make your ideas feel valued, and he will absorb everything you offer him, much like a friend in a discussion. There is truly no greater feeling than being listened to by someone you have looked up to for many years. Even after a long and tiresome show, Tuka still exhibits this kindness; staying behind to meet and converse with every fan. Alongside this, he has also chipped away at the platform separating established and upcoming artists. Recently, he ran a competition that was open to all interested artists, offering supporting slots to all his national tour dates. Through this, he is not only providing a platform for others but is exhibiting that there truly is no difference between us. No act nor artist is untouchable. By him giving back to those who admire him, so too will they remember to give back to those who look up to them. A culture of kindness is being bred into the next generation- all stemming from one man trying to escape the clutches of the stigmatised industry.
Next, I would like to focus on an act that for me, has shown kindness to all their fans, demonstrating that there is no hierarchy, and we truly are all the same. That act is Australian pop-punk band, Between You and Me. Much like all the acts and artists, I discuss in this article, I can not speak highly enough of BYAM. One particular night truly showcased the above notions to me. Earlier this year, the band was opening for The Faim in Sydney- a lineup that was constructed in heaven. At the conclusion of Between You and Me's set, they announced they would be at the merch table afterwards.
I know what you are thinking, "Wow, big whoop Georgia! You met them at the merch table". However, this experience was much different; it was heartwarming and eye-opening. I stumbled across their lead singer, Jake Wilson, as he was mid-discussion with some friends. Despite this, he promptly turned to me. Hearing an abundance of mortifying stories of fans being shunned away, I sheepishly only asked for a picture. To my surprise, Jake introduced himself as if I were unaware of who he was. He asked my name, discussed the show that night and expressed his gratitude for my support. I later met the rest of the band at the merch desk- a merch desk that they were running and selling their own merch from. I was yet again surprised by the treatment I received; I was thanked for my support, a few jokes were made and a conversation that felt like it was between old friends was had. This has been an experience that has lingered with me ever since.
For so long my preconceived thoughts upon the music world built a strong wall between artist and audience. Of course, reports of artists showing immense amounts of disrespect to fans had fueled this, and quite frankly, it made me frightened to test my luck with anyone remotely famous in their field. However, within one night, Between You and Me showcased that anyone that truly represents what the scene encapsulates does not act like that. They should strive to make a connection with fans, treat their fans with respect and assist in demolishing the harmful stereotypes of the music industry- and if they do not, then the platform they have should be swiped from beneath them. The friendly Australian's from this band helped me to understand that there is no hierarchy in music, and if met with one, my respect should lie elsewhere. It is clear to see that Between You and Me are only growing, and it is what they deserve. Through my experiences with them, I can easily say we will be growing with them too. They are leaving a footprint behind that won't erase with time.
Lastly, I would like to mention a band we are all familiar with, Twenty One Pilots. If I were to write about all the positive things that they have done within their career and the numerous ways they have impacted both myself and others, we would have a fifty-page essay on our hands. Apart from their message, their morals, and their lyrics, I would like to focus upon the community they have built; the Skeleton Clique, the Clique, the 'Clikkies'. Through their music, the two-piece band have created a family, a group with music at its core; a home for the few, the proud and the emotional. Within my time being in the fan base, I have seen nothing but acceptance, support and love. Tyler and Josh have created a community that aims to enhance the connection to the band and other fans, allowing even the most isolated to find a companion-filled escape from the negativity of the world. For this, myself and others are forever grateful. Whilst this has only been a brief description of their actions, I must not get myself on a tangent about this band, because there will be no end. However, it is essential to point out that they do not get enough recognition for their actions. Despite their increasing popularity, their love and attention to the fans ceases to fade, instead, we become the fire to keep going. The Clique is more than just a fan group, but a story of the power and influence people hold. Two men have created a community overflowing with kindness, centralized by important music that so many need to hear. Twenty One Pilots have single-handedly shattered the overlying stereotypes that bands deal with, and have once again, turned on a light of hope that reflects towards the music industry.
To conclude, I once again question why we let the tarnished name of the music world overshadow artists such as the ones discussed. I can whole-heartedly say that without my personal experiences, I would still be terrified of what lies behind the music that I love so much. This notion is truly unacceptable. We should not have to fear nor adhere to the stereotypes set by others- ones that destroy the experience that music promotes. Of course, precautions regarding these topics is not harmful, but to see the discussed ideas labelled as inevitable has become all too common. This is something that needs to change, and the ball lies within many artists courts. Other artists have shown how easy it is to destroy these stereotypes, and their footsteps must not be left to fade. It is time for artists to put their best foot forward.
If you stumble across the right artists, there is no hierarchy, there is no hatred, instead, there is love, acceptance, gratitude, and an evident culture of kindness that is creeping back into the music world.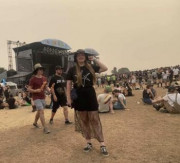 Georgia Haskins
12-10-2019 12 mins read
Related Musicians & singers
Núria Pedrós Peró

Writer

US$ 0,10 pm

Paige Bower

I am at college

US$ 0,07 pm

Natalie Ramos

Music-based Writer

US$ 0,08 pm

Catalina Soboredo

Future economist.

US$ 0,08 pm

Asya Kardzhaliyska

trainee optical consultant

US$ 0,06 pm
Show all