Lightning Round Questions With Your New Favourite Band Dream State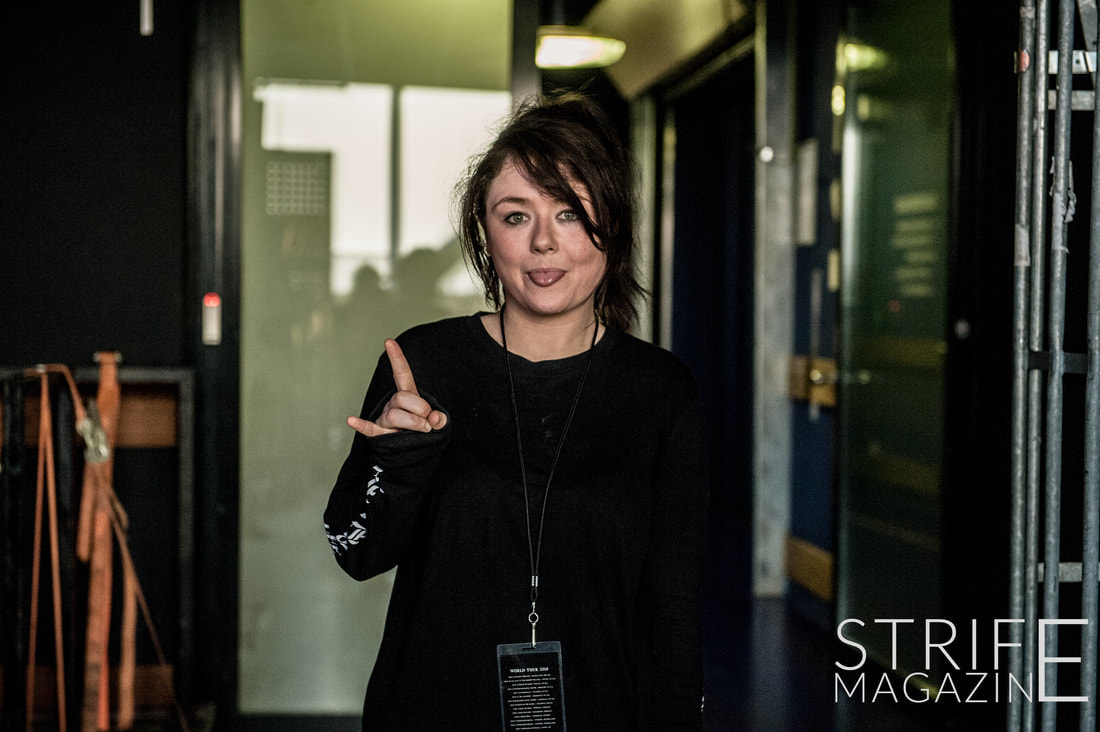 Once in a while, there's a song that just hooks you, reels you in and keeps you in its grip for a little too long. You know the feeling? We know we do! One of those tracks is "White Lies", from the amazing british band Dream State. Their two EPs have put them on the map, and caused them to completely pack their venue on Slam Dunk until the point they had to turn people away because it was too crowded in there. The band trekked through Europe supporting the legendary Babymetal and we caught the band's charismatic frontwoman CJ after their amazing set in Utrecht. She had merely a few minutes to spare, as the band had to go and catch a train back to the UK, so we did the fastest interview we possibly could! Here is the result:
Q: First of all, how are you today?
A: Yeah, good! Stressed, but great.
Q: How has the trek been through Europe?
A: It's been amazing. Nice seeing a fanbase being built and built. I can't thank anyone enough for supporting us the way they have. It's been such an amazing experience and we're very excited.
Q: We heard you guys couldn't fit everyone in at Slam Dunk. How did that happen?!
A: Yeah, that was really upsetting. We weren't expecting to have such a crowd, not even at Slam Dunk. People had to watch us from outside and the people in the venue couldn't even get out. It was good for us though, great crowd!
Q: You just released your second EP, what can you tell us about it?
A: Obviously it follows my story from chaos to calm, it follows my issues lyrically from addiction to recovery.
I've dealt with mental health issues, things I think are important to touch on.
What you can expect from it is a roll of energetic passion and honesty.
Q: After you released "White Lies", everything went so fast and you got a huge fanbase. How was this for you?
A: We still haven't had the chance to take it all in, even now. Since "White Lies" it has just been a whirlwind of emotion. But very positive emotion, we're so grateful and we're soaking up every minute, trying to take it all in.
Q: When bands are just starting, they usually still have other jobs, besides the music. Did you make that shift already, completing focusing on your music?
A: Not yet, no. Some of us are going straight home, straight to work after Download. So we're still in the midst of working, touring, working, touring, we don't have any time off.
It's very hard, I had to quit my job teaching guitar because I couldn't commit to my students and I had to take a bar job.
Q: Is there anything specific that you want to accomplish with this new EP cycle and the tour follows that you haven't been able to yet?
A: Yeah, we're just hoping that it will get us more tours. More touring, more of a fanbase, meet more people, visit as much places with our music.
Q: You have signed with UNFD, congratulations! How does it feel to be on such a big label?
A: It feels awesome! It doesn't feel real though, they support us and want us to be happy so I would really recommend them!
Q: Does this mean we can expect a full album?
A: Yes, definitely! We can't give any dates, because dates never stay the same, but it's in the process.
Q: You said that you would describe your music as raw and energetic and honest. Is this something that you keep in the back of your mind when you are writing new music?
A: Yeah, I think music for me is a complete expression of my soul and when you speak honestly and from the heart, people will connect with it because they feel the pain.
Music speaks from the soul so when I write I need to feel it and I need to be within it.
The more I do that, the more people will understand and feel it too.
Q: What advice do you have for bands who have not yet been picked up by a label.
A: Don't doubt that you'll be fine. Make it happen!

Stream Dream State's new EP "Recovery" below!
Glenn van den Bosch
06-08-2018 6 mins read
Related Musicians & singers
Natalie Ramos

Music-based Writer

US$ 0,08 pm

Paige Bower

I am at college

US$ 0,07 pm

Asya Kardzhaliyska

trainee optical consultant

US$ 0,06 pm

Núria Pedrós Peró

Writer

US$ 0,10 pm

Catalina Soboredo

Future economist.

US$ 0,08 pm
Show all