LIVE REVIEW: PVRIS Take 'Hallucinations' EP To Amsterdam For Sold-Out Show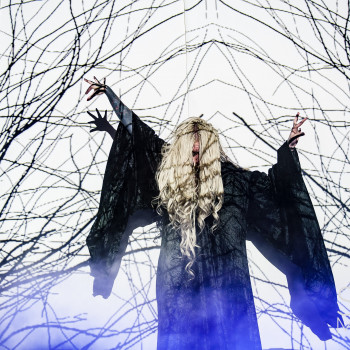 PVRIS returned to Europe to promote the release of their most recent EP 'Hallucinations', which the band released in 2019. The new EP features a more pop-centric sound, which honestly could not have come as a surprise to most fans, as the band are known for their 'hard to define' sound which includes a lot of pop influences.
Since the release of their debut album back in 2014, we have seen PVRIS on more than a few occasions. After a few bigger shows, the band are now back in the smaller room of Melkweg, Amsterdam which did sell out months ago.
While PVRIS have released very impressive new music with the sophomore album in 2017 and again with the brand new EP, PVRIS' show has remained the same. Over the years, they have added very little to their live show. At the last couple of shows, there wasn't even a backdrop and the lightning show was very dull. Luckily, PVRIS perform their music exceptionally well, so a PVRIS live show still is and probably will always remain a treat to witness.
The songs 'Hallucinations' and 'Old Wounds' from the band's new EP got some extra love from the crowd during the show, and it was wonderful to hear the new songs in a live capacity after hearing it via Spotify a massive amount of times during the last couple of months.
All things considered, seeing PVRIS live was a treat once again, but honestly, it would be amazing to see the band invest a little in their live show. We know for a fact the band have made some fans for life, and we can only imagine that these fans are also seeing the same show for the 5th or 6th time!
Eva van den Bosch was also present at the show to photograph the band's performance and you can check out her photos in the gallery below.
Latest Articles
Show more
Instant contact with Musicians & singers
Music
I'm the ONE
who loves music!
Retail
I'm the ONE
who goes to every concert I can.
Writer, Music Lover
I'm the ONE
who loves My Chemical Romance, fiction, grammar, and being a friend.
Student
I'm the ONE
you can find crying at a gig
Student
I'm the ONE
who loves to chat about music!