ALBUM REVIEW: MARINA - Love + Fear
For many years, Marina Diamandis has been providing a unique sound, forging her own path within the restricted world that is the music industry. Over accumulation of projects, Marina's personal voice has become increasingly prominent, and this is no different for her fourth studio album, 'Love + Fear'. Although released separate, the two musical projects have been combined, creating a beautiful juxtaposition of themes and sounds. Due to this, it is certainly a long album but uses every trick in the book to grasp the audience's attention. We loved this album, so there is no reason to 'fear'!
The first half of the album, titled 'Love', consists of eight tracks. Track one, 'Handmade Heaven', was the first release from either project, generating mass hype for the album that was to come. The song depicts themes of fragility, inclusion, and aspirations to reconnect, communicated through a twisted pop sound. Many of these themes create a basis for the 'Love' half of the album, setting the tone for eager listeners. As a single, it communicates growth within Marina and her content, which is also reinforced by Marina erasing the 'diamond' half from her stage alias.
Songs that follow such as 'Superstar' hold a much more sinister sense musically, highly contrasting the lyrics. Although it seems dark, themes of valuing the self-worth of others and admiration for those who are special in life are more than apparent. Lyrics such as "my love is a planet revolving your heart" not only show off the songwriting talents of Marina and her team but encompass the true values of this side of the album. In a sense, tracks such as these oppose some of the themes of the lead single, showing no weakness in understanding the values of one's self, and promoting a great connection with the significant other discussed in the song. This is when the title of 'Love' really starts to show!
In addition, the 'Love' half of the album features a collaborative track. Including the likes of artists such as Clean Bandit and Luis Fonsi, 'Baby' creates something refreshing and funky. This track manages to include delicate themes of love and connections amongst a dance beat. This creates a song that is interesting, meaningful, and most importantly, can be enjoyed! It is evident that this track is a branch out from the norm for Marina, but it was flawlessly executed, acting as one of the many plot twists on the 'Love' side of the album.
'Love' ends with track eight, 'End of the Earth'. The name alludes to a song of dark and twisted themes, perhaps more fitting on the 'Fear' side of the album. Although the musical elements support this statement, the lyrics prove otherwise. Much like some of the previous songs, 'End of the Earth' depicts themes of adoration and leaps of faith. A standout from the song was; "Do you ever think of how this life could've been, if you never took the chance, a leap of faith and dance?" To me, this lyric is so important to the target audience of Marina. Not only is it a reflection of elements of her life and the values she holds close to her heart, but it is a call to action to fans.
As individuals, we should not sit back and let the world pass by around us, instead, we should take that "leap of faith", explore what the Earth has to offer, and form new and meaningful connections. As a both a lyric and a life motto, this line is of great importance. 'End of the Earth' beautifully encapsulates the first half of the album, the 'Love' chapter.
Contrasting in both name and themes is the second half of the album, 'Fear'. This half of the narrative opens up with track one, 'Believe in Love'. Instantly, the difference between tracks is apparent. Marina's voice is deeper, and the hopeful, poppy sounds are no longer as evident. Pop elements are obviously still in use but are shadowed by overarching darker tones. Much like these tones, the themes of this side of the album slightly shift. Particularly within 'Believe in Love', the power of love is questioned, and so too is the self-worth of individuals.
Within 'Love', these themes were solidified in a confident manner, but have now been flipped and re-evaluated. Marina's album never loses anticipation, and this is thanks to the many plot twists within, such as this shift of themes and tones.
Another notable track from 'Fear' is 'Karma'. Perhaps one of the most anti-love and defeated songs on the album, 'Karma' portrays itself in a sort of 'Fake Happy' manner. The musical elements depict a song of bubbliness and fun. However, the lyrics provide a different meaning; "Real hearts don't lie, take it from me, you'll see it in time, take it from me". This lyric is evidence that 'Love + Fear' is telling a story which is connected through a protagonist's experiences. Within 'Love', we saw a character that had a heart bursting with love, adoration, and joy for those who were amongst them; nothing could change this fixated mindset.
However, within 'Fear' and lyrics such as this, it is evident that the protagonist has been used, trampled on for their good heart, and forced to abandon the purity of their heart in order to cater for the world that hurt them. This type of story-telling is truly incredible and makes 'Love + Fear' a memorable and important album.
Concluding 'Fear' is track eight, 'Soft to be Strong'. Immediately, a somber tone is created from the use of piano and Marina's beautifully delicate voice. As far as closing tracks go, this track is certainly one of the most important for listeners and fans. Although this track still explores some of the essential themes within the album, the bigger focus is on the desire to escape and to provide guidance.
The path of 'Fear' was one that was hard to navigate, and left many questions about the ways in which society works with topics such as love. However, 'Soft to be Strong', leaves listeners with a message on how to escape this sense of fear, and open back up to the thought of love. This is truly captured by lyrics such as; "The truth is you have to be soft to be strong, finally, I feel the fear is gone", and the direction they aim fans in. The struggles of the protagonist were depicted in the 'Fear' album, however, the brilliance of life shown within the 'Love' album must not be forgotten.
Much like the protagonist, we are called to not be fearful of the journey, but embrace it has a learning tool, moving forward in life with our guard down. 'Soft to be Strong' is a beautiful closing track that summarises the main aspects of 'Love + Fear' perfectly.
'Love + Fear' by Marina is an excellent portrayal of important themes within life and uses them in such a way that it becomes a tool of guidance for listeners. The narrative depicted within the two albums is truly magnificent, capturing not only emotions and inner thoughts of the protagonist, but yet again proving the talent of Marina Diamandis as both a songwriter and a storyteller. 'Love + Fear' is a beautiful album, easy listening, and seems to guide you when you need it most. We recommended giving it a listen!
Written by Georgia Haskins
Have you already listened to 'Love + Fear'? If not, listen below and tell us your thoughts in via social media or by rating this article!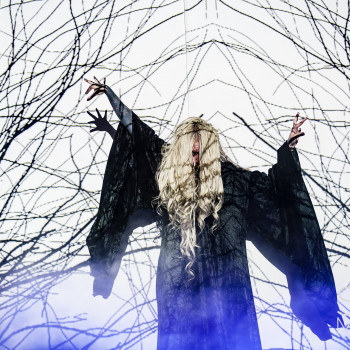 Glenn van den Bosch
08-05-2019 7 mins read
Related Musicians & singers
Núria Pedrós Peró

Writer

US$ 0,10 pm

Asya Kardzhaliyska

trainee optical consultant

US$ 0,06 pm

Paige Bower

I am at college

US$ 0,07 pm

Natalie Ramos

Music-based Writer

US$ 0,08 pm

Catalina Soboredo

Future economist.

US$ 0,08 pm
Show all