Mike Shinoda Is Now Producing Fans' Music Live On Twitch.. For Free
Mike Shinoda is quite possibly one of the most successful music producers in the 21st century. Having founded the Grammy award winning band Linkin Park and co-producing all of their albums, Mike is very experienced to say the least. Equally, his side project Fort Minor is huge, with songs like 'Remember the Name' being iconic in modern Hip-Hop. His diverse range of genre reaches from hip-hop to nu-metal, and now he will produce your song live in front of you!
When the pandemic hit, Mike decided to go live on Instagram and make music. Then when we all realised that we'd be stuck at home for a bit more than just a few weeks, Mike moved to Twitch, with a very professional setup showing his screen and playing the audio all as he made the music. Fans were even invited to sing on the song 'Open Door', which Shinoda made live, and was later released with viewers of the channel singing on the chorus! If you are an avid viewer of the streams, then you'd win 'Shinoda-bucks', a currency that will allow you to request a theme for Shinoda to produce. Mike would then pick from 'The Bowl of Destiny' and combine genres and styles to make some very interesting beats. If fans don't like the song, or think something needs to change, they are not afraid to say. It's quite possibly one of the biggest collaborations in music, and it really is great. For months and months Mike had collected so many tracks, and decided to release them in three collections, titled 'Dropped Frames', which comedically references his unstable internet connection. These came with big success and great response from fans.
READ MORE: Black Veil Brides Release New Track And Music Video, Reveal Details For New Record
After creating music fairly non-stop for months, and gathering over 100,000 followers, Mike decided to change things up a little. This is where the great idea of 'Shinoda Produce Me' comes in. If you are a singer or rapper, and have a song you want Mike to produce, all you need to do is post a performance of it on Twitter with the hashtags #ShinodaProduceMe and #AnRmy, and if the fans like it, they will let Mike know. The name 'AnRmy' comes from the Artist and Repertoire division in record labels, who scout the world for talent. Instead of paying someone fortunes of money, Mike relies on the eyes and ears of the fans to show him who deserves his production. It's certainly not every day that one of the best producers in the industry will produce your song, for free!
Despite only starting this in January, there are already six songs that have been released, all with very different and individual sonics. This is yet another example of Mike Shinoda being one of the nicest guys in Rock and Roll. Examples include 'Bones' by Alex McMillan and 'The Way Down' by Wax//Wane. New tracks are made every week, so keep your eye out for their release.
As well as producing tracks for fans, Mike has released the great song 'Happy Endings' with iann diorr and UPSAHL. The pandemic-themed, feel-good anthem voices everybody's frustration and boredom with lyrics like 'I'm so damn sick of being stuck inside' relating to literally everyone right now. Mike has said that if the demand is there, he will release a new record, and I think it's safe to say that everyone would like that.
So, if you're a singer and need someone to produce for you, Mike Shinoda could well be your man, and I can assure you, he will do a great job.
Mike streams on Twitch under the name OfficialMikeShinoda from 18:00-20:00 BST on weekdays.
Happy Endings featuring iann diorr and UPSAHL is available on all streaming services now.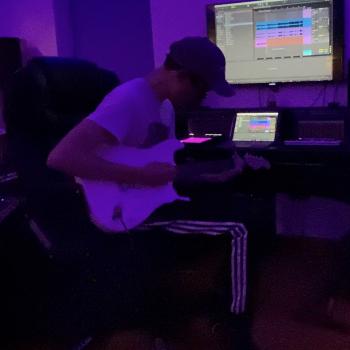 George Abrehart
15-04-2021 4 mins read
Related Musicians & singers
Catalina Soboredo

Future economist.

US$ 0,08 pm

Rosa Todd

Student

US$ 0,07 pm

Amy Stevens

Student

US$ 0,11 pm

Núria Pedrós Peró

Writer

US$ 0,10 pm

Paige Bower

I am at college

US$ 0,07 pm
Show all