Here Is The Setlist For My Chemical Romance's Highly Anticipated Return Show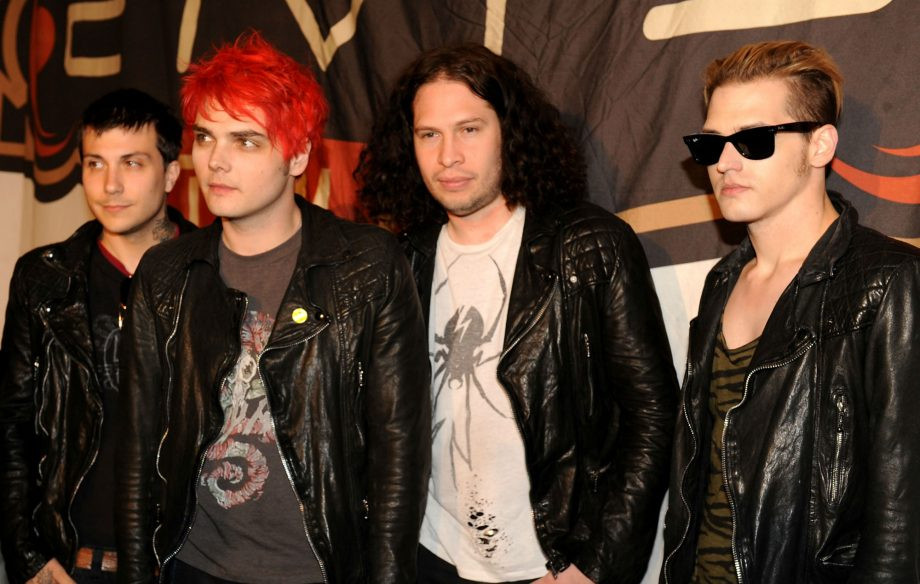 My Chemical Romance's grand comeback is finally among us as the band just came off stage in The Shrine in Los Angeles, which marks the first show of the band since 2012.
The setlist for the evening was as followed:
I'm Not Okay
Thank You For The Venom
Give 'Em Hell, Kid
House of Wolves
Summertime
You Know What They Do to Guys Like Us in Prison
MAKE ROOM!!!
Our Lady Of Sorrows
NA NA NA
Sleep
Mama
I Don't Love You
Destroya
Teenagers
S/C/A/R/E/C/R/O/W
Famous Last Words
The Kids From Yesterday
ENCORE:
Vampire Money
Helena
Welcome To The Black Parade
In addition, a couple of fans and magazines shared livestreams, videos and more of the show. Check out a variety below to get an idea what the show looked like!
INTRO & I'M NOT OKAY via Altpress livestream pt. 1 pic.twitter.com/wt9nWJEipl

— My Chemical Romance Updates (@MCRupdates1) December 21, 2019
'Give 'Em Hell, Kid' via Dietshampoo livestream pic.twitter.com/acBCfsAPOy

— My Chemical Romance Updates (@MCRupdates1) December 21, 2019
'MAKE ROOM!!!' Via Dietshampoo livestream IG pic.twitter.com/nZdwSU9DMj

— My Chemical Romance Updates (@MCRupdates1) December 21, 2019
HOUSE OF WOLVES via dietshampoo livestream on Instagram pt. 1 pic.twitter.com/RUonPC1nGs

— My Chemical Romance Updates (@MCRupdates1) December 21, 2019
'Na Na Na' via Dietshampoo on IG livestream pic.twitter.com/Ikq0iRKy3p

— My Chemical Romance Updates (@MCRupdates1) December 21, 2019
Just a mass singalong to 'I Don't Love You' pic.twitter.com/vtTUkEhBg3

— Rock Sound (@rocksound) December 21, 2019
'Mama' - My Chemical Romance pic.twitter.com/U0blJg8pcK

— Rock Sound (@rocksound) December 21, 2019
SCARECROW via dieshampoo IG livestream pic.twitter.com/TokeqDwZ7B

— My Chemical Romance Updates (@MCRupdates1) December 21, 2019
SLEEP via _art_e_mis__ on IG livestream pic.twitter.com/TKw4dpACJw

— My Chemical Romance Updates (@MCRupdates1) December 21, 2019
THE KIDS FROM YESTERDAY via dietshampoo on IG livestream pic.twitter.com/ckBIWUpWNR

— My Chemical Romance Updates (@MCRupdates1) December 21, 2019
I DON'T LOVE YOU pt. 2 pic.twitter.com/Ycq05WWS3T

— My Chemical Romance Updates (@MCRupdates1) December 21, 2019
TEENAGERS via dietshampoo IG livestream pic.twitter.com/hFTzVRGda3

— My Chemical Romance Updates (@MCRupdates1) December 21, 2019
VAMPIRE MONEY via Dietshampoo on IG livestream pic.twitter.com/b22uaiXkFx

— My Chemical Romance Updates (@MCRupdates1) December 21, 2019
FAMOUS LAST WORDS via _art_e_mis__ IG livestream pic.twitter.com/dncp9BNHbI

— My Chemical Romance Updates (@MCRupdates1) December 21, 2019
HELENA via dietshampoo IG livestream pic.twitter.com/ouWSnaXQ7w

— My Chemical Romance Updates (@MCRupdates1) December 21, 2019
WELCOME TO THE BLACK PARADE pt. 2 via Dietshampoo on Instagram Livestream #mychemicalromance #mychemicalromancereturn pic.twitter.com/cglnrE9RyY

— My Chemical Romance Updates (@MCRupdates1) December 21, 2019

Glenn van den Bosch
21-12-2019 6 mins read
Related Musicians & singers
Asya Kardzhaliyska

trainee optical consultant

€ 0,05 pm

Catalina Soboredo

Future economist.

€ 0,05 pm

Paige Bower

I am at college

€ 0,06 pm

Natalie Ramos

Photographer/Writer

€ 0,05 pm

Amy Stevens

Student

€ 0,09 pm
Show all