New Music, Touring With Cane Hill, Vocal Problems & More With Bullet For My Valentine Vocalist Matt Tuck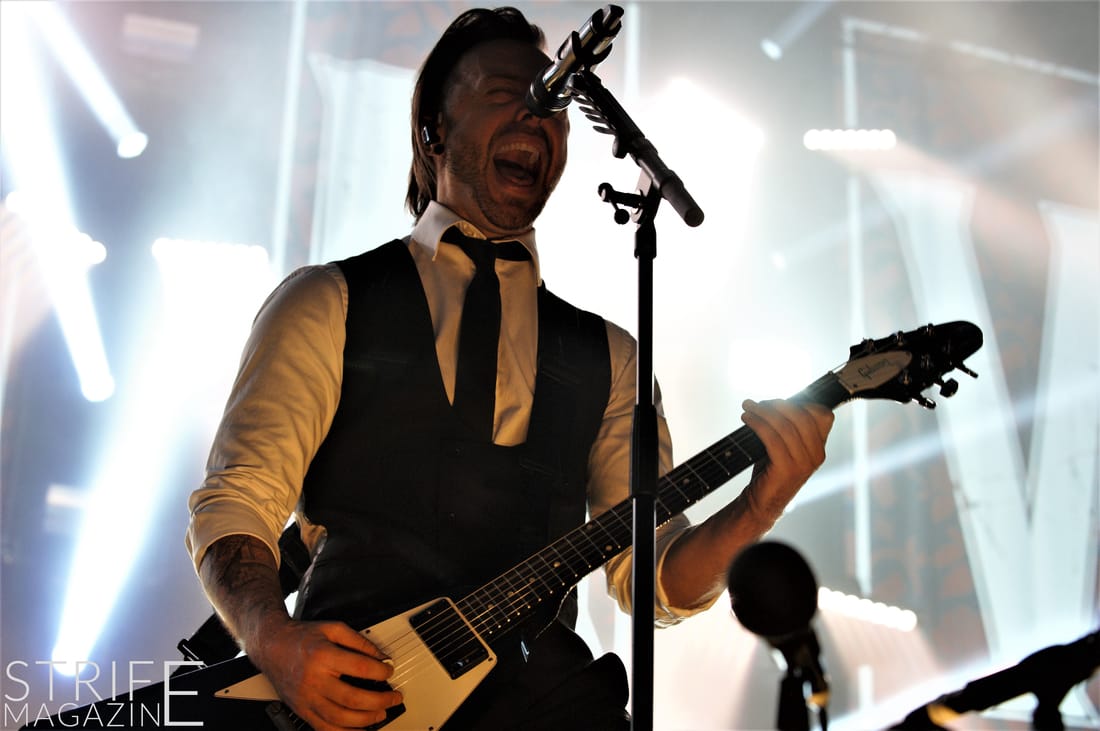 When Bullet For My Valentine played a show in Tilburg we were lucky enough to witness this amazing show.
We felt even luckier when we were told that we were going to have a chat with frontman Matt Tuck prior to the show that night. We got to the venue incredibly early to have a chat with the frontman right before the band was going to start soundchecking and preparing for the show.
In our chat, we discussed their latest album, their aggressive new track 'Don't Need You' and touring with newcomers Cane Hill and a bunch of other topics.
Our entire conversation can be read below!

​First of all, thank you for meeting with us! How are you?
Not too bad. Tired though!

Are you looking forward to the show?
Yeah, always looking forward to the show!
It's been a long year. We're finally at the end of it.
Tonight's going to be good. It's sold out. I'm feeling good, man!

Earlier this year, you signed with Spinefarm Records and released a first track via this label 'Don't Need You'.
How has working with Spinefarm been so far in comparison to previous labels you've worked with?
It's very early days. We've only worked together on 'Don't Need You' so far and that wasn't even working together really.
We just did our job and they did theirs, haha. They're great guys. They're really passionate about the band which is why we wanted to sign with them. It's still very early days though. We'll learn more about how they are when we're going to start writing a proper record. Early indiction is that everything's going to be cool. I love the guys, they're great guys!
You're currently touring in Europe with Killswitch Engage and Cane Hill. Is there any city in particular you're really looking forward to playing/visiting?
No, not really. Everywhere has been great. We got this one tonight which is one of the bigger shows. (Tilburg, 3.000 people). We're heading to Brussels tomorrow after which we'll play in Cologne in front of 5.000 people.
As far as shows go, we don't have a preference. We have a great time in every city we play!
When it comes to being a tourist, we've done it a million times, haha so that side of it hasn't gone away, but it's just what we do. We're very well travelled and we enjoy it everywhere, you know?
We don't stay very long in one place so we don't really have time to go on a trip.
We got in Tilburg this morning and we'll be leaving tonight. There's not really time to do anything anyways!
'
Don't Need You' is quite heavy! Could you tell us something about the song?
Yeah! 'Don't Need You' was sort of writting in the studio. We had one little riff that was hanging around for a while.
It was like completely improvised and we just thought we should do something with it.
The track is indeed very dark. Very heavy.
We've dropped the guitars a step aswell, tuning wise, to make it sound big. Like a massive wall of sound.
'Don't Need You' is kind of a 'fuck you' song to everyone. We were in a bit of a shitty mood when we wrote it, haha.
Is the track going to be a stand-alone single?
Yeah, I think so!
We had a month off and we just wanted to do something.
This tour and especially the UK leg of it is kind of a big deal to us. We wanted to bring something new to play with us for these shows to pump everyone up! Get everyone psyched.
We also wanted to bridge the gap between the last record and the new one.
It was a very fun track to make. It wasn't part of a record so it didn't really have to have a theme or a story to tell.
It was more like 'How heavy can we make it and still keep it Bullet style', haha.
On this tour, you've brought along Killswitch Engage & Cane Hill. You've toured with Cane Hill a lot this year across Australia, Japan, the US. Any reason why you keep inviting them on tour?
Yeah, we like to make a diverse line-up.
We want to tour with metalbands, but who play a different subgenre within the Metal umbrella.
They're a nice band. They only released their first album earlier this year.
They're very different to us, they're very different to Killswitch.
It's nice to have a young band on tour! Obviously Killswitch and Bullet have been going for a long time.
We wanted a band that's new and as they're on the same management as we are, it was an easy hook-up!
Your latest record 'Venom' is quite angry aswell (just like 'Don't Need You'). Looking forward to the next record, do you think it's going to be similar as far as angryness/heaviness goes?
A bit early to tell, really but yeah, I think it's going to have that aggressive edge for sure.
It's just going to depend on what level that is going to be.
I think 'Venom' was a 7 or an 8. Most likely we'll stick to those marks.
We don't want to be superheavy for the sake of just being superheavy, you know what I mean, haha?
'Venom' is very aggressive, but it was a very natural process. We weren't actually trying to be as heavy as it turned out, it just came out that way.
It was exciting for us and the fans seem to really dig it.
Hopefully we can take that aggression into the next album aswell!
'Don't Need You' is a good indication for the direction.
Currently, which track gets you most pumped to perform on stage?
Probably 'Don't Need You'.
It's still new, that's nice. We've only performed it like 8 times. We've started performing the track on this tour and we've only had a handful of shows. It's just nice to play something new. It's aggressive and heavy. It's always nice to play that kind of stuff live.
When it comes to writing music, you take inspiration from the classic bands like Metallica, Guns N' Roses etc.
Do you take inspiration from the same bands when it comes to liveshows?
We used to but by now, we've kinda involved into our own kind of style when it comes to liveshows, you know?
We don't really take inspiration from any other bands when it comes to liveshows anymore.
Being a guitarist and a singer really puts limits onto what I can do on stage.
I can't run around and have all these different positions.
I'm kinda stuck to my microphone when I'm playing guitar.
We just keep it simple and make the stage look as pretty and Rock 'n Roll as it can, you know.
In the past, you've had your fair share of vocal issues. Is there anything specific in your routine now to make sure it doesn't happen again?
Yeah. Proper warm-ups. Use the proper techniques on stage. Even when you're not having the best night on stage, don't get angry and push harder. I also try to limit the amount of time I spent in the cold and going to clubs and pubs to drink.
Just basic stuff! Just trying to keep everything nice, relaxed and comfortable.
Going through a bit of a rough patch right now actually. It's because of the time of year, really. The winter doesn't agree with me at all. It still sounds pretty good though, I'm just being hard on myself!
What can we expect next year from Bullet For My Valentine?
Nothing. Absolutely nothing, haha!
It's going to be a lot of time off and then obviously we've gotta write a record, demo it, make it, etc.
Most of next year, there won't be much happening as far as touring goes or getting something new out.
If something does get released/announced, it's going to be towards the end of the year at the earliest.
But we are planning to release a live DVD. This will be shot at Brixton (this DVD has been announced by now).
So we're going to be recording that show. Cause we're going to be so quiet, it's nice to release something. Remind people that we're still around. We just need to work on something new.
The next album will most likely be releasing in 2018. It's possible that it's going to be at the end of 2017, but 2018 is way more likely. We don't want to rush anything. We don't want to get in the studio and write a record for the sake of writing a new record.
I think the more relaxed, the more comfortable and the more refreshed you are, the more you want to do it anyways.
If we got pushed into a studio in January, we would just do nothing and be like 'we don't wanna be here', haha.
​
Thanks Matt Tuck for taking the time to have a chat with us!
Jam Bullet For My Valentine's most recent track 'Don't Need You' below and check out the most rock 'n roll photo of the Bullet frontman we took of him!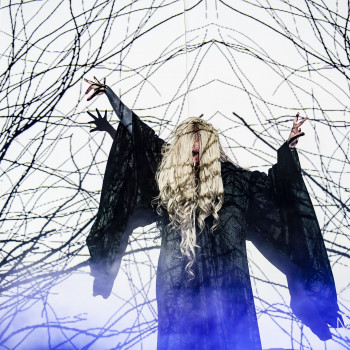 Glenn van den Bosch
20-12-2016 10 mins read
Related Musicians & singers
Melanie Gomez

Music Journalist /

US$ 0,33 pm

Gael A

School

US$ 0,08 pm

Bailey Dupuis

Writer

US$ 0,08 pm

Natalie Ramos

Music-based Writer

US$ 0,08 pm

Paige Bower

I am at college

US$ 0,07 pm
Show all