Post-Show Interview With Mayday Parade's Derek Sanders Following The First Night Of The "Forever Emo" Tour
Friday, November 1st was the start of Mayday Parade's Forever Emo tour, where the band performs both covers from early 2000's alternative/emo music. They cover the "staple" songs that revolutionized this era-- from Simple Plan's "I'm Just A Kid" to "Mr. Brightside" by The Killers. The band sang some of their classic songs throughout the years, such as "Jamie All Over," "Oh Well, Oh Well," and "Kids in Love." Fans never ceased to cheer and jump around at the start of every single song-- cover, or a Mayday original.
Lead singer and band front-man, Derek Sanders, explained when on stage their inspiration for putting on this Forever Emo tour alongside the "Anywhere but Here" tour. He stated "we're singing songs that meant so much to us growing up, and it's what we listened to when we first started this band… I'm sure we've all been there, but it felt like there was a part of me that was supposed to change but never did, and if you've been there, we'd love it if you'd sing along."
The show was incredible and had a wide arrange of songs and bands throughout the years. The best part of the night, however, was after the band left the stage, the fans didn't move… they just continued cheering. About 5 minutes went by with fans chanting things such as "ONE MORE SONG!" to "MAY-DAY! MAY-DAY!" nonstop until eventually, they arrived back on stage laughing and in shock. Derek then told fans "well… this was unexpected. You guys are amazing, wow… We literally didn't plan for this but, how about one more song? How does "Jersey" sound?" and the band got back into their positions and gave the fans one more song to jam out to for the night.
After the set was completely over, fans were seen feeding out of the venue, finishing drinks, taking pictures, and buying merch. I personally was standing by the bar when someone was standing in front of me who slightly resembled the band's opener "My Chemical Bromance." I tapped him on the shoulder only for him to turn around and I realized it was Derek himself. He said "yeah, no, uh… that was me up there. Like, I was just singing on stage. I uh, I hope you liked it?" He was standing around and talking to fans, allowing them to take pictures and was signing his autograph.
Upon pulling myself together, I hopped back in line to talk to him and asked if he minded if I asked him a few questions, regarding the show and the band's future plans. He was completely open to talking to me and gave some insight into what's to be expected in the upcoming future.
"The show tonight really set the standard for the rest of the show. We were completely shocked at the turnout-- since we're trying something new, we really didn't know if anyone would show up… and it sold out. I think we have a lot to look forward to for the rest of the tour, especially if the shows turn out like tonight did. It was absolutely incredible."
I asked him if he could give any hints on whether or not they plan to tour again anytime soon, and what we might expect in the future. Laughing, he said "well, I know it's only the first night of the tour, but yeah, yeah, we've got some more things planned. We're really excited, we've got some tours planned, we've got some songs we're really excited to release, and have a new album in the works. I can't talk too much about it, but I can definitely tell you we're really excited to announce and release everything we've been working on."
Sanders stayed to talk and hang out with fans for at least 45 mins after the set was completed. Needless to say, there is a lot of excitement surrounding the band's ongoing tour, and we have a lot to look forward to in the near future!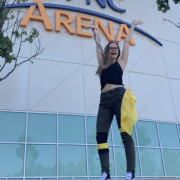 Robin Oliver
11-11-2019 4 mins read
Related Musicians & singers
Núria Pedrós Peró

Writer

US$ 0,10 pm

Paige Bower

I am at college

US$ 0,07 pm

Natalie Ramos

Music-based Writer

US$ 0,08 pm

Catalina Soboredo

Future economist.

US$ 0,08 pm

Asya Kardzhaliyska

trainee optical consultant

US$ 0,06 pm
Show all