SHOW REVIEW: Simple Plan Take You Back In Time With Extraordinary 'No Pads, No Helmets... Just Balls' Performance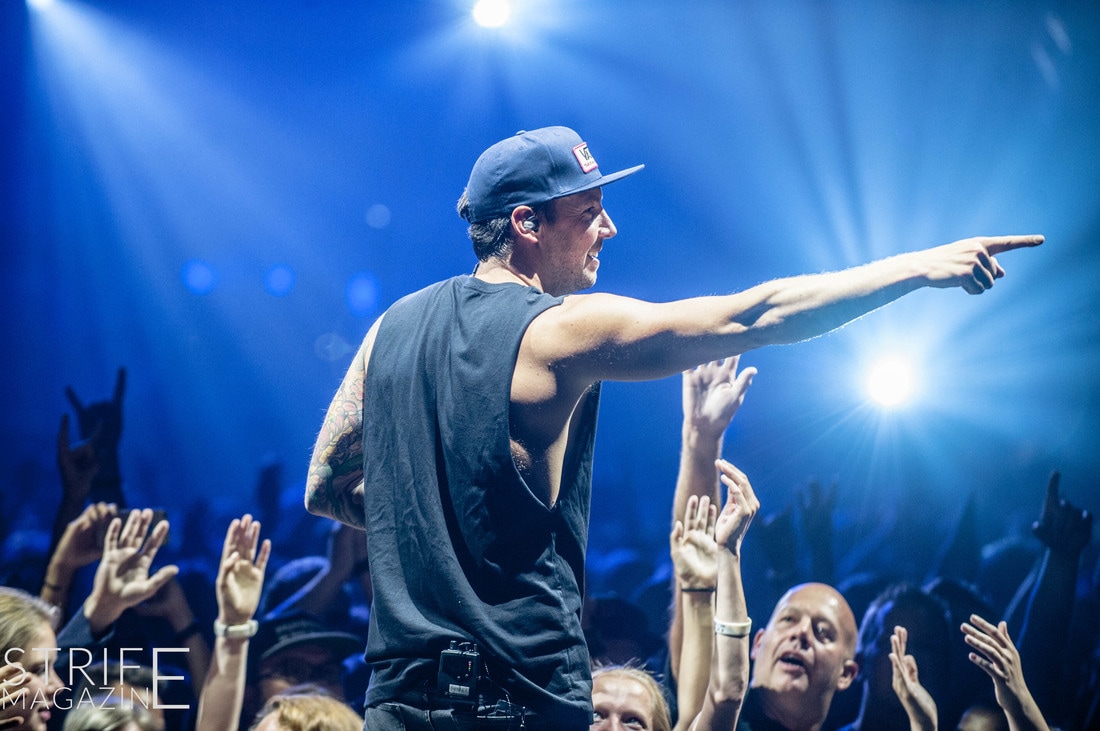 Simple Plan, the legendary poppunkers from Canada are touring the globe in order to celebrate the 15-year anniversary of their career defining debut record 'No Pads, No Helmets... Just Balls'. While the band has been releasing albums ever since, the debut album has some tracks that are still fan favourites even 15 years later.
Simple Plan took their massive 'No Pads, No Helmets... Just Balls' 15-year anniversary to a packed Tilburg on the 7th of June. Turns out The Netherlands has quite the impressive amount of oldschool Simple Plan fans! The band performed their debut record in full and continued their set with an additional eight fan favourites, including 'Jet Lag', 'Crazy' and 'Welcome To My Life'.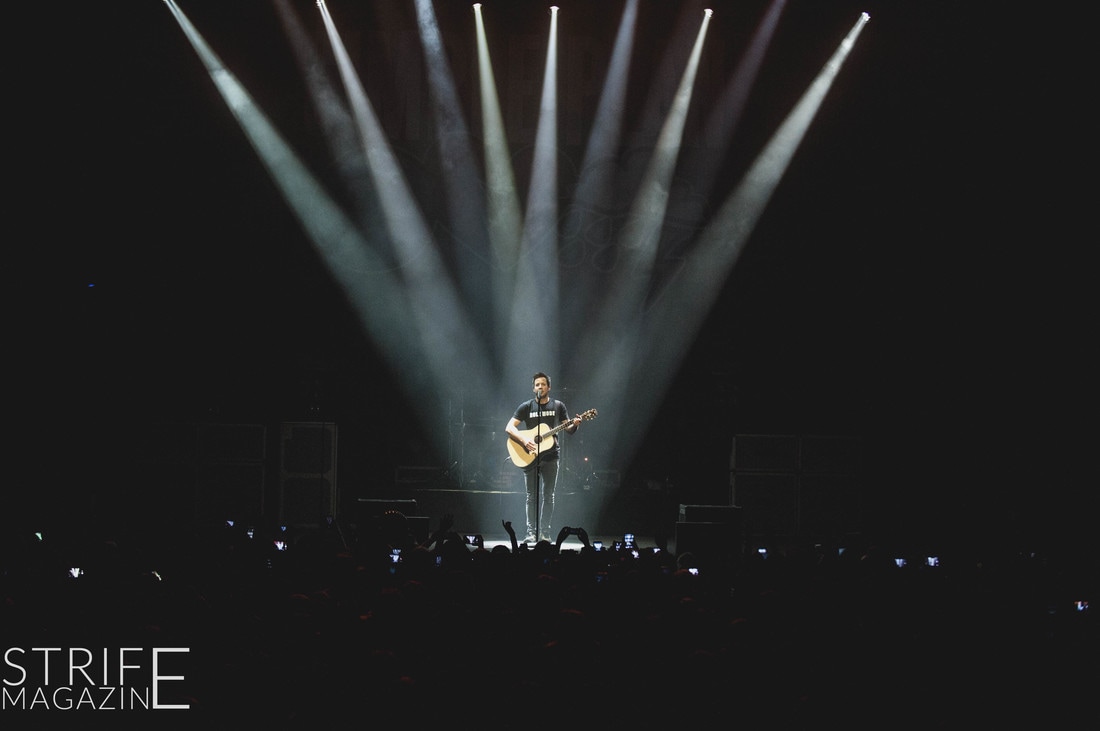 Simple Plan have been visitting The Netherlands quite a few times in the last couple of years so a new production was essential. Luckily for the attendees and themselves, they delivered!
The band kicked off their anniversary set with album opener 'I'd Do Anything', after which they continued performing tunes from the debut album, working their way down from top to bottom. While the studio version of the debut album 'No Pads, No Helmets... Just Balls' has slightly whiny vocals on it, 15 years later this whinyness has been completely erased from frontman Pierre Bouvier's vocals, making the live version of the entire record a special treat to listen to a decade and a half later than the original recording. Other than Pierre Bouvier's improved vocals over the years, guitarists Jeff Stinco and Sebástien Lefebvre have also upped their game.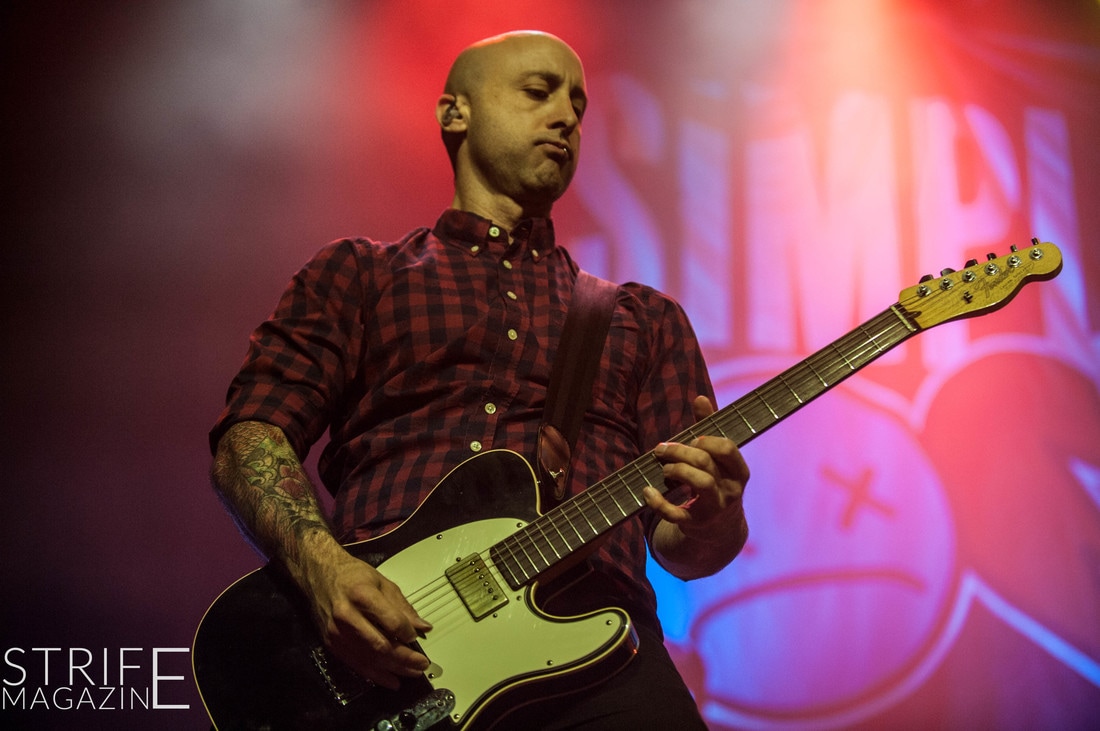 That's inevitable after 15 years of recording new music and performing shows all across the globe, but lovely to experience nonetheless. Simple Plan translated the record extremely well to a live capacity and were comfortable enough on stage performing these tracks to give an intimate feel to the evening. Frontman Bouvier was often pointing and making eyecontact with the fans, while the entire band was cracking jokes and playing interludes in between of tracks. Once the debut album almost came to an end, the band surprised the fans with a B-side track in between: 'Grow Up' before performing emotional albumcloser 'Perfect'. Along the way, Simple Plan been accompanied by thousands of voices singing along to their every lyric, proving that this anniversary tour was an epic choice. Nearing the end, drummer Chuck Comeau had his time in the spotlight, taking over Pierre Bouvier's role as frontman and even took a ride on the hands of the crowd. His jump can be seen on the photo below!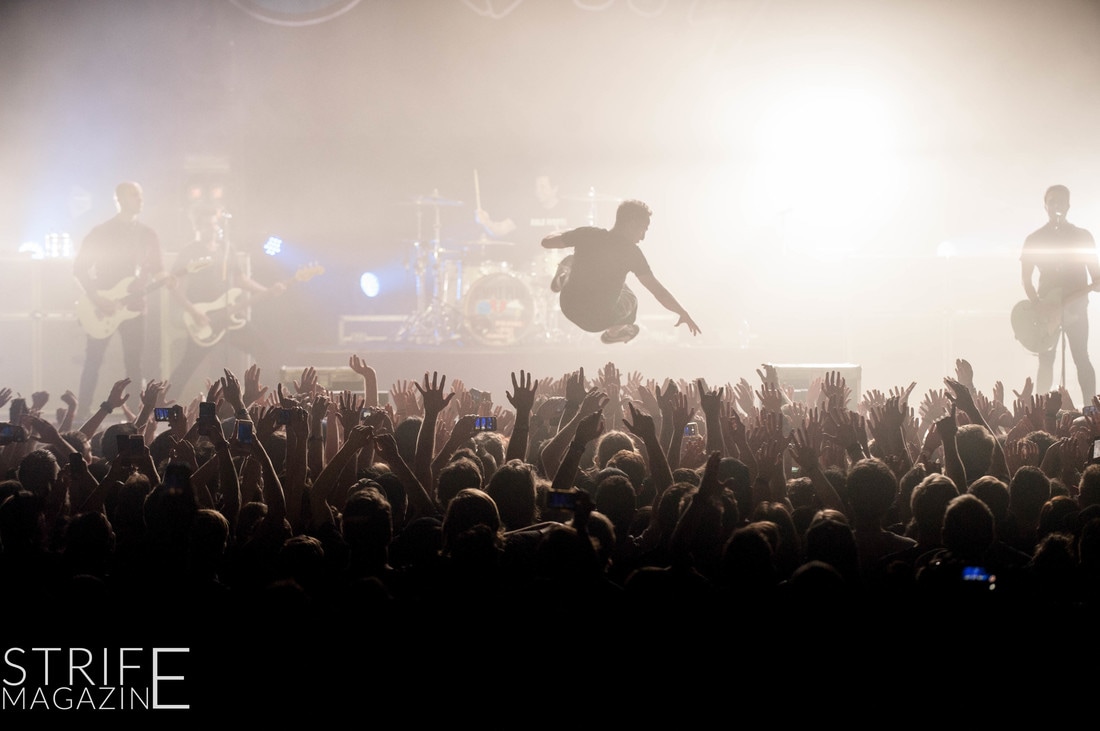 After shortly departing from the stage and changing the backdrop, the band came back to perform an ecstatic rendition of 'Shut Up' which was quickly followed by a track equally as energetic: 'Jump'. You don't realize how many hits Simple Plan have had in their two decade spanning career until they are in front of you performing each and everyone of them. Next up were 'Boom' and heavily streamed and radio played 'Your Love Is A Lie', which once again took the excitement to a high level. Simple Plan continued with another radio hit 'Jet Lag'. This tour truly is something extraordinary and if you've not seen it, you missed out big time.

Eva van Kuik's photos of the extraordinary evening can be checked out below!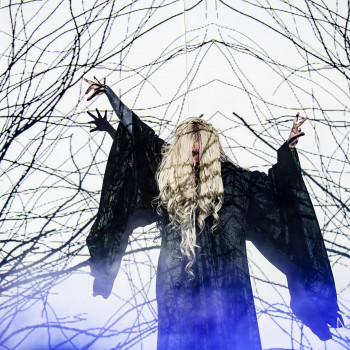 Glenn van den Bosch
08-06-2017 8 mins read
Related Musicians & singers
Natalie Ramos

Music-based Writer

US$ 0,08 pm

Rosa Todd

Student

US$ 0,07 pm

Amy Stevens

Student

US$ 0,11 pm

Melanie Gomez

Music Journalist /

US$ 0,33 pm

Gael A

School

US$ 0,08 pm
Show all