SINGLE REVIEW: Twenty One Pilots Pay Homage To Past Songs With New Single 'Choker'
It's here! Our second taste of Twenty One Pilots' upcoming album, 'Scaled and Icy' has made its way to our ears- for some, earlier than others! 'Choker', the second single from the sixth studio album, provides yet another bridge into the world getting built around us- yet, it takes quite a different approach to its counterpart, 'Shy Away', elucidating the incredible duality that lies in the foundations of this project.
Beginning with a manipulated intro, reminiscent of Heavydirtysoul, I saw myself beginning to ask questions if it would integrate into the past works we've seen from the band before. Compositionally, 'Choker' deviates from this statement completely, instead presenting a song that I think is best described as solemnly stagnant, a term not commonly associated with the band- but certainly not with negative connotations! With no large dips, dives, rises or reaches, the song places such an integral role upon both the lyrics, and vulnerable, timeless vocals of frontman Tyler Joseph. In previous projects, we have seen how foundational these lyric reliant songs have become to many- think of songs like 'The Hype'!
Lyrically, the statement above could not ring any truer! Just when you think you've heard all there is to discover, the final moments hit you with a wave of nostalgia. Joseph's unassured and truthful, fluent raps raise projects like 'Vessel' from the woodworks, acting as a homage to the past that has created them. As a long time fan, this section was not merely reminiscent, but mimicked some of the intriguing and individual features that drew me to the band so many years ago! So too, the lyrics of this section, particularly notions of the sun and shadows; "As a shadow cast upon the ground where you'll eventually // Lay forever, but the day goes on, the sun moves behind you" conjured up feelings first presented in songs like 'Truce' and 'Semi-Automatic'.
Despite the song exploring themes of inadequacy, an incapability to be more, and the ramifications of passiveness and the position it has left the protagonist of this song in, I believe the true emphasis on such a lyrically amplified song is the many homages and direct links to the rest of the Twenty One Pilots universe. The lyrics discussed before, as well as "choking on second hand smoke", the manipulated instrumental introduction (Heavydirtysoul), and "I know it's over" (Leave The City) is more than an evident argument.
The exploration of the past and the inability to escape the actions of before may just be the band's way of representing their past creations, or perhaps our next step moving forward is looking to the past for answers!
Check out the new track and video here and let us know what you think!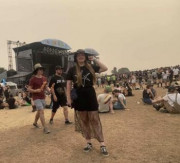 Georgia Haskins
30-04-2021 3 mins read
Related Musicians & singers
Catalina Soboredo

Future economist.

US$ 0,08 pm

Glenn van den Bosch

Photographer writer

US$ 0,30 pm

Rosa Todd

Student

US$ 0,07 pm

Amy Stevens

Student

US$ 0,11 pm

Núria Pedrós Peró

Writer

US$ 0,10 pm
Show all