Slam Dunk Festival Diaries: With Confidence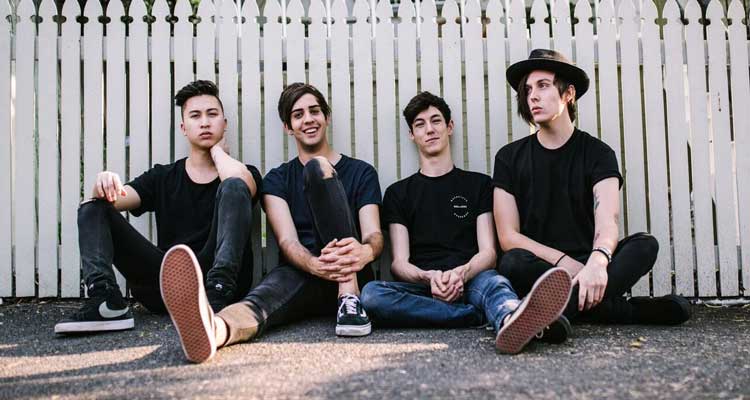 There aren't many bands that you can see twice in one week and have just as much fun the second time around as you did the first, but Australian born pop punkers With Confidence definitely passed that test! One of my favourite live bands, the enigmatic quartet consisting of vocalist and bassist Jayden Seeley, guitarists Luke Rockets and Inigo Del Carmen ad drummer Josh Brosezzi always put on a proper good old fashioned pop punk party, and this was possibly the wildest and most exhilarating one I've seen yet!
The response from the crowd packed into the Leeds Key Club was deafening as the band began their set with 'Voldemort', an infectiously bouncy track dripping with the warmth of Aussie summer sunshine, but with lyrics of a much darker nature which tackle the taboo surrounding conversations about mental health with the use of a wonderfully fitting Harry Potter inspired extended metaphor. 'Archers' has quickly become the anthem for all With Confidence fans, and the impact it has had was evident by the deafening roar of the crowd who almost drowned out Jayden's soaring vocals! Something that couldn't be diminished however was the track's infectiously upbeat tempo and well-rounded warmth that begs to be the soundtrack to many a summer road-trip! Despite their characteristically lively sound, the sincerity behind With Confidence's lyrics was lost on nobody, and the emotion in the air was almost tangible during 'We'll Be Okay', as the packed crowd on the floor and those fans circling the balcony above sang along with such ferocity that both Luke and Jayden looked in equal parts overjoyed and stunned by the passion of the response from the audience! The genuine affection and bubbling joy that was evident on the faces of the band was also given off in waves by their causal onstage banter which had the whole crowd around me tittering along and endeared all the members to the audience, painting them as genuine people as well as talented musicians. My personal highlight came with the staccato, heartbeat-like drum line and low-toned bass in the bridge of 'London Lights' that contrasted beautifully with the serene, montage-worthy melody of the verses and consequently sent new shots of adrenaline pulsing through the crowd, giving way to the rowdiest circle pit With Confidence claimed to have ever had at a show- a truly wild and untamed pop punk party!
With Confidence have quickly become one of my favourite bands since I saw them for the first time exactly one year ago at this very festival, on the comparatively tiny Kerrang! Fresh Blood Stage to a crowd of hardly more than 30, and for very good reason. Their sound cannot help to bring a smile to any listener's face on even the cloudiest of days, but their personal and uncompromising exploration of themselves and of universal issues of pain, loss, love and heartbreak through their lyrics makes their sound undeniably appealing and wonderfully refreshing. A key part of the pop punk revival, With Confidence are a prime example of everything pop punk once set out to be and continues to exemplify to this day- loud, raucous truthful and adventurous- a community for the young, the bold and the dreamers. It is not uncommon to hear pop punk fans, with an apathetic sigh and a glazed look, sadly proclaiming that pop punk is dead: well if With Confidence have anything to say about it, it looks like pop punk is dawning on a new era, and is far from dead and gone just yet!
With Confidence's debut record 'Better Weather' is out now via Hopeless Records.
Why not check out the interview we did with Jayden and Josh from With Confidence recently in collaboration with Turn It Up Louder? You can read all about their plans for new music, Harry Potter obsession and hairstyle choices here:
https://www.turnituplouder.com/single-post/2017/05/27/Chats-with-With-Confidence
With Confidence's Twitter: @withconfidence_
With Confidence's Facebook: https://www.facebook.com/withconfidence/
​
Glenn van den Bosch
31-05-2017 4 mins read
Related Musicians & singers
Natalie Ramos

Music-based Writer

US$ 0,08 pm

Paige Bower

I am at college

US$ 0,07 pm

Asya Kardzhaliyska

trainee optical consultant

US$ 0,06 pm

Núria Pedrós Peró

Writer

US$ 0,10 pm

Catalina Soboredo

Future economist.

US$ 0,08 pm
Show all