'Stranger Things' Confirms Season 3 Fan-Favourite Returns In Season 4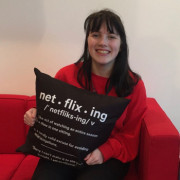 'Stranger Things' has confirmed that a fan-favourite from season three will be returning in season four.
Maya Hawke, who was introduced as Robin Buckley in season 3, is supposed to come back.
The tweet which revealed this news was quickly deleted after posting it.
A fan asked what the show's writers' favourite Robin line was and they tweeted "also a season 4 line so you're going to have to wait to get that answer".
Would you be excited to see her return? Let us know!