Sum 41 Are Back And Stronger Than Ever With The 'Don't Call It A Sum-Back' Tour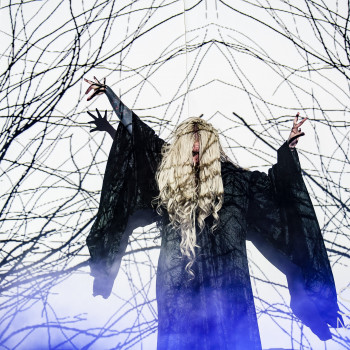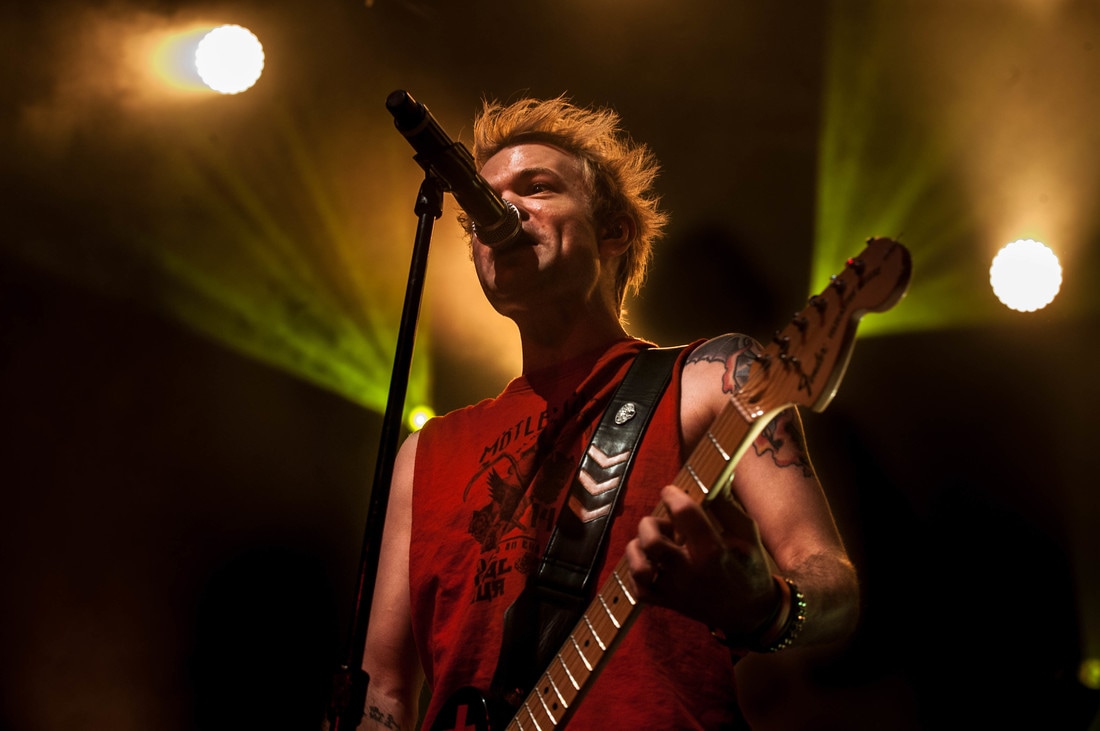 Sum 41 took their highly anticipated, long awaited album '13 Voices' to the European road to play a few of the biggest venues they've played all across Europe in their 20 year spanning career. Sum 41's latest Dutch stop occured right before they announced the plans for their album '13 Voices' on which they played a rather small show for Sum 41 standards. While that was just a show to announce they're back, this tour was a massive upgrade production wise on which they also had a huge amount of brand new tracks to perform live in front a sold out (in less than a day) crowd that was rowdier than ever. The band came out swinging like never before with a line-up consisting of 3 guitarists, new drummer Frank Zummo and of course Cone McCaslin on the bass, delivering exactly what you'd expect and want from the punkrockers at this point.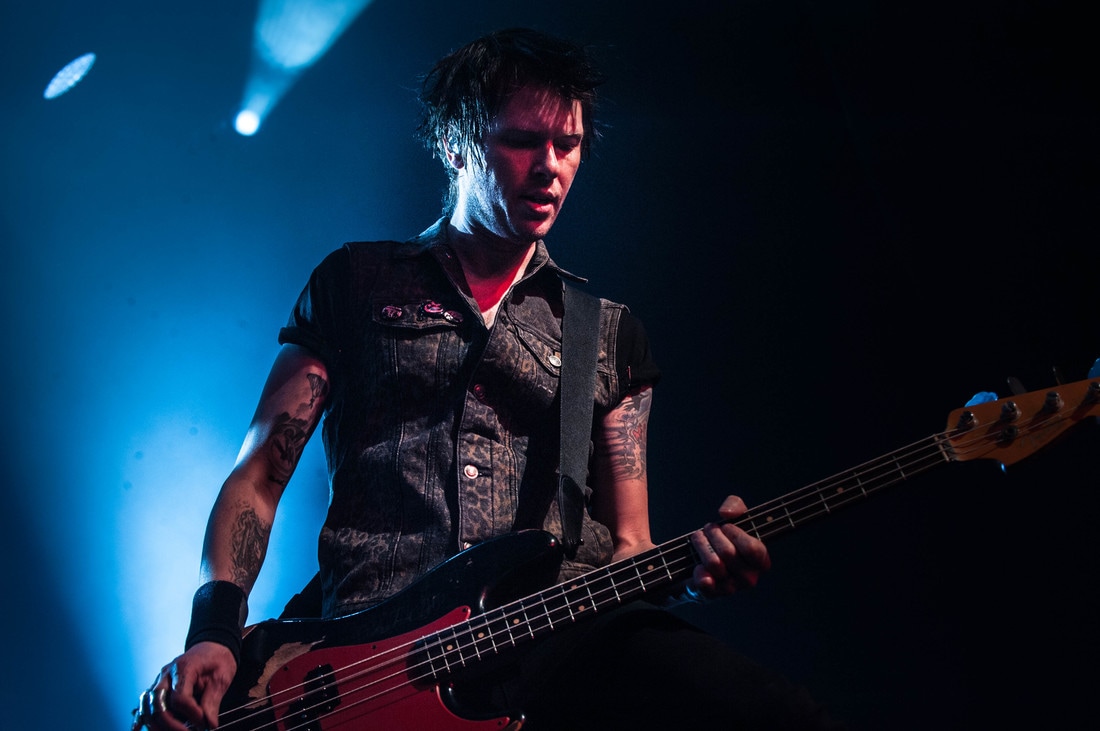 Timing on point, exactly at 21:00, 'Introduction To Destruction' was blasted through the venue and right as the last lyric 'When the sum is 41! was played, the curtain dropped and setopener 'A Murder Of Crows' was played which set the tone for the rest of the evening.
Passion & energy would consistently get to a higher level throughout the evening.
With an arsenal of songs consisting of tracks released over the last (almost) two decades, a lot of fan favourites were among them, resulting into a setlist of almost 2 hours.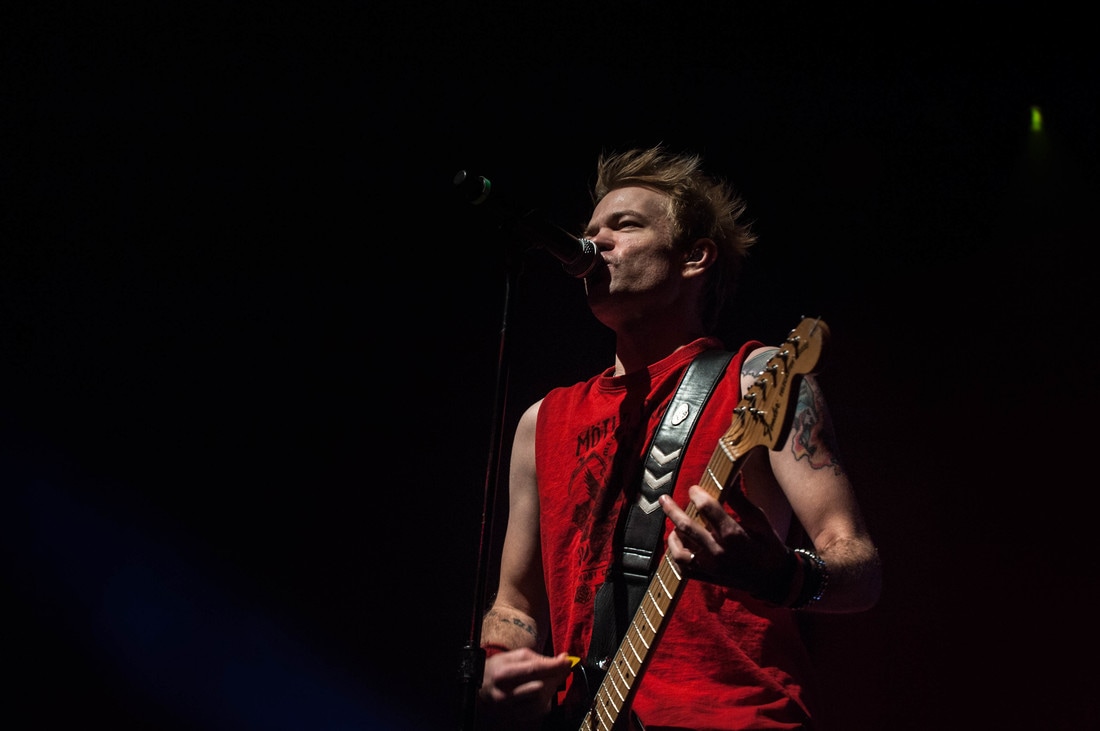 Besides the many old favourites such as 'Motivation', 'Still Waiting', 'The Hell Song' and many more, a lot of new tracks were also played for the first time on this tour.
Besides setopener 'A Murder Of Crows', the setlist included the likes of prior to the album released 'Fake My Own Death' and 'War'. Admirable was that the crowd went as hard on the new tracks as they did on the older songs, proving that even after a few years of inactivity, Sum 41 are still strong as hell. After a neverending whirling moshpit and crowdsurfers, Sum 41 took a step back halfway through the show to perform emotional track 'With Me'.
For this track, frontman Deryck Whibley submerged from the stage and was escorted by security staff to a smaller stage in the middle of the fairly big sized 013 to give the people in the back and on the balcony also a chance to take a good hard look at the frontman and his guitarskills.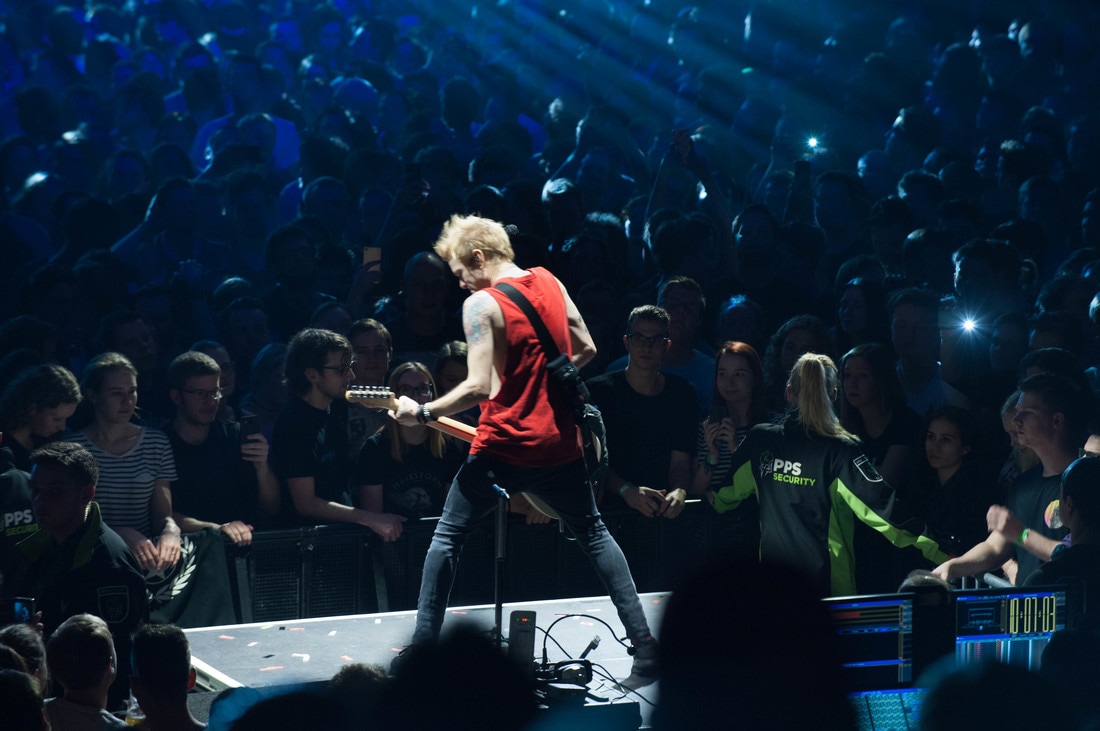 With the return of guitarist and backing vocalist Dave 'Brownsound' Baksh also came the return of a few of the heavier tracks on the setlist, such as 'Welcome To Hell' aswell as a quick Iron Maiden cover to briefly shift the focus from poppunk to metal.
New drummer Frank Zummo was also given the opportunity to win the fans over with his killer drumsolo which occured right after the stellar performance of yet another new track 'The Fall And Rise'. This was followed by a track taken from the band's slightly heavier album Chuck: 'No Reason'. To switch things up a bit, Sum 41 took it upon themselves to cover the rock anthem by Queen 'We Will Rock You'. This quickly preceded into two of the biggest tracks Sum 41 have released in their 20 years as a band: 'Still Waiting' and 'In Too Deep'.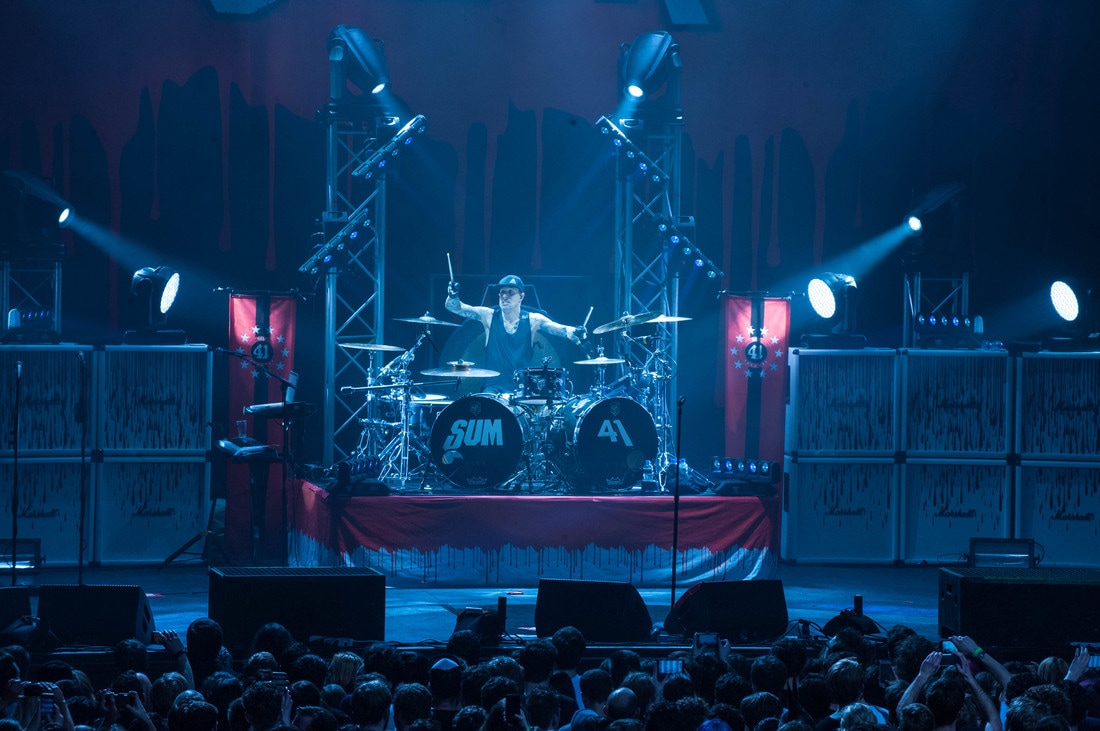 'In Too Deep' unfortunately meant the end of the set, resulting in the band submerging from the stage for a bit for a piano to be rolled on stage. After a few minutes, only frontman Deryck Whibley emerged back on stage to perform emotional track from 'Screaming Bloody Murder' 'Crash'. As the piano was already there, Whibley played a second track on it aswell, this one being 'Pieces'. Halfway through the track, the remaining members came back on stage, supporting Whibley into delivering the emotional track that is 'Pieces'.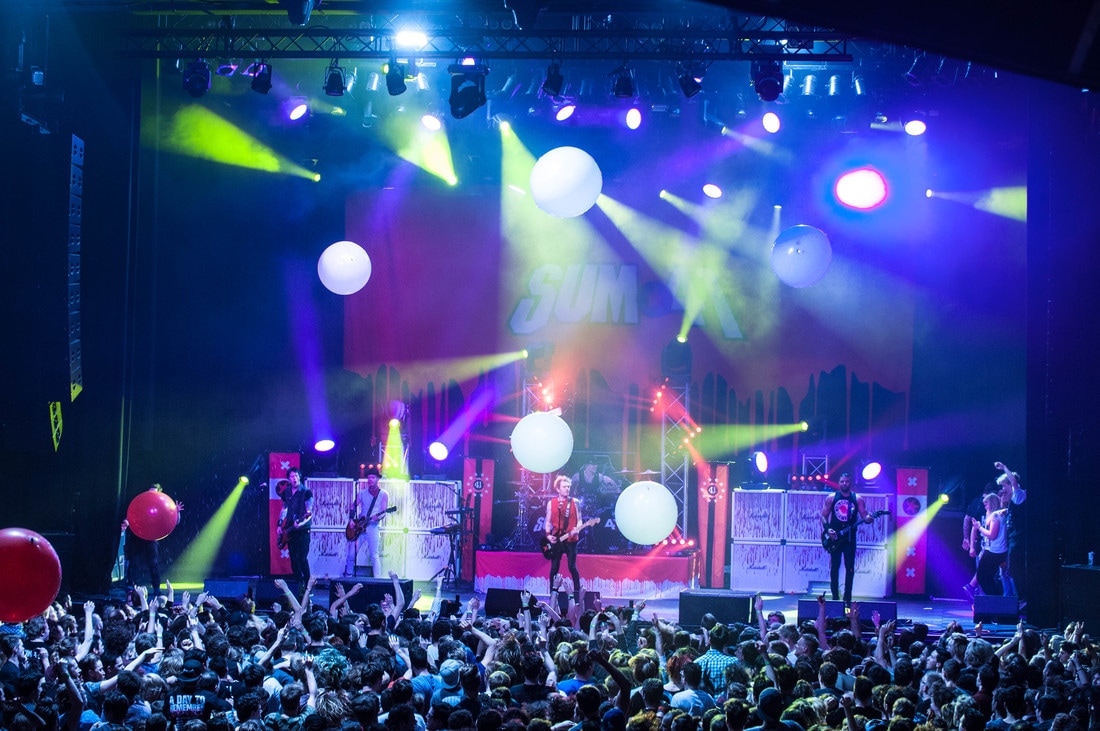 As if that was enough emotion for one night, Sum 41 continued with 'Welcome To Hell' taken from the band's 2004 album 'Chuck'. Last but not least, the night closed with an even older and even more popular track 'Fat Lip'. The band came back out one final time after that to perform 'Pain For Pleasure', wearing '80's wigs and having guitarist Tom Thacker on vocal duties for a change, making absolutely sure that everyone in the venue went back home feeling satisfied.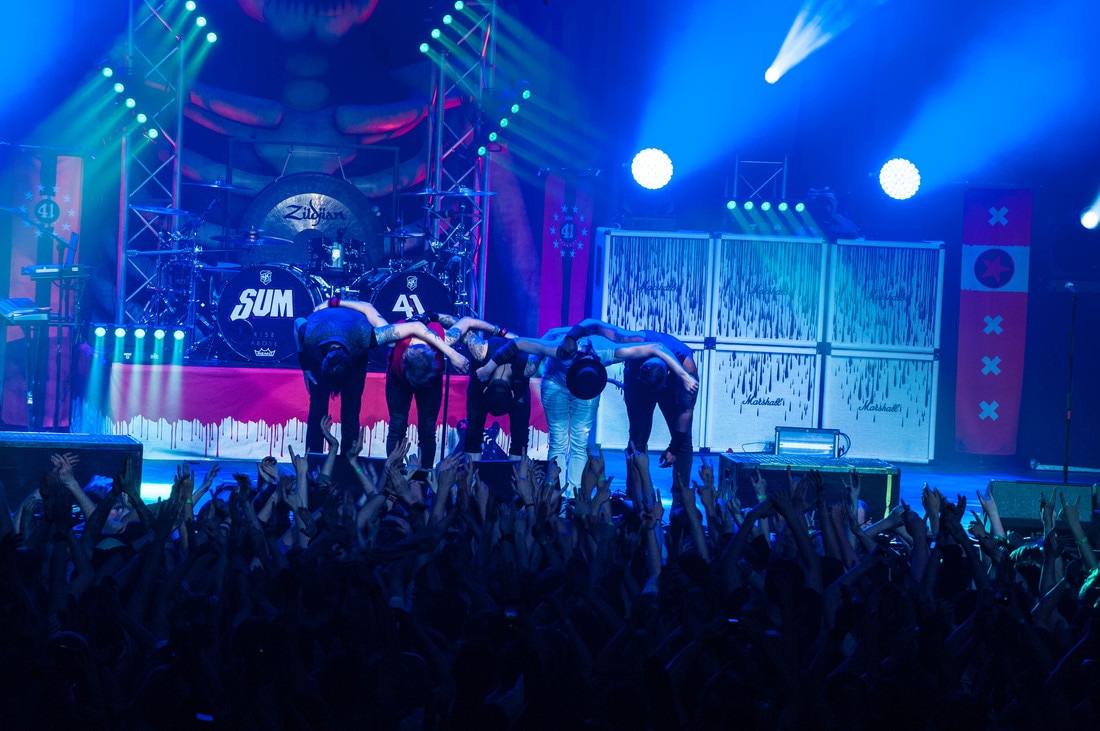 After a few years of inactivity, The Netherlands seem to be stoked to be having Sum 41 back. The entire night was filled with whirling moshpits, gigantic circle pits and even the occasional wall of death. People everywhere were jumping and singing along at the top of their longues. Sum 41 are back and hopefully for a whole lot longer.
The entire photo gallery from both opening act Hollerado aswell as Sum 41 can be found below.
​
All photos by Eva van Kuik!

​Hollerado:

Sum 41:
Popular articles
Show more
Latest Articles
Show more
Instant contact with Musicians & singers
Music
I'm the ONE
who loves music!
Retail
I'm the ONE
who goes to every concert I can.
Writer, Music Lover
I'm the ONE
who loves My Chemical Romance, fiction, grammar, and being a friend.
Writer
I'm the ONE
who can't do anything without music.