FEATURE: Top 10 Songs To Listen To On Halloween
Today is the scariest day of the year, Halloween, and to get in the mood, we have created a top 10 list of songs you definitely need to listen to during Spooky season.
"Halloween" - Misfits
What better way to start of the list than a track with the actual name of this festive holiday. It is a bit of an older one as it is from Misfits' 1995 record "Collection 2". Might as well listen to the follow-up "Halloween II" while you're at it.
"Mama" - My Chemical Romance
Anyone in the mood to go to hell? Then there is no better road trip track than My Chemical Romance's "Mama". Then again, the entire "The Black Parade" record would be perfect for that!
"Tag, You're It"/"Milk And Cookies" - Melanie Martinez
Melanie Martinez knows how to really make things creepy, but her masterpiece to us was the double feature of "Tay, You're It" & "Milk And Cookies". Crybaby, Melanie Martinez' character on her record, is being chased and kidnapped by a stalker and she has to try to escape in her own sinister way. Watch it below and grab some popcorn!
"Unsainted" - Slipknot
If you've seen Slipknot's music videos, you'd know that almost every video will suffice as a great Halloween watch, but 'Unsainted' is next level. Besides the video being creepy as all mighty hell, it was also the introduction to the new masks, which is why this song is a treat, on Halloween and all the other days of the year.
"Scary Mask" - Poppy ft. Fever 333
This is a collaboration that you wouldn't immediately expect, Poppy and Fever 333. But damn, how well they fit together. Poppy herself is already preeetty scary, but with Fever 333 empowering the metal sides of her music, this is a power track that just could not miss the list.
"911" - Ellise
Ellise is quite a new artist who has the hots for the horror genre as well. With tracks like "Nightmares" and "Under My Bed" she knows how to give her listeners the chills. However, the track that made the list is "911", which has a bit of a Billie Eilish vibe. Check it out below and let us know what you think of her!
"bury a friend" - Billie Eilish
There's no better way to get in the spooky mood than to listen to Billie Eilish. With her dark lyrics and even darker music videos, she truly is the queen of dark pop and therefore belongs so high on the list. Watch the music video for "bury a friend" below.
"Dead As F**k" - Motionless In White
We're officially in the top 3 and starting off with that, we have Motionless In White, kings of scary artwork and face paint. The band knows their way around the horror theme but for today we have chosen their most Halloweeny song they have. "She's my graveyard baby, she's my horror queen", that's right!
"Stabbing In The Dark" - Ice Nine Kills
If we could have put Ice Nine Kills' entire new record "The Silver Scream" in the list, we would have, but because we had to choose, we went for the track based on the most iconic slasher movie of the season, "Halloween".
"This Is Halloween" - Marilyn Manson
It wasn't very hard to choose the number 1 track for this list. Everyone's favourite Halloween movie is "The Nightmare Before Christmas" and everyone's favourite Halloween artist is Marlyn Manson. So obviously, the best number 1 track was a combination of the two. As an ode to the movie, a lot of artists revisited all the songs from the movie's soundtrack and Marilyn Manson covered "This Is Halloween", our number 1 track.
What did you think of our list? Let us know what your favourite scary tracks are!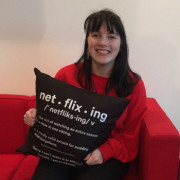 Eva van den Bosch
31-10-2019 5 mins read
Related Musicians & singers
Paige Bower

I am at college

US$ 0,07 pm

Melanie Gomez

Music Journalist /

US$ 0,33 pm

Gael A

School

US$ 0,08 pm

Bailey Dupuis

Writer

US$ 0,08 pm

Natalie Ramos

Music-based Writer

US$ 0,08 pm
Show all