Touring, Sophomore album 'Blush' & More With Moose Blood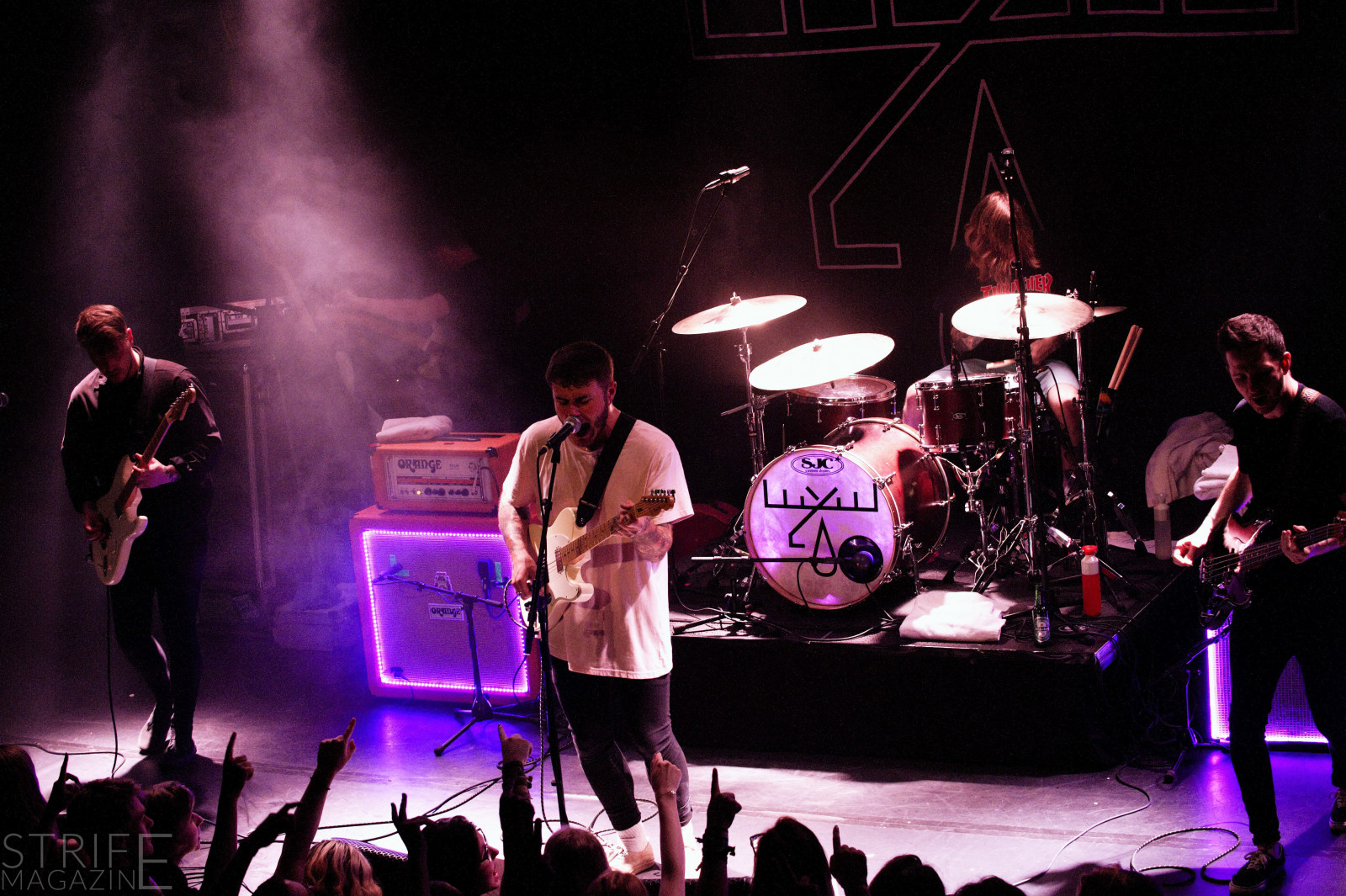 Things are going well for Canterbury, UK's indie-rock quartet Moose Blood. Having played Vans Warped Tour last year, the release of their sophomore album "Blush" this year and constantly touring all over the world helped them claim their rightful place in the alternative scene.
We were lucky enough to witness them on one of their tours through Europe and, kind and genuine as they are, they agreed to have a little chat with us about what it means to be in a band, developing the right aesthetic (seriously though), the process of songwriting as well as the future of Moose Blood.

Strife: Are there any experiences you've had or important things you've seen or learned on tour that you would not have experienced otherwise?
Mark Osbourne (guitarist): So many. Every day is an experience that we wouldn't get working our normal jobs. You learn so much, even if it's just how to interact with people that you're almost forced together with because you're going on tour or playing festivals. I guess many life lessons are from being in a band which makes you feel really grateful to be in a position where you're able to play music as a full time thing, it really is a dream come true for all of us. We work as hard and tour as much as we possibly can and just throw everything into it to make it work. We're very lucky to be where we are now.
Kyle Todd (bassist): You definitely meet a kind of person who prioritises their life completely differently than a person with a normal job and you learn so much about what you would want to do as a creative adult – you don't necessarily have high earnings but you make it your priority to have a fun job. We've met so many different friends all across the world now who do things just for fun. You can get someone who will do merchandise for a band and travel the world to sell t-shirts, just because that's what they enjoy doing.
Mark: Yeah I think I've learnt that if you get the chance to pursue something that you love and you want to throw yourself into, regardless of what you might have to sacrifice or give up, just do it. We all walked away from day jobs and financial security to follow a passion we've had since we were about thirteen years old. So if those opportunities come your way, just go for it and if it doesn't work out, you can still go back to work. We took the gamble and we have played shows all over America, Canada, Australia, here [in the Netherlands] and even in China. I never thought any of that was possible.

Strife: You have been working your way up pretty quickly for the past few years. Have you gotten used to your steadily growing popularity and audiences yet or does it still feel surreal at times?
Kyle: It's surreal every single time because at home you kind of stay grounded, you can still go out and get a coffee and nobody knows who you are and then you travel the world having no idea of your popularity and you get a reaction from somebody like "hey, I really love that song you wrote". It really gives you faith in what you're doing. It's wild that anyone from another country can sing along to our songs.
Mark: It's mental. We've been so fortunate to be able to play on the other side of the world and people will come out to see us. It's a position we never thought we would be in. Regardless of the size of the shows, what matters is that people all over the world buy your music and come out to see you play songs that you wrote in your practice room for fun. It's very flattering.

Strife: You have released your latest album "Blush" earlier this year. How did the title and artwork come together?
Mark: It was all Glenn [Harvey, drummer] really. We had an idea to create a pink aesthetic for the second record and to give it a one-word title and then Glenn just rolled with it and put the artwork together.
Kyle: He has quite the creative thought process.
Mark: We just thought of one word that sounded cool, like "Blush" and then we decided to name all the tracks using one word as well and it was creating an aesthetic which is something we didn't really think about too much on our first record. For the second time around, we just wanted to do something different.

Strife: Speaking of the album, were there any songs that were particularly challenging to write or record?
Mark: I think we all have different songs that we found slightly more challenging and the answer would probably change every time we get asked that question. Maybe "Cheek" because that's the one song where most of my guitar parts changed from what we had previously demoed to then almost rewriting it in the studio. I remember me and Eddy [Brewerton, leadsinger] being stuck lyrically on the bridge for a while, but the way you get around it, especially musically, is we just jam around for a while and see if anything fits. A lot of the stuff we wrote almost as we went along. We just completely rewrote most of the demos and ideas that we had because we didn't think they were good enough.
Kyle: There's another one that we changed completely, "Sway". It didn't have a bass line like that, it was really slow and then we kind of changed our style at the beginning.
Mark: We had "Sway" as a song, rewrote it about three times in the studio and then we realized we all liked it the way it was originally – apart from the bass line.

Strife: There's been an uprising of the Alternative music scene over the past few years. What's your opinion on it gaining more interest and attention again, especially in places like the UK?
Mark: It's awesome because, maybe bands that wouldn't have gotten any recognition a couple years ago are now getting the recognition they deserve. You see amazing acts like Creeper, Milk Teeth, Roam or Boston Manor, these smaller bands are just brilliant and now they're almost getting as much recognition as bigger mainstream bands and that's awesome because it allows people to discover and it has given these bands the platform to be heard in the first place.
​
Strife: Speaking of creativity and being heard, do you write and gather ideas for most of your material on tour or in the comfort of your own homes?
Mark: We struggle to write anything on tour.
Kyle: I think musically, writing on tour is very hard. With some bands it seems to work quite well, for us it doesn't work at the moment. Lyrically though, because we tour so much, some of the ideas seem to arise from being on the way and just life experiences, especially with the newest record.
Mark: But that's about it really, most ideas come from me and Eddy just getting together in his living room and then we'll try and record some terrible demos, send it to the boys or show them at practice and then it will evolve into an actual song.

Strife: Were there any songs that were meant for "Blush", but ended up not getting onto the album?
Mark: Well, technically "Loome" didn't make it straight away.
Kyle: Sometimes if you listen to the entire thing as a whole, something just doesn't feel right. We recorded "Loome" and then for some reason it didn't seem to fit as well as a whole. I don't know why, you just kind of get a feeling.
Mark: But then we just put it together because we thought we might need an extra song somewhere and it ended up as a bonus track. Generally, throughout the entire writing process, there were a bunch of ideas that ended up being scrapped. They are still on a laptop and it would maybe be something we can get back to, but I guess that's just what writing is, you don't want to note down the first thing that comes to mind because then you wouldn't be giving yourself enough time to get the best out of your ideas.

Strife: Are there any bands or artists whose live shows are an inspiration to you and maybe even shaped the way you perform?
Mark: Yes, there are loads of different aspects from wildly different bands. A Day To Remember have put so much effort into their live show, it's incredible and that experience is so different from our own, but it kind of opens your eyes. We've played with Lower Than Atlantis and they played in a different style where they don't use guitar caps on stage, but they have this huge lighting set up and it was an entirely different ballgame, so it definitely makes you think outside the box. The possibilities are endless really, as long as you have the creative mind to think of things.
Kyle: Or you can afford it [laughs].

Strife: So, what can we expect from you guys in the near future?
Mark: We get Christmas off and then we go out again next year until April and then we're planning to have a month off after that.
Kyle: We'll just see about the options and possibilities coming our way. A lot of stuff comes together really last minute. Anything can happen at any time.
Mark: We all have big dreams within ourselves that we'd like to aim to get places, so we'll see what happens. You just take every opportunity as it comes and make the most of it and then we'll see what happens after that. We don't think or plan too far ahead because we just want to make the most of the things we are doing right now.

Glenn van den Bosch
28-11-2016 10 mins read
Related Musicians & singers
Glenn van den Bosch

Photographer writer

US$ 0,31 pm

Rosa Todd

Student

US$ 0,07 pm

Amy Stevens

Student

US$ 0,12 pm

Núria Pedrós Peró

Writer

US$ 0,10 pm

Paige Bower

I am at college

US$ 0,07 pm
Show all