Vans Warped Tour Reveal Line-Up For 2018 Edition
Glenn van den Bosch
01-03-2018 4 mins read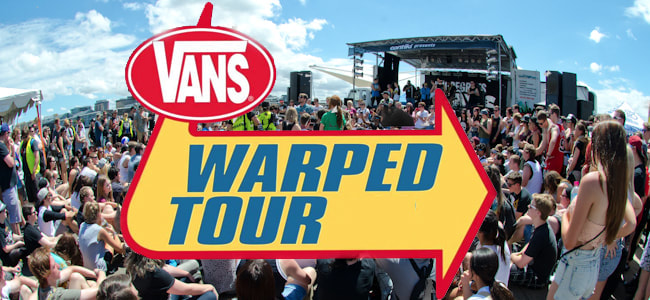 This summer, the last Vans Warped Tour edition will take place.
As revealed, Vans Warped Tour are going to release the full line-up for the latest Vans Warped Tour on the 1st of March, which is today!

The full announcement has been made and the line-up can be checked out in the video below.
The names can also be checked out below the video!

Here are the bands that are playing:

Journeys Left Foot Stage
3OH!3 (6/21-8/5)
Asking Alexandria (7/22-7/28)
Beartooth (7/19-7/21)
Black Veil Brides (6/21-7/1)
Mayday Parade (6/21-8/5)
Reel Big Fish (6/21-8/5)
State Champs (6/21-8/5)
SUM 41 (7/17)
Taking Back Sunday (6/24)
This Wild Life (6/21-8/5)
Waterparks (6/21-8/5)

Journeys Right Foot Stage
All Time Low (6/22-6/24)
Falling In Reverse (6/26-7/16)
Four Year Strong (6/21-7/29)
ISSUES (6/21-8/5)
Less Than Jake (7/18-7/20, 7/22-7/27, 7/29-8/5)
Movements (6/21-8/5)
Real Friends (6/21-8/5)
Simple Plan (6/21-8/5)
The Maine (6/21-8/5)
The Used (6/21-7/10)
Tonight Alive (6/21-8/5)
We The Kings (6/21-8/5)

Mutant Red Dawn Stage
Chelsea Grin (6/21-8/5)
Deez Nuts (6/21-8/5)
Ice Nine Kills (6/21-8/5)
Kublai Khan (6/21-8/5)
MYCHILDREN MYBRIDE (6/21-8/5)
Sharptooth (6/21-8/5)
Silverstein (7/17-7/20, 7/25-7/28)
The Amity Affliction (6/21-8/5)
Twiztid (6/21-8/5)
Wage War (6/21-8/5)

Mutant White Lightning Stage
August Burns Red (7/29-8/5)
Crown The Empire (6/21-8/5)
Dayseeker (6/21-8/5)
Every Time I Die (6/21-8/5)
Hail The Sun (6/21-8/5)
Harm's Way (6/21-7/23)
In Hearts Wake (6/21-8/5)
Knocked Loose (7/10, 7/18, 7/21, 7/24)
Motionless In White (6/21-8/5)
Nekrogoblikon (6/21-8/5)
Underoath (7/16-7/18)
Unearth (6/21-8/5)

Owly.fm Stage
As It Is (6/21-8/5)
Assuming We Survive (6/21-8/5)
Broadside (7/10-8/5)
Capstan (7/10-8/5)
Chase Atlantic (6/21-7/31)
Dead Girls Academy (6/21-7/8)
Doll Skin (6/21-8/5)
Don Broco (6/21-8/5)
Grayscale (6/21-8/5)
Makeout (6/21-8/5)
Palaye Royale (6/21-8/5)
Phinehas (6/21-7/8)
Picturesque (6/21-7/8)
Sleep On It (7/10-8/5)
Story Untold (6/21-8/5)
Trash Boat (6/21-8/5)
With Confidence (6/21-8/5)

Full Sail Stage
Farewell Winters (6/21-8/5)
Lighterburns (6/21-8/5)