Watch Tyler Joseph's Emotional Final Speech Of The Blurryface Era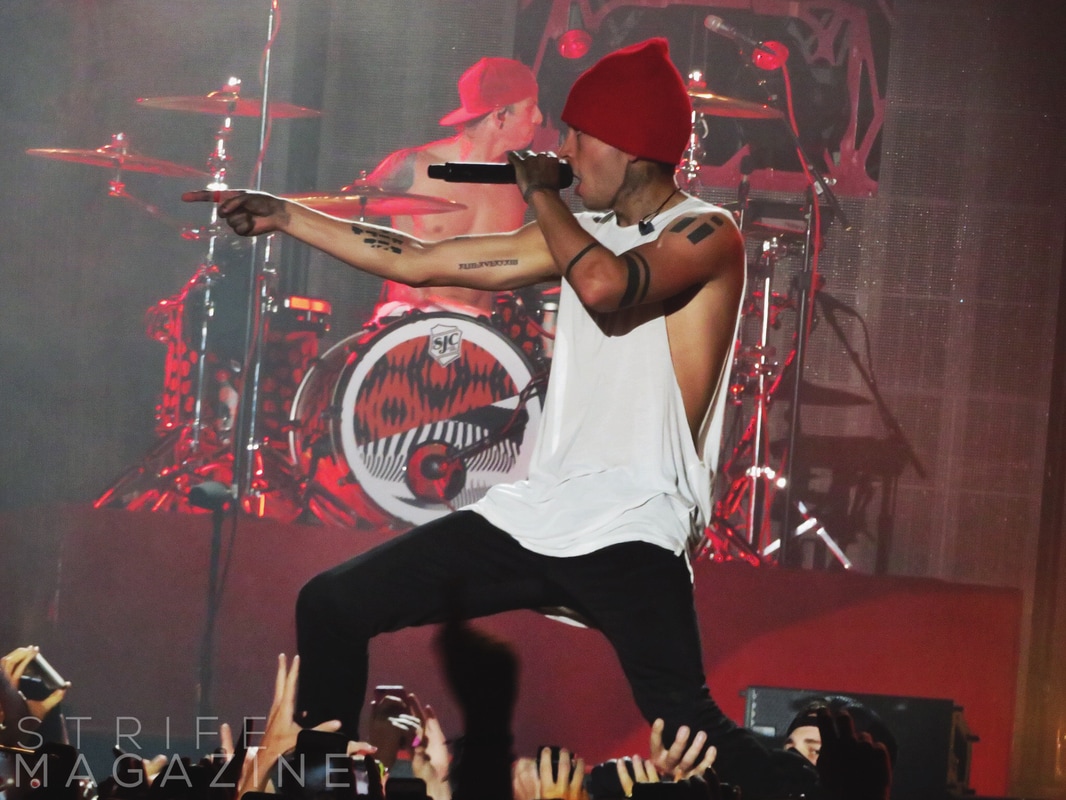 The Blurryface era has officially ended and quite frankly, we have so much spare time now, what should we do it?
​
Anyway, the band played their very last 'Blurryface' show on the 25th of June, in the Schottenstein Center. Before 'Trees', Tyler Joseph often speeches and hopes were high for the very last speech of the 'Blurryface' era and nothing could be less true.

Tyler Joseph also shared what is next for Twenty One Pilots in this speech, stating that he is not sure yet, however he did promise that they are not quitting.

His entire speech went something like this (Transcription via Rocksound):

​"I've been thinking all week what I should say, the last night of the last show."

"When I met Josh, I… we don't tell many people this, because we don't want it to come off the wrong way, but I want you to learn something tonight if you can. This is what I want you to know."

"You cannot put a ceiling to your dreams. When Josh and I met, we would say to each other, 'arenas, arenas man. We want to play arenas.'"

"You have to understand, maybe now looking around it's like, 'yeah, sure.' But at that moment, when Josh and I would say that to each other, we didn't tell anyone else because we thought they would laugh at us."

"We would take these little songs, this little keyboard stand thing I'm playing now, that beat up piano shell over there… we would go around and we would just show people our songs, even though we'd be playing to just a few people at a time, afterwards we would just say 'arenas. We're going to do this.' You cannot put a ceiling on your dreams guys, and we are living proof."

"You also can't do it alone... you cannot do it alone. Living proof of that, could you please give it up for my very good friend Josh Dun!"

"Even in this room right now, there are so many people in here who could take a little chunk of this thing and own it, know that it wouldn't be possible without 'em, and that goes for you guys right here. You guys have set the tone for what a Twenty One Pilots concert and show and movement feels like and looks like. So thank you so much."

"I want you to know that what happens after this, there's a lot of questions, if I'm being transparent. I'm not really sure. But when I was putting on my persona for the very last time, in my green room before the show, I wondered… 'is this the last time?' But we're not going to quit, I want you to know. We're going to take the things we've learned, and if you'll just give us a little room to grow, with you guys, we want to make music, and we're going to be thinking of this room right here when we do it."

"So way back when, when we were just playing to a few people at a time, Josh would go over to a rickety old circular bar table and backflip off of it front of three people, who thought 'that was kind of weird'. Same piano shell over there, these same songs. We saw you guys in our heads the whole time we were doing it. And we always ended our sets with this song here, and would like to invite you into our little tradition…"

The speech and end of an era can be checked out below, recorded through the phone of a fan.
Glenn van den Bosch
03-07-2017 4 mins read
Related Musicians & singers
Paige Bower

I am at college

€ 0,06 pm

Natalie Ramos

Music-based Writer

€ 0,05 pm

Asya Kardzhaliyska

trainee optical consultant

€ 0,05 pm

Núria Pedrós Peró

Writer

€ 0,09 pm

Catalina Soboredo

Future economist.

€ 0,05 pm
Show all