Waterparks Add New UK Dates To The 'Fandom Tour'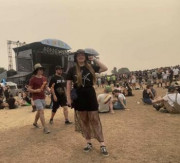 Georgia Haskins
30-09-2019 1 min read
With the release of 'Fandom' just upon the horizon, the anticipation is certainly rising, and fans are eager to hear what's to come. Alongside the new album, Waterparks have also announced the 'Fandom Tour'.
It is clear that fans want to 'watch what happens next', as illustrated by the amazing reception the tour has received! In fact, secondary shows within the UK have already been added due to high demand!
A second night in both London and Manchester have been added due to high ticket sales, and a plethora of other shows are threatening to sell out. The second Manchester show has been placed on the 30th of January, and the London show is scheduled for the 2nd of February!
Whilst new shows were added this time around, there is no guarantee that the other sold-out cities will receive the same treatment. We recommend getting your tickets soon, and be apart of the 'lucky people' seeing Waterparks on the 'Fandom Tour'!