"You" Season Two To Contain Scene "Gorier And Scarier" Than Season One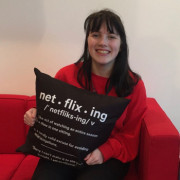 According to "You" showrunner and co-creator Sera Gamble, the second season is going to be even more nerve-wrecking than the first season.
Joe is going to LA to try and start a new life and when speaking to LADbible, Sera Gamble had the following to say about the upcoming season:
"At least one scene comes to mind that's gorier and scarier than anything we had in season one.
Joe is new to Los Angeles fully intending to start over a new leaf and never being forced to do bad things again.
Episode two of the season has my single favourite shot that I have been a part of in my entire career.
My career is full of blood and gore and monsters. It's also beautifully shot and the director who shot the second episode lavished a lot of love. Joe is forced to do something he really doesn't want to do.
Joe is always trying to be a good guy but yet somehow he's finding himself in these thriller, horror kind of situations. It's terrible for him but I think it's going to be so much fun for the audience."
Are you excited for the new season and curious for this particular scene? We sure as hell are!
Let us know by rating this article below or by commenting on our social media.